Rise and Grind Coffee Lovers! Starbucks' New Signing Store Is One More Reason to Love DC
A wise man once wrote that all men are created equal. And our nation's capital lives up to that claim with Starbucks' new US Signing Store. Drawing inspiration from their Signing Store in Malaysia, this US location conducts all business in ASL (American Sign Language). Some people will look at this store as just another coffee shop. But to others, this store means so much more.
The Signing Store opened its doors on October 23rd. Located at the intersection on 6th and H Street, this coffeehouse is seated close to the nation's premier institution for the Deaf and hard of hearing Gallaudet University and the Model Secondary School for the Deaf (a high school close to the university).
Everything from the lighting to the tables have been designed to aid communication between the Deaf and hard of hearing. The open environment features no music, lower than normal chairs and tables, bright lights, and glare-reducing matte surfaces. All this is done to improve visibility so it's easier to see what people sign. Starbucks got the idea from architect Hansel Bauman's DeafSpace Project. The main idea is that by taking into consideration acoustics, light and color, mobility and proximity, sensory reach, and space and proximity, a space can be made more accommodating for the Deaf community.
Technology also plays a huge role in communication as well. Since not everyone is as proficient in sign language as some people, the store uses digital notepads and a console with two-way keyboards for back-and-forth typed conversations between the barista and the customer. This way daily coffee ordering routines carry on with ease. And don't worry if you don't even know the basics, a chalkboard above the register features the "sign of the week" so you can start learning. Plus if you go here regularly enough, you're bound to pick up a few words sooner or later. Or maybe you're already a pro and in that case, you should go anyway because now is your time to shine!
While not every employee is Deaf or hard of hearing, every employee here is fluent in ASL (American sign language). Just like in any other Starbucks across America, baristas wear the iconic green apron, but those who are Deaf have aprons that feature embroidered ASL fingerspelling of Starbucks above the actual letters. These specially made aprons were bought from a Deaf supplier. Employees who are not Deaf wear pins proudly proclaiming "I sign". Believe it or not, these pins aren't actually unique to this store. All across the globe, any Starbucks employee proficient in sign language wears this pin.
If the inclusive environment and welcoming staff aren't enough to sell you on this Signing Store just wait until you hear about how much they support Deaf artists. When you first walk into the store you will notice a colorful mural created by Yiqiao Wang, a Deaf artist and also a professor at Gallaudet University. On speaking about this art piece, he says, "In the center of the piece, you can see two very strong hands, arms raised up, rising from the bottom of the artwork. Deaf people can see that. It means community in ASL, and bringing various backgrounds, languages and people all together."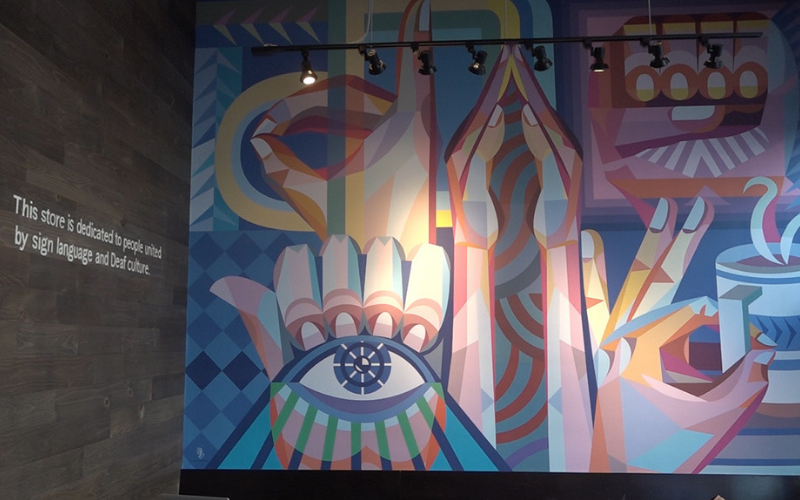 Another Deaf artist the Signing Store supports is Jena Floyd who designed a special mug for the coffee shop. She says "I'm so excited to see the first Signing Store here in America — especially with the design inside the store that's Deaf-friendly, staff that use ASL, and artwork by Deaf artists. This is something tangible we as Deaf people can show what we're capable of as contributing citizens of our society."
A sad fact of reality is that the Deaf community, much like every disabled community, suffers from chronic unemployment. Whether this is from prejudice or just plain ignorance, stores like Starbucks' new Signing Store are a beacon of hope. More than just a coffee shop, this new store offers up a brighter, better tomorrow where everyone is treated fairly. This DC coffeehouse is a huge win for equality and gives a much slighted community the visibility they deserve. With any luck, other corporations will realize the need for inclusivity and will provide more accommodating environments in the future.
Do your part and show your support by checking out Starbucks' Signing Store today! Also, check out these other coffee shops around DC! Don't forget to tag #FrayLife and #DCFray when you go!