Catch Your Morning or Evening Buzz at these DC Places Serving Up Both Coffee AND Wine
The DMV is well known for good artisan coffee spots and continues to give its fans more exciting new restaurants and cafes popping up in every neighborhood.
But for many of us, our love (read: need) for coffee in this city is often rivaled by our obsession with wine, so it's important to find a place that can cater to both our demands.
Starbucks launched a beer and wine happy hour in some stores to give us our fix. But if you're like us, craving a boozy pick-me-up will not lead us to the 'bucks (#sorrynotsorry).
We know you agree, so we're keeping it local by bringing you the inside scoop on the best coffee AND wine bars in DC.
So whether you're looking for an all-day spot, in the mood for a cafe vibe without the crowded bustle of being in a bar surrounded by suits after work, or want an impressive, cool place to bring your next Tinder date without feeling guilty about drinking, then scroll onward!
3401 Water St NW
This creatively refurbished historic warehouse sits on the skirts of the Potomac River on the Georgetown Waterfront and is classy AF for a coffee-wine bar. Malmaison also boasts views of the Key Bridge and since it's nestled near the Key Bridge boathouse, this coffee-wine bar is the perfect before or after hangout spot after a kayaking session with your friends or date!
1333 14th Street NW & 82 I Street SE
This cute cafe is a great hangout spot on 14th street. Stop by in the morning for your caffeine fix and their famous avocado toast you can brag about on IG, or head over after work hours for one of their delicious cocktails to get a boozy buzz.
#FrayLife Tip:
Slipstream starts serving cocktails at 8am and is constantly rotating their menu so you definitely won't get bored of this place!
501 Florida Avenue NW
The Royal is a hidden gem located on the skirts of LeDroit Park and a local favorite. The same owner of Vinoteca decided to open The Royal as a versatile all-day spot. You could literally work here all day and take advantage of their free Wifi, then party here all night with friends sharing food from their creative menu and delicious drinks. Did we mention The Royal received 2018 Michelin recognition?
#FrayLife Tip:
The cafe is dedicated to creating an ambiance of enjoying time with friends and turns off their free Wifi at 5pm sharp so you can be sure to find yourself truly at a happy hour!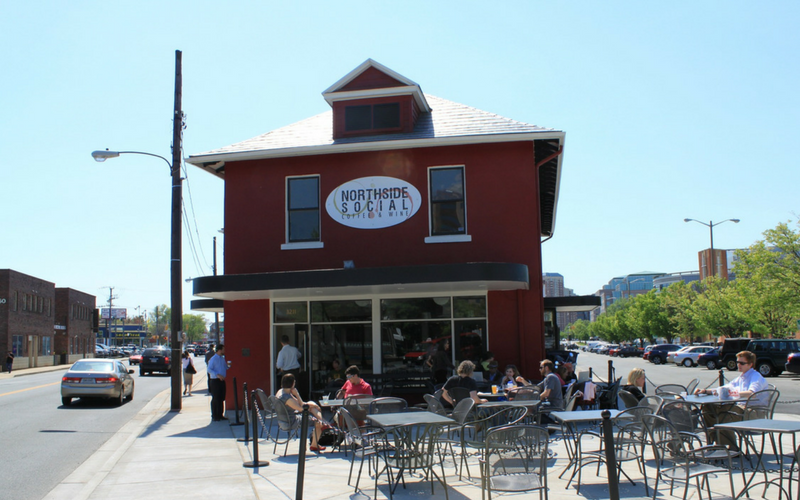 3211 Wilson Blvd
This coffeehouse-wine bar in Arlington is just too good not to list. Their cozy patio that's decorated in lights is probably our favorite feature…aside from their giant pastries. They have a crazy large selection of great wines that you can buy by the bottle at an affordable price range, or a tasty selection of coffee beverages if you need a pick-me-up any part of the day.
#FrayLife Tip
:
Northside Social doesn't open their wine bar until 5pm. But it's definitely the perfect hang out spot after playing our social sports nearby at Quincy Park after an evening Summer league, or a great breakfast spot after a morning session with your team.
1405 T Street NW & 21430 Epicerie Plaza
This trendy coffee-wine bar is not only unique for its Cuban-inspired coffee beverages, but also one of our favorite spots to recommend because of their recent rooftop addition. The rooftop garden is decked out with cozy couches and perfectly designed for socializing and colorful IG photos, so you'll definitely feel like you're in sitting in Havana.
#FrayLife Tip:
The mojito pitchers are amazing. That is all.
1351 H Street N.E.
Maketto might truly be the hipster mecca of D.C. where you can get a fix of whatever you're feeling at their communal marketplace, while being surrounded by funky murals, modern deco, and an open courtyard — truly a contemporary Instagrammer's dream. Located in the hipster neighborhood of H Street, some may wonder, does Maketto make H street hipster, or is Maketto hipster because of H Street? Grab your caffeine or wine fix and discover why it's been top-listed for many of D.C.'s coolest residents.
#FrayLife Tip:
If you get a chance to check out the restaurant, the Taiwanese/Cambodian menu is beyond droolworthy.
3221 Mt Pleasant St NW
New to the Mt.Pleasant neighborhood, Elle is not only a tasty coffee-wine bar, but a instagramable hidden gem because of the creative decor and colorful desserts. The best part might be the fact that its a coffee-wine bar and restaurant with one of the best mixologists and chefs in D.C. without the price tag.
#FrayLife Tip:
Their donuts are handmade on weekend mornings, and so popular they've been featured on several food blogs. Get there early to get your hands on one of them!
2459 18th Street NW
The coffeehouse and bar located in Adams Morgan has been a neighborhood favorite for years. Step in and claim a spot of your choice on any of their couches that make you feel like you're in a giant living room.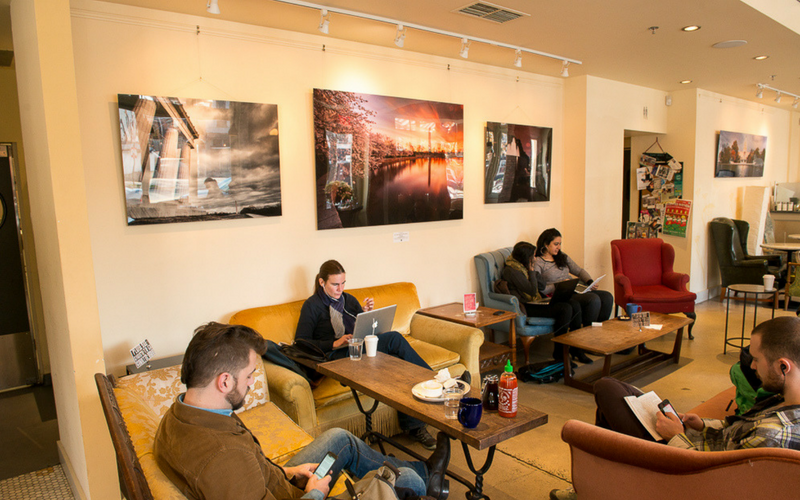 3415 11th Street NW
Working from home on a Friday? Definitely head over to The Coupe near Petworth. It is no wonder that it is a neighborhood hit after having the same owners as Tryst. The Coupe is by definition the everyday, anytime of day spot with most of their menu offering food and drink from local farms and companies.
Think we missed one? Loved our suggestions? Let us know your favorite and what you think below..or better yet show us what you think by tagging #FrayLife next time you visit your favorite coffee-wine bar.
Speaking of DC wine, have you checked out District Winery, yet? Read all about it here, then add a visit to your to-do list.