#FrayLife First Look: Red Bear Brewing Co.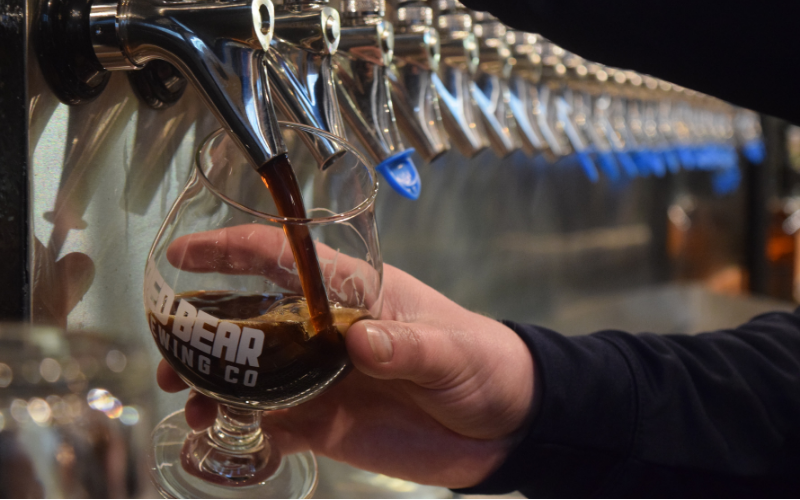 Make room on your DC bars hit list because a cool new micropub is now open in NoMa! Red Bear Brewing Co. officially opens on March 9 at 209 M St. NE, right next door to REI in the historic Uline Arena. We got a sneak peak before their official opening so we could let you know what to expect.
#FrayLifeTip:
Big fan of trivia? you're in luck! Red Bear offers trivia every first, third and fourth Monday's, let your trivia skills be known! (ASL more your speed? Join them on Tuesday's for ASL trivia!) 
Spoiler alert: It's fantastic.
Adding to the growing list of great breweries in Northeast, Red Bear Brewing brings some unique character to this corner of NoMa. The vibe inside is rustic, industrial and outdoorsy with a touch of quirk. The large open concept can accommodate you and 299 of your closest friends. The brewery itself is on full display, viewable from virtually anywhere you sit. If you come during the week, you'll get to see the staff making the very beer you're drinking!
#FrayLife Tip:
Red Bear Brewing is now the closest DC brewery to a metro stop  (NoMa/Gallaudet), so don't worry about driving or parking.
Red Bear Brewing started as an idea a few years ago in Seattle between friends Bryan Van Den Oever, Simon Bee and Cameron Raspet. With their collective passion for craft beer and distinctive industry experience, they ditched their jobs and decided DC would be the perfect spot to open up shop for what is now Red Bear Brewing Co. The result is a Seattle-meets-DC experience, and you'll see influences from both coasts throughout, from the names of the beers to the art on the walls. Red Bear Brewing is also majority veteran-owned and 100% gay-owned, the first in DC.
Two main gathering areas include the "front yard," a lounge-type area great for playing any of the 100+ board games on hand, and the "back patio," complete with overhead patio lights and long communal tables perfect for groups. The back patio area also includes a small stage that will play host to several community-driven events such as trivia, drag bingo, improv shows and more.  
The main event is the U-shaped, 85-foot bar, the center of which includes two walls of 24 taps. The lines include your standard beer types, but also feature ciders, meads, nitros and barreled wine. In addition to these, a few signature drinks will also be available. They even have an ingenious "expediter" bar area, an always-open length of bar where you can quickly order and grab a drink without having to awkwardly reach between conversations of seated folk.
There are so many great personal touches, hand-made by the owners themselves. One constant you'll see throughout is Ursa, the bear mascot named after the constellation Ursa Major. You'll spot her branded onto tables, etched into glassware and even in her constellation form on the ceiling near the entrance. Another cool community-oriented aspect is that all Red Bear Brewing staff is being trained in American Sign Language to cater to their Gallaudet University neighbors and the deaf community in general.
Okay, now let's get to the beer. Red Bear Brewing has a 10-barrel system pumping out numerous unique brews, including:
Polar Bear,

a wheat pale ale

Skookum

(a Seattle-area slang term for Big Foot), a red ale

DC Dirt,

an American porter

Mystic Storm,

a "both coasts" IPA

Cupid's Black Heart,

a special Valentine's Day strawberry chocolate bock

And many more!
I got to try an ice cold pint of the Polar Bear. It's perfectly bitter and super smooth. You cannot go wrong starting with this one.
While they won't have house-made food on opening, they do have plans to begin serving in a couple months. They've already built out a full service kitchen with a walk-up order/pickup window. In the meantime, expect some collabs with local food vendors for some pop-ups!
Red Bear Brewing opens tomorrow, so go check it out! Current hours (while subject to change) are Mon-Thurs 3 p.m.- 11 p.m., Fri 1 p.m.- 2 a.m., Sat 11 a.m.- 2 a.m. and Sun 11 a.m.-11 p.m. We'll see you there!
GET OUR WEEKLY EMAIL »