Drink Local On Our DC Brewery Tour
The brewery scene in DC has exploded in recent years, showering us with a growing number of locally crafted brews available straight from the source of production. It's left beer aficionados and those who just enjoy a craft drink alike with a daunting list of breweries around town to visit.
So to ease the planning of your next (or first) brewery tour, we've curated a list of some of the best in the area.
We've highlighted several options that are all aligned in an easy route that winds down the beer-abundant corridor of Northeast, whether you're taking a bus, metro, or even biking.
Check out the list below and see what makes each worthy of the ultimate DC brew tour. (When you go to check them out, make sure to tag us in your social pics using #FrayLife!)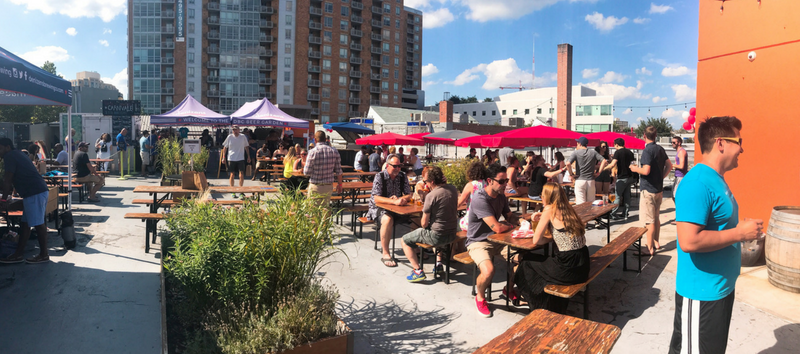 We start just over the DC border in SIlver Spring, Maryland with Denizens. This spot has two floors inside for some delicious beer and bites. Denizen's biggest draw is its huge outdoor beer garden, perfect for big groups, weather permitting. The beer garden area offers drink service and is full of communal tables with shady umbrellas during the day, and patio lights at night that will put you in that summer mood. It's often the stage for live music and cute dogs of all sizes for your petting pleasure.
Location: 1115 East West Highway, Silver Spring
Hours: M-Th-4-11pm; F-S- 12pm – 1am; Sun – 12-10pm
#FrayLife Tip: All day happy hour every Monday, and plenty of other stuff happening all the time at Denizens, including yoga in the beer garden.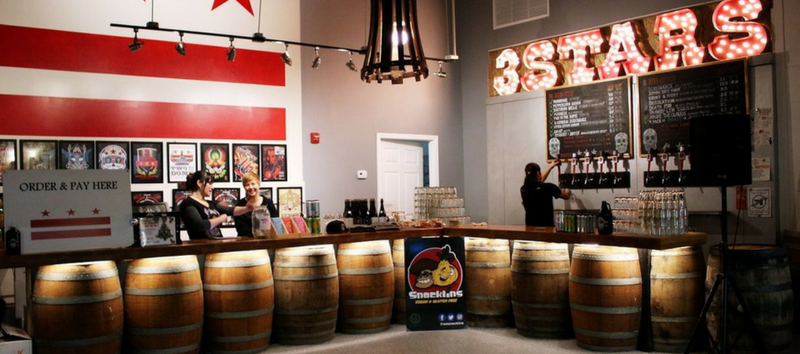 Located just one metro stop south from SIlver Spring (or 15 minutes by bike on the MBT) in Tacoma is 3 Stars Brewing Company.  3 Stars' location inside of a large remodeled warehouse makes it a perfect place for events, which they host often, and can accommodate a big group easily. Warm up with free samples of select beers that they offer you as soon as you walk in, and then get a flight of their popular brews. You probably  shouldn't leave without trying the Peppercorn Saison or the Ghost White IPA.
Location: 6400 Chillum Pl NW
Hours: T-F- 4-9pm; Sat- 1-7pm; Sun- 12-8pm
Just down the road from 3 Stars is another Tacoma brewery, Hellbender Brewing Company. This super laid back spot has plenty of large, open tables just right for playing the variety of board games they offer while you drink. We're sure you're feeling good at this point in the tour, but Hellbender gives you another reason to feel even better about drinking there. Inspired by the endangered Hellbender Salamander, Hellbender Brewing Company uses a unique mash filter brewing process that reduces their impact on the natural resources found in neighboring Appalachian rivers that help keep this species alive.
Location: 5788 2nd St NE
Hours: W-F- 5-9pm; Sat- 12-7pm; Sun- 12-6pm
#FrayLife Tip: We also hear the production facilities tour here is exceptional, so if your group is doing one, you might want to do it here.
Hop back on the bus (or take two more metro stops down) to Brookland to hit up Right Proper. You may have already been to the Right Proper brew pub and kitchen in Shaw, but this location, inside a former car repair shop, hosts the more laid back production house and tasting room. Try a flight, glass, or growler in the cozy tasting room with a view of the brewery operations, and you can't miss the quirky wall mural or the piano in the bathroom. Every Saturday, RPB invites a food vendor to set up in their production house or park their food truck outside the tasting room.
Location: 920 Girard St NE
Hours: M-F- 4-9pm; Sat-Sun- 12-9pm
#FrayLife Tip: This might be a good time to get some food in your stomach. While this location doesn't currently have an onsite kitchen with food service, you are welcome to bring your own. 
Half a mile down the road from Right Proper is The Public Option, a smaller, low-key neighborhood brew pub in Langdon. This stop, located in a commercial row building, feels a bit like your typical grandmothers home, if your grandmother is a wicked awesome brewer of beers. The ambiance even comes complete with free Cheese-Its at the bar and board games on the shelf. A unique characteristic about the Public Option is their experimental approach to the tipping policy. They pay their workers a starting wage of $15/hour (ahead of the current minimum wage in DC) and provide 40-hours/week work. As such, they don't require that customers leave tips, and any tips given are donated to local nonprofits to be decided upon by the staff.
Location: 1601 Rhode Island Ave NE
Hours: F- 6-10pm; Sat- 2-10pm
The last stop on this ultimate buzz fest takes us one mile away from the Public Option to Atlas Brew Works in Ivy City. Atlas is a great space for the whole squad to spread out and enjoy flights of some inventive beers. Dogs are welcome both on the small front patio as well as inside in the larger area. While there is no food served onsite, there are some funky vending machines that sell whole sandwiches and beef jerky. Atlas is also DC's only 100% solar powered brewery. Who knew so many DC breweries were so sustainable and socially conscience!
Location: 2052 West Virginia Ave NE
Hours: M-Th- 4-10pm; F- 4-11pm; Sat- 11am-11pm; Sun- 11am-10pm
What's your favorite brewery in DC? Let us know in the comments 
GET OUR WEEKLY EMAIL »