Embrace the Cold and Your Crush with these Wintery Walkabout Dates in DC
Dating in winter is usually all about indoor activities and staying out of the cold. But, after a month or so, all those hours spent in bars and restaurants start to add up. There's one, frequently overlooked, totally free dating activity: walking. Now that winter is definitely here, it's too cold for a long, uninterrupted walk, but with a couple of quick warm-up stops, date night walks are doable any time of year. You and your date will have plenty of time to catch up while exploring one of D.C.'s historic and exciting neighborhoods. It's one of the best ways to get to know the city, another person, or both.


Adams Morgan / Woodley Park
Adams Morgan always has a lot going on. You'll find lines of classic row houses, views of Rock Creek Park and a ton of shops and restaurants to wander into.  Stroll down 18th St. for bars, coffee shops, restaurants and bookstores. If you and your date are coffee drinkers, you'll love Philz Coffee, a San Francisco transplant. Interested in coffee and music? Songbyrd Music House and Record Café is your scene. Like your drinks a little stronger? Go for Grand Central, a chill, three-story bar.

Nearby is the National Zoo. Starting November 23rd and running until New Year's Day, the zoo puts on a free holiday lights exhibition. Walk through after dark to see the whole zoo covered in animal themed lights. It's easy to stay warm too! There are hot chocolate stands throughout and, though there aren't many animals to see outside, many of the (heated) small animal houses stay open late. Go on a weeknight to beat the crowds.


Places to Warm Up
Grand Central – Bar
Philz Coffee – Coffee shop
Songbyrd Music House and Record Café – coffee, pastries, music


Don't Miss

Downtown D.C.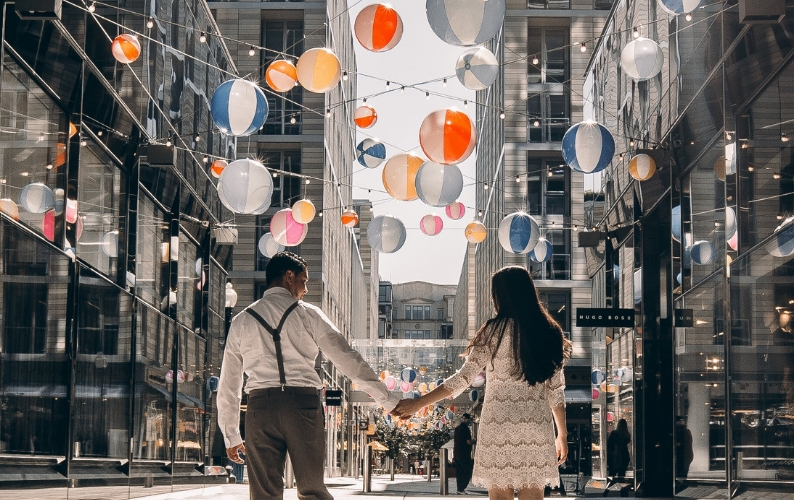 Sometimes you can't beat the classics. D.C.'s most famous landmarks (especially when lit up at night) are always fun to look at. If you want to see a couple landmarks or the National Christmas Tree while still having easy access to warmth, meet your date around Metro Center. In the heart of downtown, you'll find plenty of places to shop (or window shop).  CityCenter, a little north of Metro Center, gives off a busy, big-city vibe. Around the holidays there's a Christmas tree and festive lights. While you're there, drop into the ever-popular Milk Bar for some fresh baked dessert and must-try lattes with flavors like Birthday Cake and Cereal Milk.

When you're feeling less tall buildings and more open space, you can walk southwest of Metro Center to the White House. If you go after November 28th, you can find the National Christmas Tree lit up behind the White House in the Ellipse. There, you'll also find plenty of statues to wander through and an incredible view of the Washington Monument just across Constitution Ave. Before you get back on metro, top it off with a visit to Capitol City Brewing Company for brews and cocktails.


Places to Warm Up
Milk Bar – Bakery
Capitol City Brewing Company – Bar and Brewery

Don't Miss

Georgetown
With beautiful architecture, waterfront views of the Potomac, and tons of shops and restaurants, Georgetown's a great place to go for a stroll. If you go at night between December 1st and January 6th you'll find a little art mixed in to the scenery. This year, Georgetown Glow features 10 lit up and extremely Instagrammable installations. Wander through and grab a new profile pic while you're there.

When you've seen the lights and caught a glimpse of the Potomac, go find something hot to drink or a nice warm pastry at Baked and Wired. Of course, if you and your date are cat lovers, D.C.'S first cat café, Crumbs & Whiskers is not too far away. Why have just a latte when you could have a latte and play with cats?

If you're after something with a little more alcohol, Georgetown has every kind of bar you could possibly be looking for. Never been to a piano bar? Georgetown has both Mr. Smith's Piano Bar and Georgetown Piano Bar where you can sing us a song with a piano man before date night is over.
Places to Warm Up
Baked and Wired – coffee shop
Crumbs & Whiskers – Cat Café
Mr. Smith's Piano Bar
Georgetown Piano Bar

Don't Miss
Georgetown Glow

Just bundle up in your coziest winter clothes, grab your date and you'll be ready to explore! Need to find someone to go on a winter walk with? Come to speed dating at Big Chief to meet your match! Don't forget to share your adventures with us by tagging #FrayLife and #DCFray on social media! 
Not feeling too hot about these date ideas? Looking for something a little more secluded? Then check out these hidden DC date spots!

GET OUR WEEKLY EMAIL »