5 Ways To Get Your Sweat On Without the Gym
Chances are if you've taken time to explore the fitness scene in DC, you've branched out beyond the gym and you're familiar with popular studios like Solidcore and Soulcycle and OrangeTheory and whatever else is trending right now.
These hour-long classes (give or take) are led by trained coaches, are made famous by celebrities, and are both physically and mentally intense. There's no doubting their popularity, and fans of these classes are never shy about telling you how well they work.
But if you are looking for something new and unconventional that doesn't require expensive memberships, then keep reading.
Outside of the growing number of upscale boutiques popping up across the District, the DMV offers a variety of places and spaces where you can get your sweat on.
Earth Treks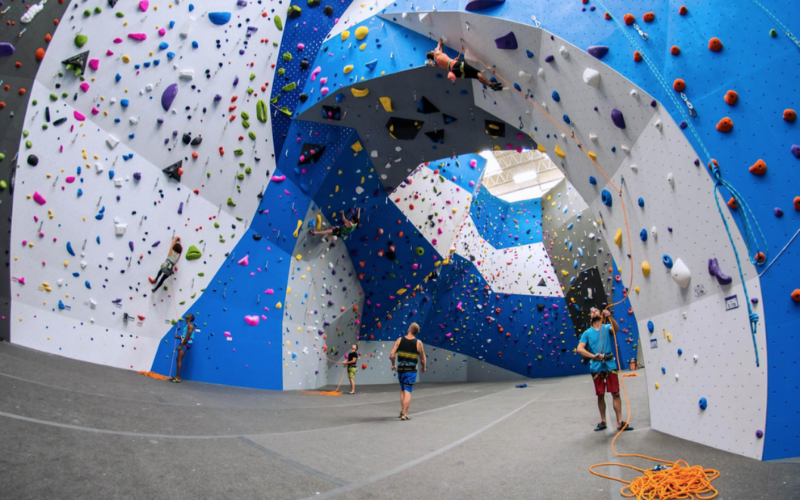 Located in Rockville, Earth Treks is a only a quick drive outside of DC and offers more than an acre (45,000 square feet) of climbing and fitness. With over 400+ roped routes and boulders, plus a yoga studio, strength & cardio fitness area and group fitness classes, Earth Treks is much more than just a climbing gym.
New to climbing? No problem! Earth Treks offers beginner classes and is fully stocked with climbing necessities like rental shoes, harnesses, chalk bags and belay devices.
Entrance fee options vary from day passes to monthly passes and memberships for those looking to climb regularly. Don't worry – classes are included in day passes, so even without a membership you can take advantage of those too.
Ok, so now that we have all the logistics covered let's focus on the workout. Yes – workout. Whether you're bouldering (unroped) or belaying (protected by a rope) indoor climbing is a great total-body workout. Expect to engage several different muscle groups from abs and obliques to biceps and lats.
Post climb, be sure to check out Earth Trek's high-end locker rooms equipped with showers and towel service.
#FrayLifeTip: An open climb pass includes three climbs, a harness rental and an Earth Treks instructor to lead your climbing experience. Standard open climb hours are Saturday and Sunday from 9 AM to 5 PM. This will give you a great taste of climbing – no experience necessary.
Title Boxing Club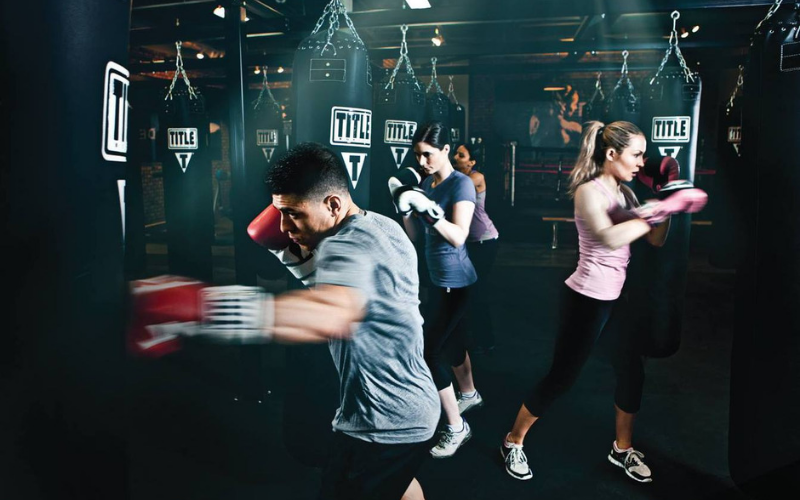 Also a short drive from DC, but totally worth it if you're looking for a badass workout and to relieve some stress. Check out Title Boxing Club in Falls Church for an addictive, full-body boxing workout that will not only sculpt your body and torch calories but also clear your mind. Title Boxing classes incorporate aspects of boxing, kickboxing and Mixed Martial Arts (MMA).
Title Boxing Club offers month to month or annual memberships (lowest monthly rate). Not ready to commit? Your first workout is free!
The Workout
Each class begins with a warm-up consisting of trainer-led shadow boxing, cardio drills and stretching. Then you'll move into three-minute rounds of boxing where your trainer will lead you through a series of punches and kicks on the 100-pound heavy bag. We're talking jabs, crosses, hooks and uppercut combinations. Then finish your workout with a variety of exercises all targeting your abdominals and core.
Bonus: Rumble – Interested in boxing, but don't want to venture out of DC – you're in luck because Rumble is here! on M St. Rumble is a boutique studio that's guaranteed to shake things up. Similar to Soul Cycle, Rumble is a subsidiary of the luxury fitness company, Equinox. They opened their first studio in New York in January 2017 and expanded in the same year. A workout will cost you upwards of $30 per class, but with that you get a top of the line boxing experience, custom curated mixes by DJ's that you'll only hear at Rumble and much more.
F45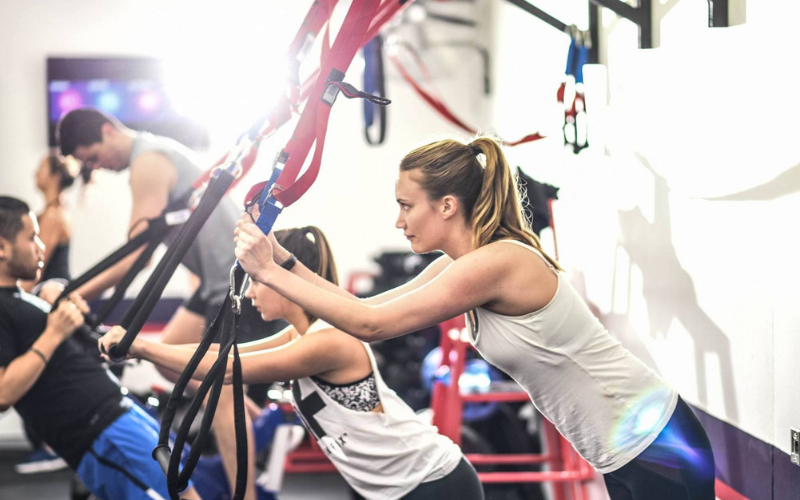 F45 is exactly what it sounds like (kind of?) – functional training delivered in a 45 minute class format. This killer workout combines elements of high-intensity interval training (HIIT), circuit training and functional training.
Sound intimidating? Don't worry F45 is both welcoming and supportive. Instructors demo each station before class and participants encourage each other by exchanging high fives.
Not convinced yet? F45 has over 27 different 45-minute workouts and 3,000 exercises, so members never get the same exact workout twice. They also have a live DJ so expect nothing less than a killer playlist.
#FrayLife Tip: Take advantage of their 2-week free trial and check this place out for yourself. What do you have to lose!
Boating in DC – Kayaking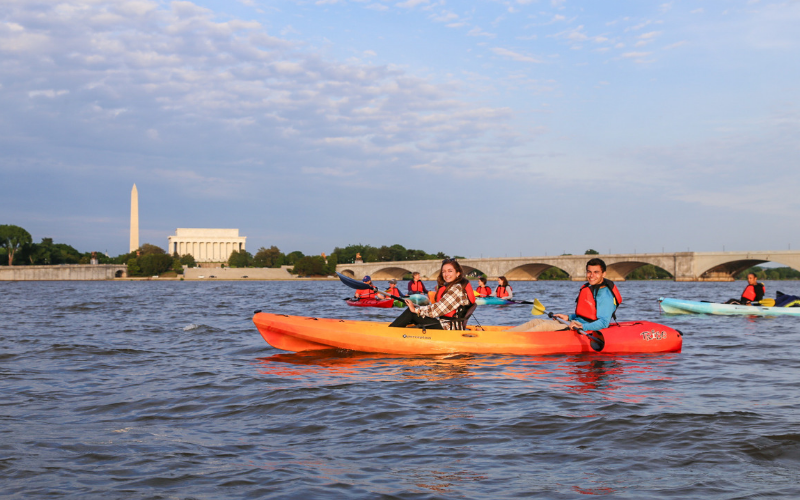 If you're more of an outdoor athlete when the warmer weather is here, you're not alone. If you're patiently waiting for that warm weather to arrive (and actually stay), you're also not alone.
Boating in DC has all of your boating needs covered – kayaks, canoes, paddleboards, and even hydro bikes, so keep this on your radar for when the warmer weather creeps in. 
While they have a number of boathouses, Ballpark Boathouse and Thompson Boat Center are some great go-to's!
The Ballpark Boathouse is located in Southeast DC on the Anacostia River right outside Nationals Park. You can also check out sites like the U.S. Capitol, USS Barry, and Fort McNair. Thompson Boat Center sits at the edge of Georgetown and is on the Potomac River and offers views of several national monuments.
C&O Canal Towpath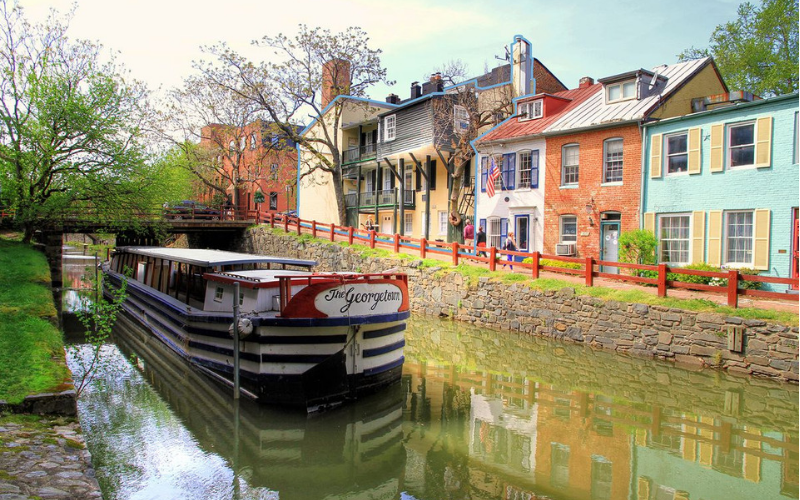 Whether you are looking to walk, run, hike or bike, the C&O Canal Towpath is a popular destination. This 184.5-mile trail starts in Georgetown and follows the Potomac all the way to Cumberland, MD. Take your pick between a dirt bath or the Capital Crescent Trail, a paved bike path.
Do you have a favorite way to get your sweat on when you don't feel like hitting the gym?  Show us how you stay fit without weights or a treadmill by tagging your gym-free workouts on social with #FrayLife #DCFray.
Want other fun ways to stay active without joining a gym? Keeping fit is just one of the MANY reasons why social sports are so iconic here in DC, read the other reasons here, then join a league here!