Shhh…Don't Tell Anyone About These 5 DC Bars Where You Can Drink in Secret
For most of us, our day job doesn't involve backroom political dealings, top-secret rendezvous or undercover security tails. However, sometimes it's fun for us normal folk to sneak around in the shadows, or just throw back a few adult beverages without anyone watching.
If you've ever wanted to disappear from the madness of the city without going anywhere, you're in luck because DC has an awesome and ever-growing speakeasy scene. That means if you're looking to lose a tail, overhear the latest gossip from The Hill, or just want to sneak away for a mid-afternoon (or morning) libation, there's a low-key watering hole in your neighborhood, whether you realize it or not.
Here are 5 of our favorites and some tips on getting the most out of the experience:
Located just off the National Mall, this Prohibition-style speakeasy is quietly tucked below street level at 600 F Street NW. Walk down an industrial-looking flight of stairs, take a left and behind the glowing frosted glass is a bar that would make even the hardest of bootleggers smile. Exposed brick, wooden accents, cavernous leather booths and dim lighting invite patrons to stay for more than around and the Denson's hidden location makes it the perfect place to meet while being discreet.
#FrayLife Tip: Not sure what to order? Saddle up to the gold plated bar and opt for the classics. Your grandfather would be proud to see his namesake enjoying a Negroni in such a place.
Life is too short for lines. Instead of following the masses to the traditional U Street haunts, opt for a spot so hidden that first-timers will need to take a second – or third — look. Disguised in plain sight, The Gibson is a modern take on the traditional speakeasy. The bar's unassuming facade sits between two pulsing nightclubs. Inside, however, is a world away. Lit by low watt bulbs and candlelight, the two-floor space offers intimate bar and table seating. The Gibson featured an ever-changing drink menu, which like the building itself, offers modern twists on classic staples. Make your mouth hum with the spicy Brooklyn Zoo, or head to the tropics and try You Know I Love To Go There. The Gibson also features a studio-sized outdoor patio, which if you can find a seat, offers a perfect oasis in the midst of the hustle and bustle.
#FrayLife Tip: From the outside, The Gibson hides in plain sight. Look for an unmarked service door and a pulled down corrugated steel storefront. Open the door and head in.
Just because you're looking to stay under the radar doesn't mean your taste buds need to go incognito as well. At Harold Black, high-quality food and drink meet in the shadow of the Capitol Building, as the restaurant and bar offer in-the-know foodies the chance to experience dining from a bygone era. From steak to tacos to lamb, the brief yet robust menu at Harold Black satisfies both traditional and adventurous eaters, while the drink menu offers a cocktail flight, beer, and wine.
#FrayLife Tip: Leave the phone at home. Harold Black has a strict no-phone policy, so the selfies and Snaps will have to wait. Although with food and drink this good, you'll hardly notice.
You don't have to be a member of the Five Families to enjoy a drink at this old-school bar. By day Capo Deli in Shaw serves up traditional Italian favorites such as baked ziti, eggplant parm, and gut-busting sandwiches. However, behind the register sits a seemingly unassuming refrigerator door. When you walk in, look to the walk-in door. If the red light above is on, you're in business and can step into the "refrigerator.".
Oozing Rat Pack-era style, the surprisingly spacious layout includes several seating areas, a stunning chandelier, and of course, a killer bar. Enjoy live music while sipping on a glass of sambuca, or opt for one of the bar's more inventive cocktails. Access is limited, so call prior to stopping by. Uncle Paulie will thank you.
#FrayLife Tip: Be sure to stop by Capo during daylight hours. Their subs were recently voted some of the best in DC.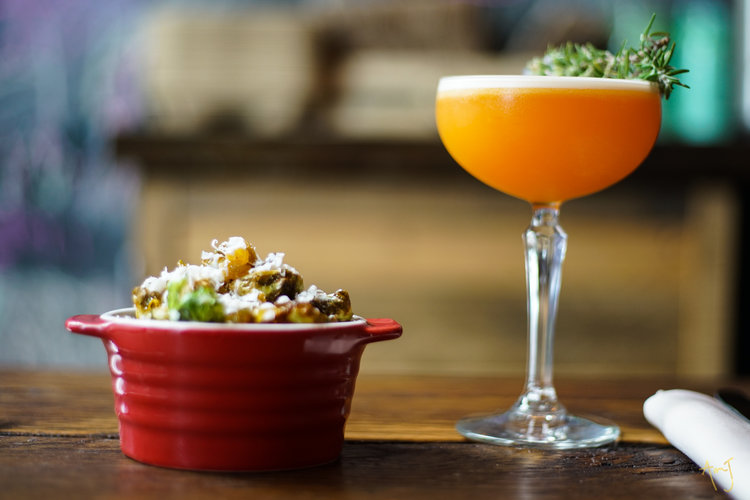 It's not normally socially acceptable to stop by your favorite bar on the way to work, but do that in Alexandria and locals won't bat an eye. That is, assuming your favorite bar is Captain Gregory's and you're stopping to get your morning sweet fix at Sugar Shack Donuts.
Known for serving up sugary goodness by day, Sugar Shack sells treats of a different kind once the sun goes down. Specializing in small plates and inventive cocktails, Captain Gregory's sits hidden in the rear of the shop. The seasonal dinner menu offers modern takes on everything from crabcakes to Brussel sprouts, and of course, includes donuts.
If Captain Gregory's is serious about its eats, they're obsessive about their drinks. In fact, a new cocktail menu is printed daily ensuring a surprise nearly every visit. With over 300 recipes in rotation, there's always something for everyone.
#FrayLife Tip: When you enter the building, head to the left if you want doughnuts, but head to the right for booze and find the door hidden in the wood paneling. 
Did we miss a spot? Sound off and let us know your favorite place to enjoy a drink free from prying eyes. We'll be sure to check it out, and if anyone asks, we didn't hear it from you.
Speaking of cocktails, have you seen our favorite 5 DC winter cocktails list?
GET OUR WEEKLY EMAIL »