Put Some Spring In Your Step and Get Your Adventure Fix this Season in the DMV
Let's face it. Adulting is the worst. By the time we hit our mid-20s, society expects us to don suits, drink less and work more than we play. Well, we at DC Fray say a big N-O to that.
Truth be told, we were all a bit more adventurous as kids (and most of us have the scars to prove it). Whether you were climbing trees in barefoot exuberance or testing "Look Mom, no hands!" on a bike for the first time, we all embraced the thrill that came with unprecedented adventure. If you're looking to reintroduce that childlike courage back into your life this spring, we've got the list for you. Check out these spring-friendly ways to leave adulting behind and get that adrenaline pumping.
Terrapin Adventures
Adventure parks are a go-to for thrill seekers who are looking to stay local and on budget. They host all-day affairs, usually with dozens of treetop obstacles and terror-inducing zip lines not for the faint of heart. For us, the Terrapin Adventures park is as local and thrilling as we could ask for. Located equidistant from Baltimore and Washington, the park is much more expansive than your typical high-ropes course and boasts a 300-foot zip line, climbing walls and a giant high-speed swing in the middle of the forest. Schedule a visit and bring a friend—you'll need the support system when contemplating the 40-foot free fall from the canopy.
#FrayLife Tip: Register with three of your friends on the same package by 4/13 and receive 25% off your booking!
Trapeze School New York
Heights and adrenaline go together like DC and politics, but the former pair is a lot more fun. If you're looking for some height-based adventure (and a workout), head to the Trapeze School New York in Navy Yard. It's been a fixture in DC since 2009 after launching its first location in—you guessed it—New York City, and it boasts a ton of crazy classes. No experience is required to attempt Cirque du Soleil–like moves in its silks, aerial hoop, juggling and acrobatics classes. Of course, its most popular course is the flying trapeze, in which you literally perform backflips 20 feet in the air on your first day. Sign up soon, and don't forget to charge your phone—you're going to have a lot of videos to post on social media (#humblebrag, you're a badass).
Billy Goat Rock Scramble
If you've lived in DC long enough, you know about the meandering Billy Goat Trail alongside the Potomac in Great Falls. The trail is the perfect way to enjoy the crisp, Spring air that's (hopefully) here to stay. After your workout, stay for the sunset to watch the ebbing light refract in wild colors off the adjacent granite walls on the Maryland side.
#FrayLife Tip: Don't forget to walk a bit on the C&O Canal Towpath when the canal freezes over, especially if the sun is out. You'll never hear a sound quite as brilliant as ice cracking in the wilderness.
Rock Climbing at Great Falls (or indoors)
While you're at Great Falls conquering the Billy Goat rock scramble, why not bring some ropes along and enjoy some great climbs? Great Falls is well-known throughout the local climbing community for its plethora of schist walls with routes ranging in technical grades great for amateurs. If you're a novice climber, sign up for an outdoor excursion to the falls with one of our local indoor climbing gyms.
iFLY
If you've always wanted to try skydiving but aren't quite brave enough for the real thing, head out to Gaithersburg for an indoor version that will still get your adrenal glands pumping. If you haven't heard of it before, iFLY is essentially a vertical wind tunnel that lets you float in midair with an intense rush of wind to mimic falling through the sky. It can be just as thrilling as a real dive, but the fly time is longer than real diving and wildly less expensive. Plus, you won't have to be strapped to a stranger as you take the plunge.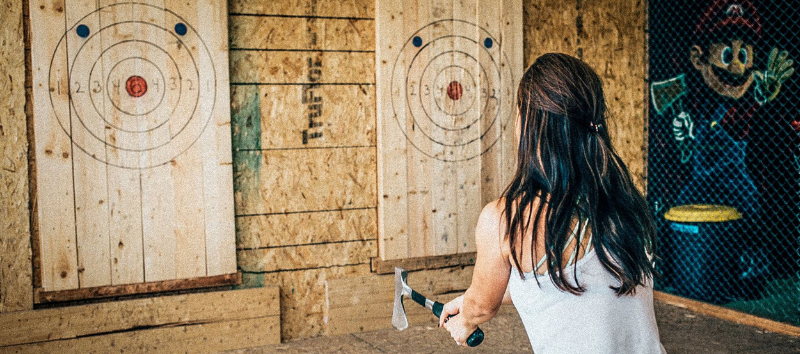 Axe Throwing
We've written about this before, but bear with us—in an article about adventure seeking, how could we not include axe throwing? This crazy trend has been popping up in cities across the country, and we're not complaining. There's no instruction required—just walk on in, pick up an axe, and chuck it at a wall as hard as you can. We encourage reserving time as a group because many axe-throwing locations allow food and brews, however counterintuitive that may be. Sounds like a perfect team-building activity to us (but maybe not if you hate your boss).
Go-Karting
It's a well-known fact that DC is a town of unbearable stop-and-go traffic where the walking commuters move quicker than your car and cyclists could alter space-time at their incredible 15 mph pace. For all of you four-wheeled commuters whose brake lights are lit more than they're dimmed, it's time to address a need—a need for speed. Look no further than go-karting for your next high-speed adrenaline fix (and let's face it: anything above 25 mph would give us adrenaline at this point). Spend a day zipping down one of the best-laid tracks we've seen at the Autobahn Indoor Speedway and leave DC traffic in a plume of exhaust behind you.
#FrayLife Tip: The Dulles location of the Autobahn speedway also has an axe-throwing space!
Looking for more outdoor adventure? Check out this list of must-do hikes near DC!
Let us know about your craziest adventures by tagging #FrayLife and @DCFray on all your adrenaline-filled social media posts!