Panda-Monium Takes Over DC's Miracle on 7th St. Holiday PopUp Bar
"It's the Most Wonderful Time of the Year!"
Now that we are starting to get unstuffed from the copious amount of turkey and fixings from Thanksgiving, it's time to bust out those Holiday sweaters and get in the Holiday spirit!
Earlier this year, The Drink Company's Cherry Blossom Pop- Up Bar (PUB) bloomed its way all over DC and into your Instagram feeds alike. As we enter the holiday season, the creative company is back in Shaw with another hotspot to bring some holiday cheer- Miracle on 7th Street is back! Returning for their fourth year, the holiday hotspot wanted to celebrate one of DC's popular residents- the DC Zoo Pandas!
The whimsical pop-up bar has teamed up with the Smithsonian Zoo to partner in on the celebration. Get your cameras out because you won't want to miss any minute of this PANDA-MONIUM experience.
As you enter the PUB you'll get a panda hat to sport throughout the various festive rooms with their own unique panda experience. Hundreds of panda stuffed animals, mugs, murals and a giant sculpture are creatively placed throughout the space. The team worked around the clock for 2 weeks straight to assemble this holiday-inspired panda paradise.
As you enter the first bar you're also greeted by a John Cena pop up (Yes, you heard that right! One of their drinks is called a John Cena Christmas!) To the left, they have a mistletoe photo booth you'll want to check out. Strike a few poses or share a kiss in their perfectly- lit mistletoe glam booth.
As you continue to walk through the first bar, you will be drawn to the beautifully hung red jingle bell canopy. This room is one to marvel which also includes a collection of panda plush animals and two wall-size murals of Bumble and Frosty.
We all know how much Bei Bei loves the snow! Head to the back bar of the space where you can walk into a winter wonderland. Snap a few pictures with a giant panda figure and Winterland display.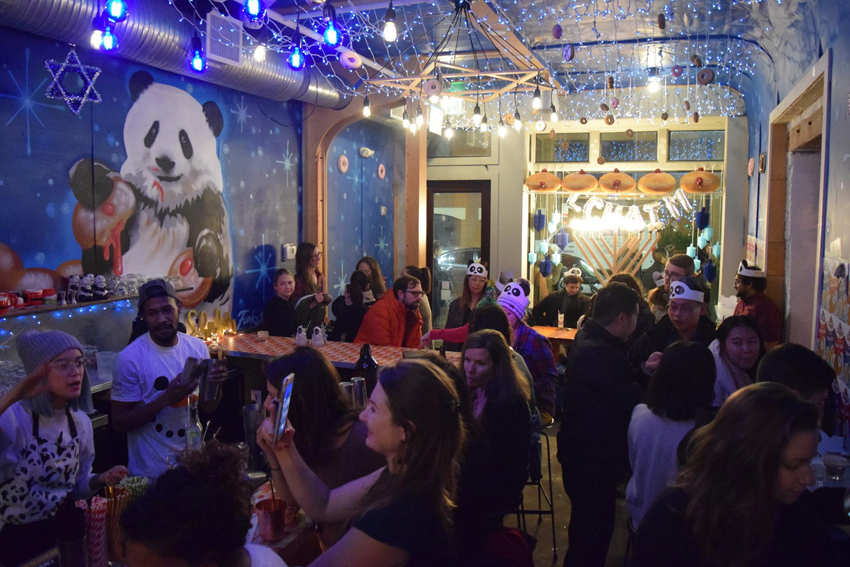 Moving into the next room you will be drawn to the illuminated blue and silver Hanukkah bar. DC-based artist Andrew Funk returns to create an original Hanukkah themed wall art- complete with a giant panda mural and Manischewitz homestyle potato latke and matzo ball collage.
Back by popular demand, the Stranger Things light display has also made an appearance! Check out the return of the abstract installation in the hallway that connects two of the holiday bars.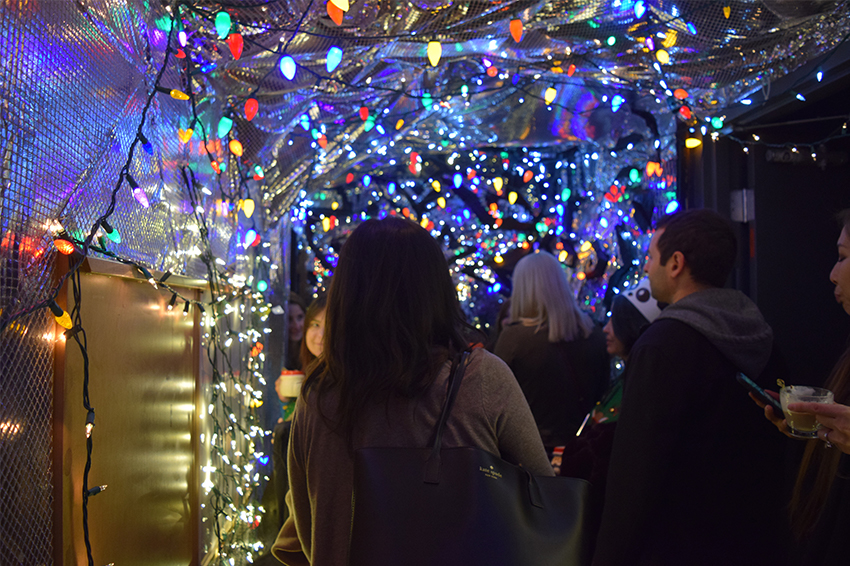 Before the Ball drops on New Year's Eve, step inside the golden geodesic dome installation. You'll want to cheers to the New Year with their NYE- inspired bubbly creation, The Final Countdown.
As you walk out of the NYE Ball you are immediately drawn to the beautiful display of red and gold assorted ball ornaments showering the ceiling above. Thousands of red and gold ball ornaments are hung throughout the space. Let's not forget the striking vintage red sleigh that is displayed in the window. You'll want to sleigh' all day in this fabulous photo-op.
Other than the FOMO snap spots, the innovative drink menu is crafted to perfection (that will sure to get you blitz-end).
Ask for one of the most eye-catching drinks on the menu, Santa Bei Bei, which is served in a Panda statue mug and bamboo look- alike straw. This tequila-based cocktail is as enticing as it looks- mixed with lime and vanilla agave soda.
If you're looking for a cozy drink that will be served with a show, go for the Santa's S#!t List. This boozy hot chocolate is made with scotch and served with a giant marshmallow torched to toasty perfection. Hopefully, you'll be on the nice list after that. Maybe.
The Hebrew Hammer is also a cocktail worth sipping. This Gin-based creation is made with homemade Manischewitz Cassis and served with a jelly doughnut on top.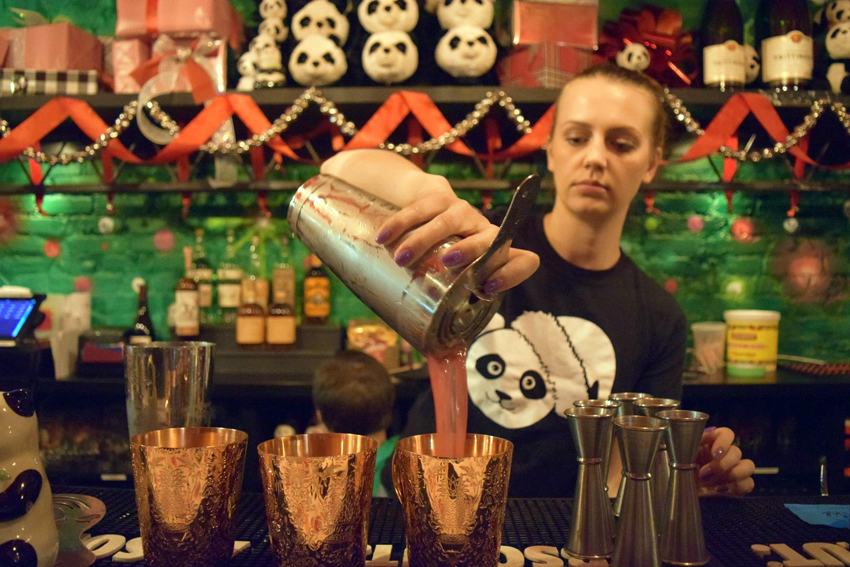 Regarding food, explore Shaw's neighborhood of dining options. The PUB has light snacks but encourages their festive guests to try out the neighboring eateries.
#FrayLife Tip:

The snack menu is limited, but

embrace your inner elf

and snack on some Keebler Elf Fudge Cookies.
Zoo Lights is also back to spread some holiday cheer. The Smithsonian's National Zoo & Conservation Biology Institute is powering up with Pepco to transform the Zoo into a dazzled-winter wonderland.  Bar guests will begin to brighten as well, especially around the ZooLights celebration (which ends January 1).
Miracle on 7th is open from 5 pm-12:30 am Sunday-Thursday and until 1:30 am on Fridays and Saturdays.
#FrayLife Tip: To steer away from the larger crowds and line to get in, check the PUB out during the weeknights (Monday-Wednesday) or on a Sunday evening.
Get into the holiday spirit by checking out Miracle on 7th. If you haven't checked out the PUB, you still have time. The holiday PUB will be open to the public until 8:30 pm NYE night. To ring in the New Year with your faves from the bar, be sure to purchase one of their NYE party tickets on their Eventbrite page.  
Once you get your chance to explore the holiday wonderland this year, keep a lookout for the next creative PUB in the space, which is rumored to already be in the works.  
Will you be getting festive at the Miracle on 7th? Let's see some festive Insta' posts, my friends. Don't forget to tag #FrayLife #DCFray so we can share in your holiday fun.
Now that the Miracle on 7th St. PopUp has you in the holiday spirit, it's time to hit the town to check out the most festive, tacky, Griswold-approved light displays around DC.
GET OUR WEEKLY EMAIL »