On a budget for V-day? Here are 7 last minute ideas that won't break the bank
It's almost Love Day!! Valentine's Day can be a dreadful holiday if your wallet is still feeling the blow from the Christmas season, but luckily for you, DC is loaded with budget-friendly ways to make your significant other feel the love this year.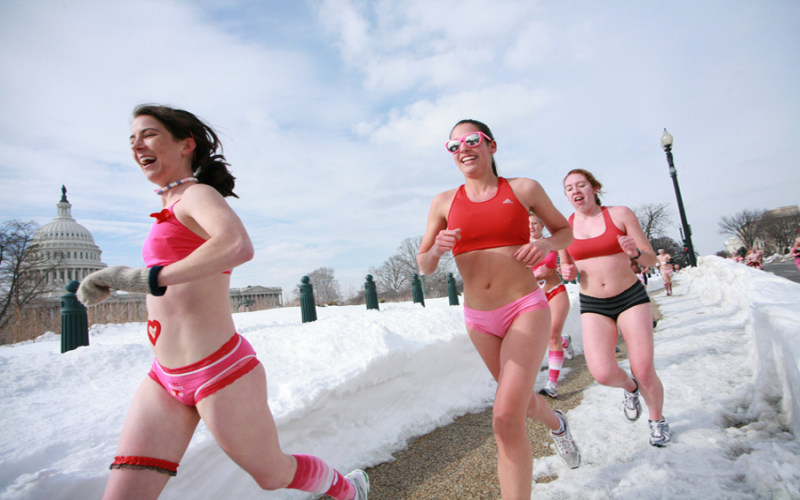 Cupid's Undie Run
If you like to get physical and are feeling a little frisky, check out Cupid's Undie Run on February 9th and start your celebration a little early. Strip down to your underwear (yes you read that right) and set off to conquer the cold. The mile-ish run can be done solo or in teams, and all participation fees ($40 per person) benefit a good cause!
Dirty Trivia
Follow up (or pregame) your dinner plans at 7:30 p.m. with a game of dirty, sexy trivia at Penn Social. This is not your ordinary game night, with R rated questions sure to break the ice for new romances and spice things up for old ones.
#FrayLife Tip: You may need a drink (or two) before playing this one folks.
Valentine's Market in Crystal City
If you're late getting your special someone a V-Day gift, or if you want to spark some good vibes a little early, head to the Valentine's Market at The Grounds in Arlington, Va., for a night full of romantic fun. The event will feature local food and craft vendors, wine & beer tastings, a cash bar, and more! What's not to love?
Outdoor Ice Skating
If you didn't have a chance to hit the rink during the holidays, or even if you did, outdoor ice skating is (almost) never a bad date idea. Grab your lover and some skates and show off your skills for an active Valentine's Day celebration.
#FrayLife Tip: The National Gallery of Art Sculpture Garden Ice Rink features 45-minute skating sessions for only $9 through the beginning of March.
Visit a Museum
Get the fun going before dinner by visiting any of the endless free museums DC has to offer. There are options for every interest including the National Gallery of Art, the United States Botanical Gardens, the Holocaust Memorial Museum, and many others, so you'll have plenty to choose from without worrying about repeat visits.
Back to the 90's Valentine's Day Party
Holy throwback. Grab your lover and dance the night away with us 90's style for $79 at Saint Francis Hall with a night full of music, munchies, and more! If you're rolling solo then February 14th is probably a dreaded day in your calendar. BUT this year it doesn't have to be because THIS is the solution for your blues!
Make Dinner
If all else fails, you can always visit your nearby grocery store and get some grub to whip up for a nice dinner. After all, what better way to one's heart is there than a loving, home cooked meal? (And of course, don't forget the dessert and candlelight).
#FrayLife Tip: Take an after-dinner stroll around the neighborhood to take in the DC views in a different mindset.
Want to keep the date nights going after the hype of V-Day fades away? February is jammed pack with opportunities for just that, so check out some options to keep the romance alive!
No matter how you decide to spread the love this Valentine's Day, don't forget to take to social using #FrayLife and #DCFray to let us be a part of it all.
Not all Valentine dates are planned for Feb. 14th, after all it's a Thursday! If you need to re-schedule or plan for next weekend, there here are 39 ideas for February fun.
View More Articles By Haley Dick