Stay on Track and Crush Your New Year's Resolutions with these #FrayLife Approved Local Spots
2019 is in full swing, and with January already halfway gone, it's the best time to re-evaluate your resolutions and make sure you stay on track for the months to come.  Whether you're off to a slow start or you haven't had the chance to get the ball rolling, it's not too late to get going on a New Year's resolution. With the District at your disposal, there are plenty of local businesses and cool spots to help you keep your resolution while keeping the fun alive. 
Get Fit
You've all seen the memes…starting January 1st (or January 2nd after the post-NYE symptoms subside) the gym looks like a can of sardines. This year, don't sign up for that generic gym membership.  Try some of these other exciting opportunities to get fit in DC:
Pole dancing isn't just for the strip club or the party bus!  It is well known to be an excellent workout. Think about the muscles you'd need to hold yourself up on a pole.  Interested in working on some killer arms and abs? This is the workout for you. Pole Pressure in DC has classes for all levels, so no need to come in already swinging!  You can buy a single class for $35 or multiple classes, ranging from $50 to $250 depending on how many you purchase. If you're ready to commit for the long run in DC, try their monthly memberships…ranging from $100-$180 a month.   
#Fraylife Tip: If you're looking for a little extra excitement, Pole Pressure also has aerial hoops classes!
Beat out any negative energy in the new year by trying out a boxing class!  Urban Boxing DC offers both individual training and group workouts – so bring the friends with you.  Get in your cardio and strength training fix in a fun and unique way, with the added benefit of being able to punch away the stress of the workday.  And not only will these classes help you get in shape in 2019, but they will also teach you valuable self defense skills! Request a free class on their site to try it out!  
Ever thought about running away to the circus? You can try your hand at at trapeze without ever having the leave DC! You can try these classes regardless of athletic background. And don't worry – you will be attached to a safety belt.  Not quite ready for fly through the sky? They also offer silks classes…or take their conditioning course to develop your strength.  Visit their site to buy a class pass and save money on bundling!
Eat Healthy
Healthy eating can be tough, especially when you're surrounded by all the yummy food deals at happy hour.  Check out these options to keep you excited about healthy food in the new year!
Try out some of the yummy vegan food at HipCityVeg.  Who knew a meatless smokehouse burger could taste so good?  And you can feel good about the money you're spending…all their kitchen scraps and packaging are composted and the space itself uses salvaged wood and recycled plastic.
Fruitive is the whole package when it comes to health and wellness. It was the First Certified Organic Fast Casual Restaurant in North America. Not only that, but it's plant based and kosher and has a menu that's made from scratch.  The company is even sustainable AND ocean friendly. But does it taste good? Of course! Think avocado toast…golden mango waffles…or an acai spice superberry bowl. Make sure you head over to CityCenterDC and try this place out in 2019!
Looking to try your hand at a little meal prep in the new year?  Try out the Farm to Table class from Cozymeal. The chef will come to your house and teach you how to find and cook the best ingredients.  Seared salmon anyone? For $75 per person you will get a 2.5 hour class and a 3 course meal…so bring your friends! And BYOB if you want to add a little happy hour twist.
#Fraylife Tip: Cozymeal also offers other fun cooking classes like "A Journey Through Italy" – so make sure to check out the rest of the site!
Volunteer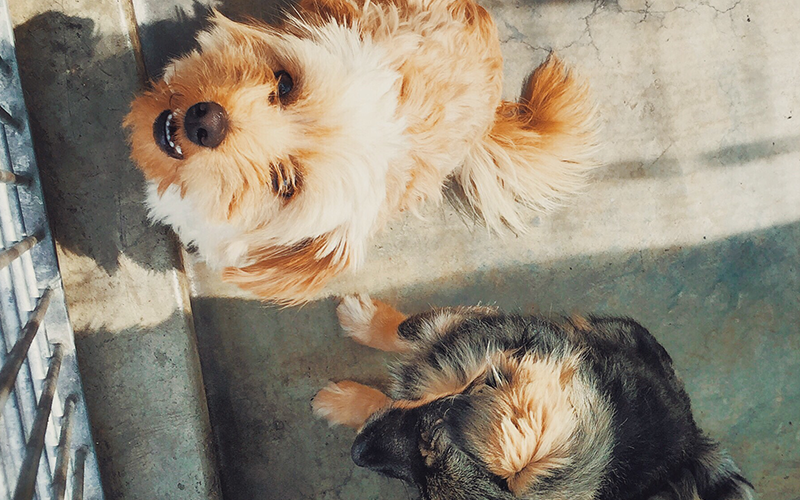 Pay it forward in the new year! Start volunteering locally. There are many options throughout DC, whether you're looking to help people or animals, or just volunteer for a local event!
If you're looking to give back to the local community, this is a great place to do it! Bread for the City helps to reduce the burden of poverty in DC low income communities. They offer a variety of ways to volunteer your time. You can help with sorting clothing donations, bagging and distribution food, administrative tasks, or even medical care if you're a licensed professional.
If animals are your passion, consider a local shelter or help out with the Humane Rescue Alliance. They protect and advocate for animals, help spread knowledge of animal care, and help them into adoption or foster homes. Volunteer your home to a future pet that needs a temporary space – or take some dogs for a run at the local park! Your volunteering can even help these animals find their forever homes.
Want more #FrayLife approved New Year's Resolutions for 2019? Check out 5 ways to Make 2019 Your Most Fun Year Ever in DC. When you do any of the fun stuff on either list make sure to share it with us using #FrayLife #DCFray on social!