Make First Friday the Best Friday With A Unique Neighborhood Art Walk
It's finally spring! The weather is getting warmer and that means there are more opportunities to spend time outside. And what better way to do that in DC than by exploring a new (or an old favorite) neighborhood?
Check out one of these two First Fridays events in the Dupont or Petworth neighborhoods, both of which feature local art and local businesses. And don't forget to tag #DCFray and #Fraylife if you go!
First Fridays in Dupont
First Fridays in Dupont are a call to all art lovers, or those who want to become art lovers. It's a fun and unique date night idea (that doesn't cost anything!), or a great way to get a group of friends together for an evening before hitting the Dupont bars.
Basically, art galleries will open their doors to the public between 6 and 8 p.m. on the first Friday of the month, and allow people to explore their art, space and other offerings. Most galleries will also serve refreshments in the form of light snacks and wine. At several, you'll also be able to create your own art, in which case the gallery will supply the materials and you'll bring the creativity. Whether you're good at art or not, it's always a blast to try your hand at something new.
There are a lot more galleries than you think in the neighborhood; many are hidden away in adorable row homes on quiet side streets. At your first location, you'll receive a map where you can mark off and keep track of the galleries you attend. Gallery employees (and sometimes the featured artists themselves) will be around to answer questions and explain pieces.
The best part is that after you're done with the art walk, you can start on the variety of restaurants and bars in the area. Think of it as the perfect pre-game to your Friday night.
Read up on more information about the event, but also about Dupont, here.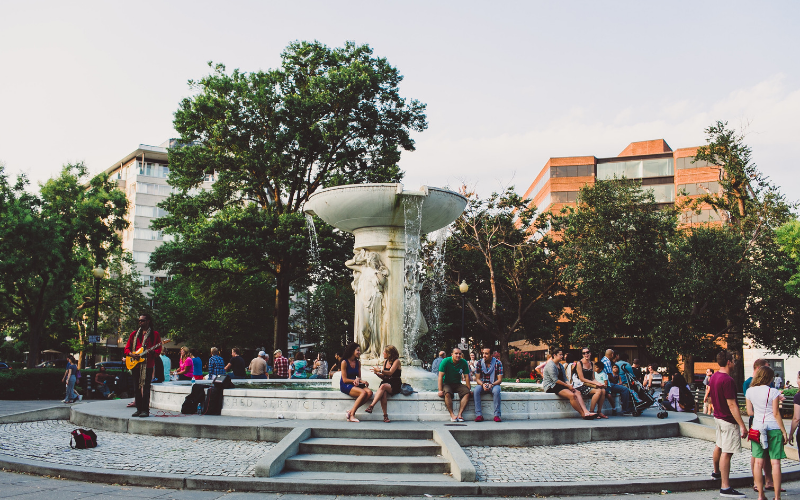 First Fridays in Petworth
While Dupont is a very established neighborhood in DC, Petworth has been experiencing a revitalization and is still fairly new on the cool city scene. That being said, there is plenty to explore. First Fridays in Petworth are usually held on the charming and lively Upshur Street, which perfectly blends old DC character with trendy new restaurants and bars.
The event is hosted by the Petworth Arts Collective, and works to highlight the creative local community. Usually an artist will be featured whose work will be displayed in shops and restaurants along the street. The participating venues do change monthly, but almost all have some sort of promotion on First Friday, whether it be drink specials or huge discounts on items.
Petworth Arts Collective also hosts a free round table discussion on the role of art in the neighborhood and initiatives to bring different types of creative expression into DC. If you're looking to get more involved with art and artists in the city, this is a surefire way to do so.
First Fridays in Petworth go from 6 to 9 p.m., as you may have guessed it, on the first Friday of every month.
Have you been to either of these? What did you think about the experience? We'd love to hear your thoughts in the comments below.
Photo Cred: Petworth Arts DC
And if you haven't been, but are planning to next month, share your adventure with us using the hashtags #DCFray and #Fraylife.
Happy art walking!