If You'd Rather Run Your Butt Off Than Watch the Macy's Thanksgiving Day Parade, This List of Turkey Trots is for You
Thanksgiving is a day where many friends and families travel near and far to come together under one roof, spend time with one another, and be thankful for all that life has given them.
Before indulging in a delicious Thanksgiving Day feast, many will start the day on the right "foot." Turkey Trots are a popular Thanksgiving tradition in The District.
Burn some calories before the big meal, and support awesome causes by participating in one of these local turkey trots!
So Others Might Eat (SOME) will host its annual Trot for Hunger on Thanksgiving Day at Freedom Plaza. Before you and your family feast on turkey, sweet potatoes, stuffing, and cranberries, run for a purpose to help the homeless population and hunger in DC. Each participants' registration fee will go towards providing food, clothing, healthcare, and more to 10,000 people in need. It is $45 to register for the timed race and $40 for untimed. The 5K timed race begins at 9 AM, and the 5K untimed race at 9:15 AM.
#FrayLife Tip: Runners are encouraged to dress up as turkeys for the trot! And don't leave your furry friends at home. Pets are welcome, but must be kept on a leash at all times.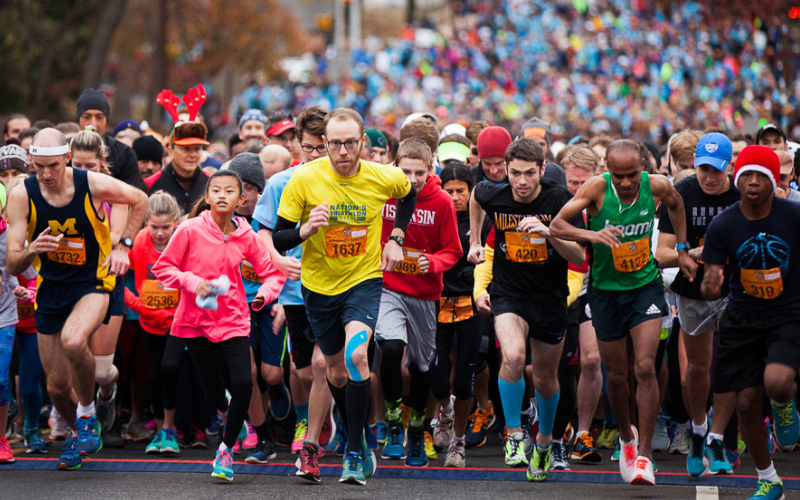 The 36th annual Turkey Chase Charity Run will take place on Thanksgiving Day at 8:30 AM. It is $46 to participate in the 10K, and $22 to participate in the 2 mile Fun Run and Walk. Money raised from the race will benefit YMCA in Bethesda. Yearly, the Bethesda YMCA subsidizes $50,000 in YMCA program fees so that the facility is accessible to anyone who needs it. You can make a donation here.
#FrayLife Tip:
If you're not a big runner or walker and feel like a 10k, or 2 miles is too much for you, that's okay. If you want to join in on the fun in a less demanding way, there's also a 1k Run Challenge you can participate in for $20.
The Marine Corps Marathon will put on a Turkey Trot on Saturday, November 17. First, the one mile run participants will start off the fun at 9:30 AM. Once these runners are finished at around 9:50, the 10k will begin. The race will take place on a course that goes through the Marine Corps base in Quantico. The Turkey Trot Miler is $16, and the 10K is $40.
#FrayLife Tip:
Keep your eye on the prize during the race. Winners will be rewarded with frozen turkeys and pumpkin pies, courtesy of Wegmans.
Alexandria Turkey Trot – Alexandria, Virginia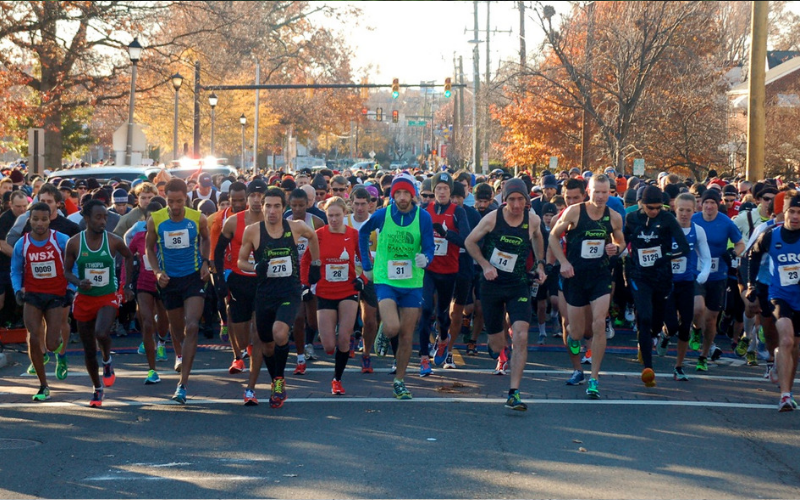 Enjoy a scenic race in the Del Ray neighborhood of Alexandria during a Thanksgiving Day Turkey Trot. This trot is a 5-miler, and is the 43rd annual Turkey Trot hosted by the DC Road Runners Club. The trot begins at 9 AM. Participants are encouraged to bring two nonperishable food items to the race, in support of ALIVE!, a non-profit that helps Alexandria's needy. Cash donations are also welcome. It is only $20 online to register for the race, and $25 on the day of the race.
#FrayLife Tip: If you're competitive, then you should know that a  $2000 reward will be split among the 1st, 2nd, 3rd and overall male and female winners, in addition to the 1st place male and female masters. A $200 bonus will be given to the participant that breaks the course record. Bring your A game!
Arlington Turkey Trot – Arlington, Virginia
Christ Church of Arlington will start off Thanksgiving morning with their 13th annual Arlington Turkey Trot at 8 AM. The 5k course goes through Lyon Park and Ashton Heights. All proceeds will go to six local charities. Runners will receive a Turkey Trot t-shirt, but are also encouraged to dress up in costumes. For our competitive friends, the top male and female finishers will be recognized during an awards ceremony at the end of the race. It is $45 to register.
#FrayLifeTip:
The fun will continue after the race with live music from The Buzzhounds!
Are you and your family, or friends participating in any races this Thanksgiving? If you have any cool Thanksgiving Day traditions you want to share with us, use #FrayLife on social!
Are you hungry after burning off all those calories? Too tired to cook dinner for everyone and their brother? Fear not! Skip the hassle and eat at any one of these DC restaurants serving up Thanksgiving dinner. We promise you won't be disappointed.