How to Make Friends in DC When You're New to Town (or Even If You Are from Here)
I don't know about you, but I never realized how hard it was to make friends once graduated from college until I moved to a new place and had to meet new people. The only people I knew in DC were family members, and while I love them, I didn't want to spend every waking moment with them. In a world of meeting people online, I discovered Meetup.com and thought I'd give it a shot. Admittedly, it took me a while to be brave enough to actually attend an event because I had all these wild thoughts that I won't vocalize here. Basically, I let my imagination run wild. The one I eventually chose to go to was a 20s and 30s Meetup group in DC because I figured there would be people in my age range, and hopefully they'd be normal.
There are so many different groups on the website—from going-out groups to hiking groups to book club groups to running groups and everything in between! These groups can be a great way to meet people and do something new. It does take time to find a group you actually enjoy hanging out with, but it's worth it.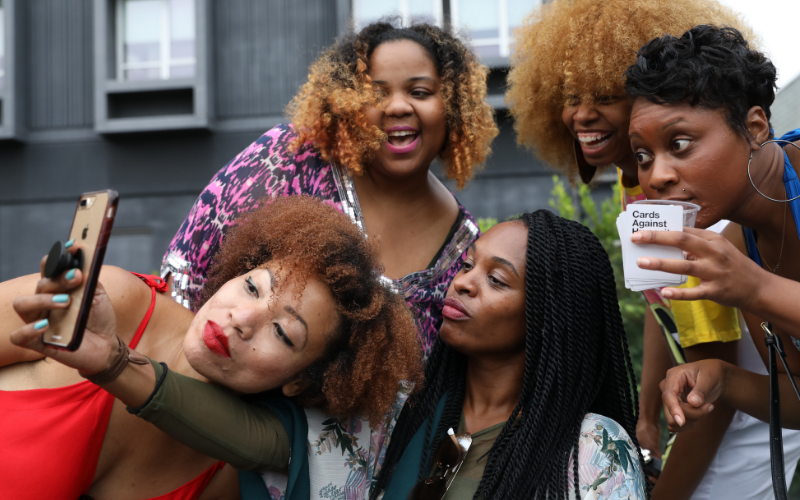 I also got the adventurous idea that I wanted to play a sport. If you knew me, you'd understand why I say sports are adventurous. I wanted to a do-over of my youth—when I never played sports—and signed up for softball with DC Fray. A coworker invited me to play on her team, and I thought, "Why not?" I had never even picked up a softball bat before, but I wanted a social league where people weren't overly competitive and wouldn't be mad at me when they realized how bad I sucked at hitting a ball. Turns out I was worse than even I expected. Everyone was super nice and friendly, though, and it got me out and about and into DC on the weekends. I played for three seasons before retiring my glove and admitting that softball wasn't my forte.
This past season, I decided to try kickball. It was on a weeknight and closer to where I live than the National Mall. Let me tell you, kickball is my sport. Kicking a light-up ball is a lot easier than hitting a softball that's coming straight for your face. My team made it to the playoffs! We didn't win, but making the playoffs is a reason to celebrate in my book. So coming off of that playoff high, I signed up for bocce for a winter bar sport. Stay tuned to find out what my bocce skills are.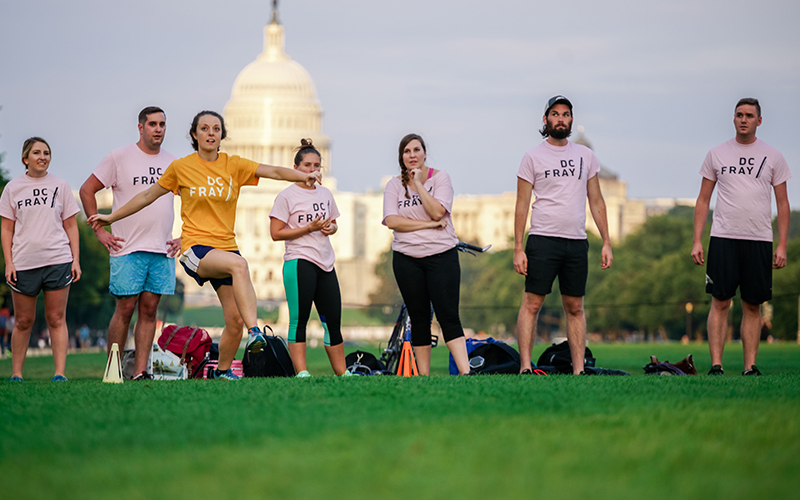 Next up: Bumble. It's not just for dating. We all know by now about the Bumble BFF feature, but who has actually used it? This girl has. I know a lot of people think it's weird, but honestly, it's not any weirder than online dating, and that's the norm these days. Yeah, you're swiping on people you potentially want to be friends with, but you're already swiping on people you potentially want to date. I see no problem here.
I've actually made three solid friends from Bumble BFF. One lives in DC, another in Northern VA and a third moved to Austin earlier this year. Wow, three friends makes me seem like I don't have a lot of friends, but don't worry about me; I have other friend groups I've met through people or work or whatever else. I also found a Bumble BFF Facebook group that has so many ladies to hang out with! Everyone is open and friendly to meet new people, and in my opinion, you can never meet TOO many people.
Let's talk about Facebook for a hot second. Yeah, you go on to creep on old college or high school friends to see if you're more successful than they are, but the Book also has so many groups to meet people on. It doesn't have to be a Bumble group; it can be a local area group or a workout group. Or if you don't see anything you like, make your own group!
Are there other ways that you've made friends in the DC area? Let us know using #DCFray!
GET OUR WEEKLY EMAIL »