All Aboard The Water Taxi for DC's Ultimate Waterfront Bar Hop Experience
It's summer, so go enjoy it on the water. With so much to do on land, it can be easy to forget all the ways to get your nautical vibe on in DC without driving hours to Delmarva beaches.
The District's location at the convergence of the Potomac and Anacostia rivers makes for some great waterfronts to explore. And one of the coolest ways to experience those vantage points of DC in via the new Wharf Water taxi.
The Wharf Water Taxi (and other cruises and transport offered by the Potomac Riverboat Company) crisscrosses the Potomac on many routes, but we've narrowed down a perfect tri-stop jaunt sure to put you in a summer state of mind – all for just $20.
Alexandria to The Wharf
Start your waterfront-hopping day with brunch in quaint Alexandria. There are many great choices near the water. The Warehouse has your upscale bases covered with its weekend brunch from 9 am – 4 pm. Or get closer to the water with Sunday brunch at the bright and airy Blackwall Hitch.
Photo Credit: @Flickr
Round off your morning in Alexandria with some shopping at one of the many boutique shops on King Street, or head to the Torpedo Factory to take in some local art and watch artists create their masterpieces in the studio.
Then catch the 1:05 p.m. Wharf Water Taxi to the Wharf to kickstart your afternoon. One way tickets are just $10 for a 30-minute cruise up the beautiful Potomac.
PhotoCredit: @Flickr
#FrayLife Tip:

Some water taxis offer a small choice of beer aboard for $6 per can, so you can keep the party flowing en route if you're lucky.
Hop off the ferry and run right into one of the fantastic bars or restaurants that this new waterfront has to offer.
Cantina Bambina is on the same pier as the Wharf Water Taxi docking area, so be sure to hit it up on your way in our out. This rebooted local favorite offers fantastic open-air views of the water on the deck upstairs, with tasty margaritas and Mexican-import beers to go along with it.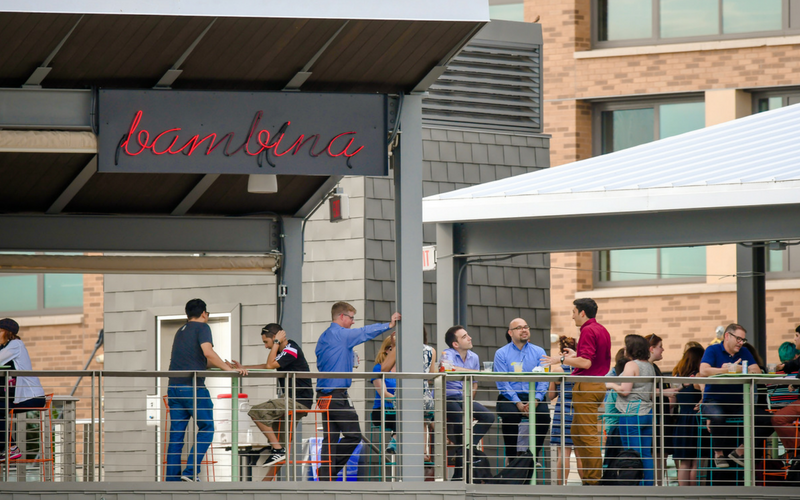 For lunch, keep with the coastal theme and try Hank's Oyster Bar. The largest location of the beloved DC seafood chain, Hank's at the Wharf offers tremendous seafood (you must get the oysters in any form) with seating indoor and outdoor. Happy hour is 7 nights a week from 4-7 p.m.
The Wharf to Georgetown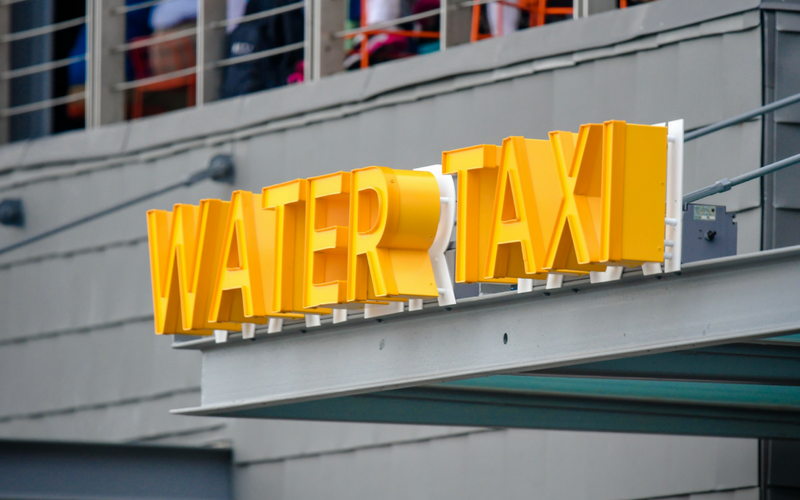 Once you're in a beachy state of mind, take the 4:45 or 6:45 p.m. (depending on how much fun you're having at the Wharf) water taxi for $10 up to beautiful Georgetown to finish off the day.
On the 30-minute trek, peak DC's famous monuments from an entirely new perspective. As you travel up the Potomac, you'll get stunning reflective views of the Jefferson Memorial, Kennedy Center, Washington Monument, Arlington Memorial Bridge, and more.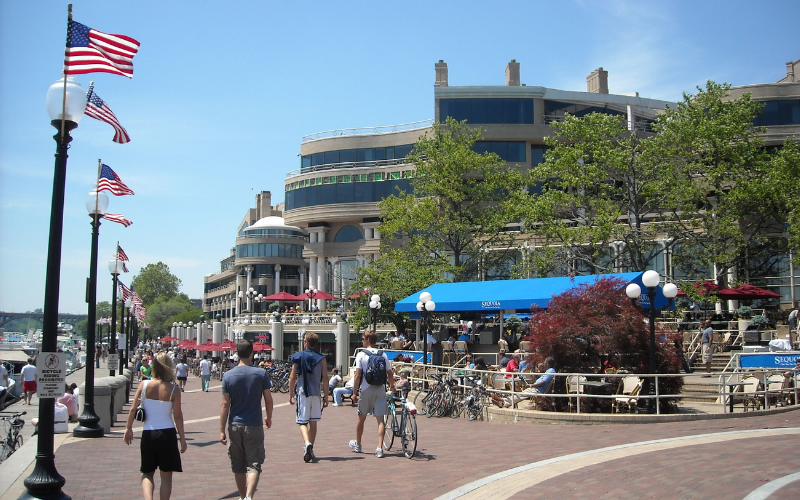 Photo Credit: Flickr
Drop anchor in Georgetown and take advantage of its world-class shopping and dining. The Georgetown waterfront is one of the best places in DC to take at the end of a summer day.
Overlook the river for dinner at Sequoia, a sophisticated American cuisine spot with dramatic floor to ceiling windows and an ambiance drenched in contemporary art. The large outdoor lounge is an ideal locale to sip one of their inventive cocktails.
For a more laid-back feel, head to Nick's Riverside Grill, a family restaurant with fast casual food where you can take in the jumping fountain of Washington Harbour.
And if you're still drinking, head a bit inland to the newly opened Church Hall, an all-American beer hall with liter beers and boozy slushies.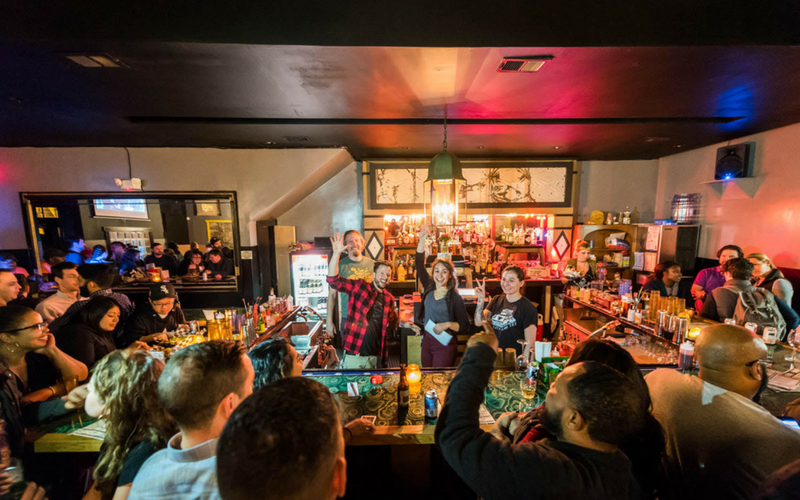 And there you have it; a do-it-yourself day full of cruising, boozing, and dining up and down DC's unique waterfronts. Did we hit your favorite spot? Let us know if we missed a must-try in the comments. Summer ahoy!
Looking for more great times on the water? Use our Southwest Waterfront Guide to explore The Wharf.