Fun and Active #FrayLife Transportation Options
If you've walked around DC lately you've probably noticed a fleet of new, brightly colored bikes and scooters that - don't lie - you really want to try.
DC is among a growing number of forward-thinking U.S. cities that has become a playground for testing many new app-based active transportation options that will make you feel like a kid again.
Travel to work, hit up happy hour, or get out and explore new parts of the city (we've got awesome content coming all month long if you need ideas), all while getting added exercise snd fresh air on the way.
You're probably too busy to go biking and scooting all over town testing out the various options, so we tried them all and broke down the details below, so you can easily pick the one that's best for your lifestyle.
Whatever two-wheeled option you choose, all are great alternatives to waiting for Metro, being miserable in traffic, or paying a ton for an Uber/Lyft (or worse going with the pool option).
Capital Bikeshare
Capital Bikeshare is the one that started it all. In fact, CaBi was the first bike sharing system in North America when it debuted in DC in 2008. These tough, iconic red bikes can be found at any of the nearly 500 docks across the DMV. They're a great option for biking in groups, or going to popular areas in the city, as docks hold many bikes at the most bustling intersections. CaBi as a group to happy hour, anyone?
Single trips under 30 minutes are just $2, or get unlimited free trips under 30 minutes with an $85 annual subscription.
Dockless Bikes
Within the past six months, dockless bike options have caught the attention of tourists and locals alike. Unlike Capital Bikeshare and it's dedicated docking system, these options can be left, locked, and picked up anywhere. Find one, unlock it with the app, and go straight to your destination with no worry about searching for an open dock. The individuality of these bikes make them perfect for getting places that are a little more out of the way, or when you want to go door-to-door. Ride one straight to your apartment from work. Take it on a romantic picnic in the middle of a park. Or roll right on up to your DC Fray game field and then take it back home after. Download the apps and pick from any of the bright options currently taking up space in the middle of a sidewalk near you:
#FrayLife Tip:

Lugging a gym bag? Groceries? House warming gift? No worries - all of these options have sturdy baskets to hold whatever you're traveling with.
Motorized Dockless Bike
This choice gets its own category because it has one extra feature that makes it stand out from the rest: electric power. Dominating the DC market in this realm is JUMP Bikes. In what essentially feels like your very own moped, JUMP bikes are heavy-duty and have a built-in electric motor that gives you an automated boost as you ride. These red bikes are perfect for getting places quicker, and with less effort, but twice the enjoyment. The assisted pedaling makes these bikes perfect for the hotter months when riding a regular bike leaves you sweating through your suit. Take one when you need to get clear across town fast, or just when you need to ride up that killer hill on 14th between U Street and Columbia Heights (you know the one).
Besides the motor, the major differences between this option and the other dockless bikes are the locking and the cost. JUMP bikes must be locked to a bike rack or other fixed object with a U bar, and they'll run you $2 for 30 minutes.
#FrayLife Tip: Overwhelmed by all the options? An app called

Transit

makes it so that you only need to check one app. Transit combines all the transportation options listed in this article (plus bus, metro, etc.) on one platform in map form, so you can just go with whatever is closest to you.
Scooters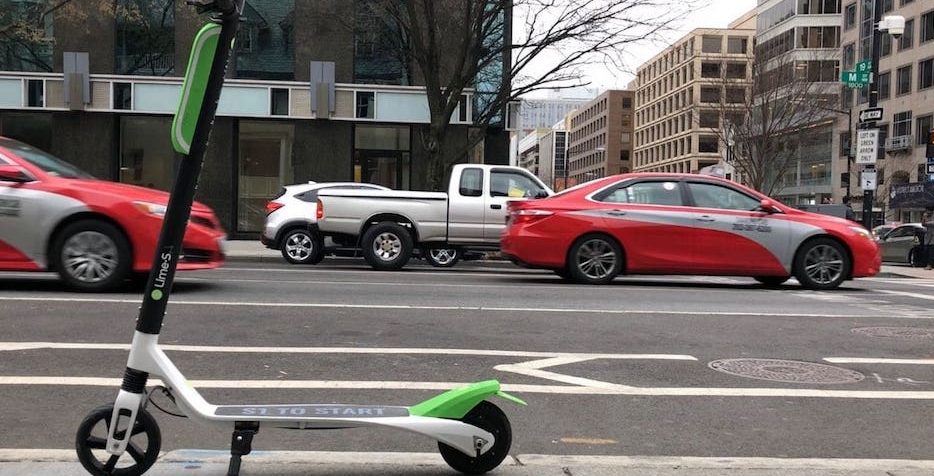 If keeping with a ranking of least whimsical to most, these recently released motorized scooters deserve this last spot. Nostalgia will hit you harder than a Razor scooter to the ankle when you try any of the app-based, electric scooters in DC. Like the dockless bikes, these scooters can be ridden, parked and locked almost anywhere. While they are extremely fun, they take more focus and money to ride than the bikes listed above. All of the options below cost $1 to unlock plus $0.15 per minute to ride, making a 30-minute trip total more than $5. These might be best for going that "last mile," like from the metro stop to your home, or across campus. There are currently three options scattered about the city so far, with probably more to come:
Lime-S Scooters:

From the same company that brings that LimeBike, these scooters are the slightly slower option at 14.8 mph. Though it seemed to go slower than that in practice.

Bird

: Seemingly better built than the Lime-S, these sleek-looking scooters will shoot you up to 15 mph.

Waybots:

These sturdy, black-and-yellow options also top out at about 15 mph.
#FrayLife Tip: Don't plan on riding these with a friend, as the low number of scooters available in DC make it quite difficult to find more than one in any immediate area.
Have you tried out any of these personal transportation options? Which is your favorite?
Need some ideas for cool things you can check out using the transportation options above? We're rolling out content all month that helps you explore the city like a local tourist, staring with our Month Ahead event guide.
GET OUR WEEKLY EMAIL »