9 Awesome Rooftop Bars Overlooking DC
There's something about drinking on a rooftop that truly enhances the entire experience.
Maybe it's the views, or the novelty, or just the altitude that gives us a little extra buzz.
Whatever it is, DC has no shortage of rooftop bars, so we put together a list of our favorites to help you find the perfect place next time you want to throw back some adult beverages high above the city.
515 15th St NW, Washington, DC
POV is one of DC's destination bars where people go to see and be seen. Marketed to the Capitol Hill and K Street crowds, this sleek, upscale lounge boasts excellent views of the White House, the National Mall and the rest of downtown. Be warned, though, cocktails can be pricey and there is a dress code that must be followed. 
#FrayLife Tip:

POV is officially open with their new restyled rooftop, ready for you to enjoy a cold drink and take in the panoramic views.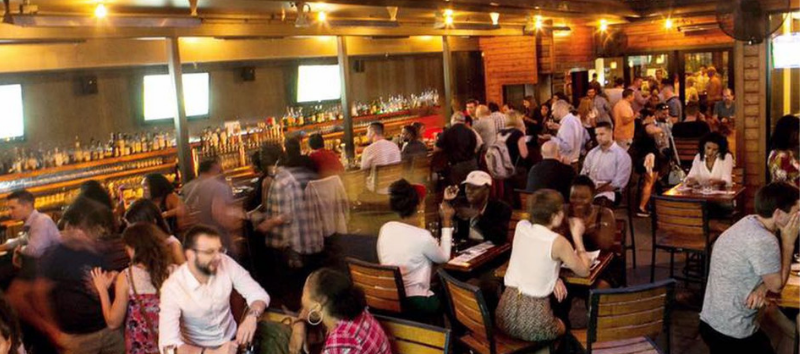 2007 18th St, NW Washington DC
This low-key, wood-heavy bar is right between Adams Morgan and Dupont Circle. And if you like whiskey, this is the bar for you – they have over 2,600 different types to choose from. Snag a spot on their open-air terrace, and ask for their cigar menu. 
2446 18th St, NW Washington DC
Roofers Union is a triple threat. On the ground floor, it's a wine bar.  The second host's a casual but noteworthy restaurant with great food and floor to ceiling glass windows. On top, it's the rooftop bar you came to this article for. If you can make it up all the steps, you'll be rewarded with some of the city's best views of Adams Morgan and Dupont Circle.
#FrayLife Tip:

Feeling adventurous after working up some liquid courage? Tattoo Paradise is right next door…
3718 14th St NW, Washington, DC
This cozy Columbia Heights hangout tops the list of chill rooftops. What it lacks in space, it makes up for in character. Their extensive craft beer collection is only served in cans, so prices are pretty low. Their kitchen serves quick comfort foods all day, and patrons have plenty of board games to choose from.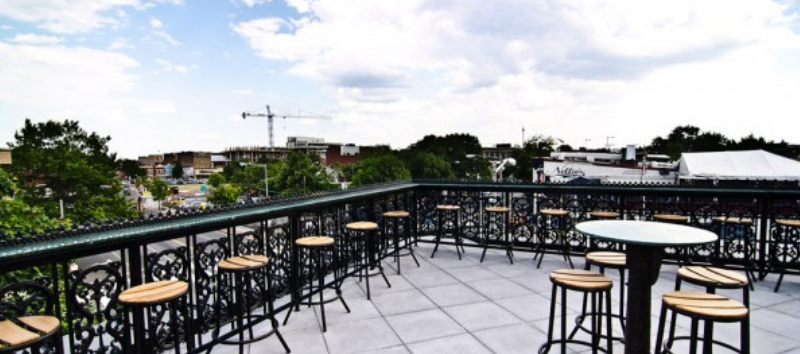 901 U St. NW, Washington DC
This fun, 3-story British style pub, and restaurant is a favorite with the college and under-25 crowds. Loud, packed and fun on the weekends, The Brixton has a massive rooftop with two separate bars that have plenty of space between them. And don't worry, each floor below has its own bar as well. For a more mellow experience, come earlier for happy hour.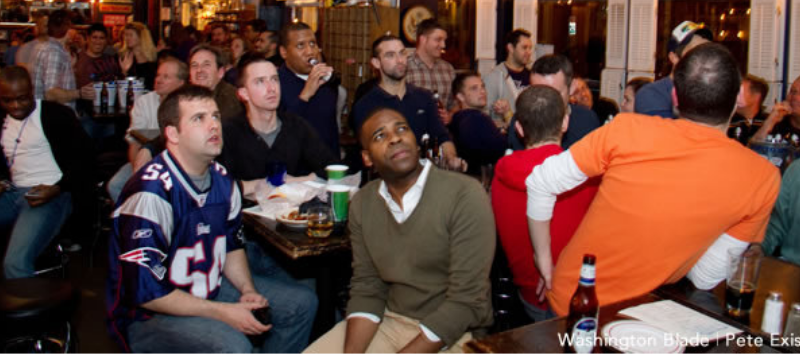 900 U St. NW, Washington DC
Directly across the street from The Brixton is Nellie's, a U Street institution. This bar has sat on the corner of U & 9th street for over a decade and has a top floor with panoramic views of the U St. Corridor. A small balcony area fills up when the weather agrees. They also offer drag brunch and bingo.
1336 U St. NW, Washington DC
Hawthorne's rooftop bar has been named one of the best in the city and for good reason. It's retractable, open all year, and has views of the Washington Monument and the Capitol. Below, three stories of bars and restaurants await.
#FrayLife Tip:

Hate paying cover? Hawthorne is about to become your go-to spot because you never have to pay to party.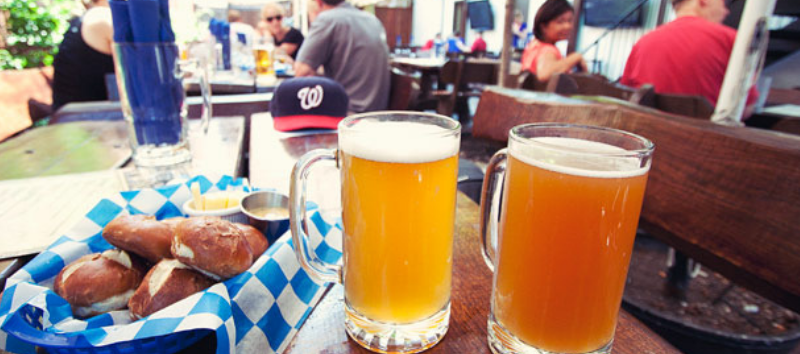 1355 H St, NE Washington DC
Still reminiscing about your college Europe trip? Want to go back? Biergarten Haus serves up a taste of Germany in the form of massive steins of beer, sausage platters, and sauerkraut. Its raised outdoor deck is what got them on this list and, luckily, it's open all year round.

Photo Credit: Whiskey Charlie
975 7th Street, SW Washington, DC 20024
Looking to beat the heat and enjoy the Wharf away from the endless crowds? Whiskey Charlie is the place for you! Located atop of the Canopy. Hosting both the rooftop and an intimate lounge, perfect to share a light snack or a nice cocktail with friends. They don't take reservations and seats are first-come, first serve so come on the earlier side to get the best views.
What do you think is the best rooftop bar in DC? Next time you're there, make sure to tag us on social using #FrayLife or #DCFray so we can feature you on our feed.
Looking for more ways to eat and drink outside? Here are 6 outdoor brunch patio spots you have to try out!
GET OUR WEEKLY EMAIL »