You Must Try These 8 Absolutely Necessary Chicken & Waffle Spots in Washington DC
Chicken & waffles is hands down one of the greatest brunch creations of all-time.
The perfect combination of sweet and savory, breakfast and lunch, crispy and fluffy, honestly if you don't absolutely love this dish…you're just plain wrong.
When it comes to getting your fix of this comfort food classic, DC has got plenty of mouth-watering options.
Sure, self-control is good, but not as good as fresh chicken and waffles. So make your cheat days count (or cheat on your non-cheat days…we won't tell) and say yes to gluttony because every calorie is worth it at these places taking this sensational combo to another level.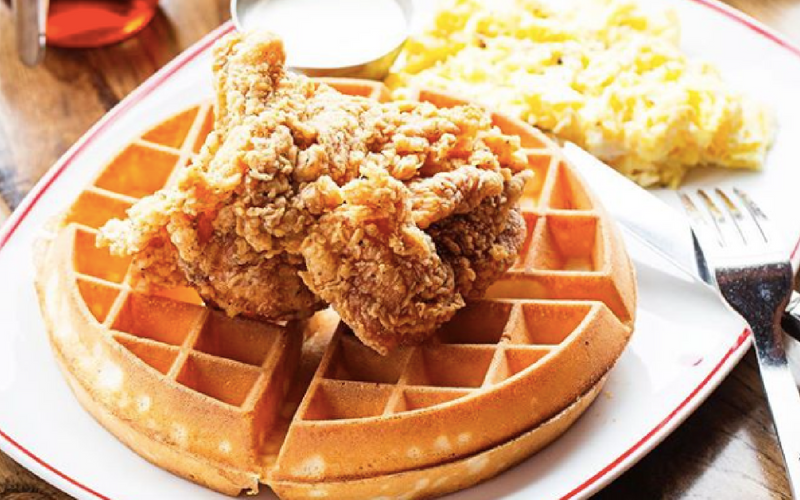 Multiple Locations
Founding Farmers chicken & waffle dish is a fan favorite. People come from all over to try their boneless chicken that has been brined for 24 hours, fried to a golden perfection and served with a light and fluffy waffle. They keep their recipe simple, using fresh ingredients only from family farms. Served with a creamy, homemade side of mac n cheese (or during breakfast, eggs anyway), this dish doesn't get much better! Did we mention they serve it all day, every day?
#FrayLife Tip: Try their legendary buttery skillet cornbread for a southern-style classic!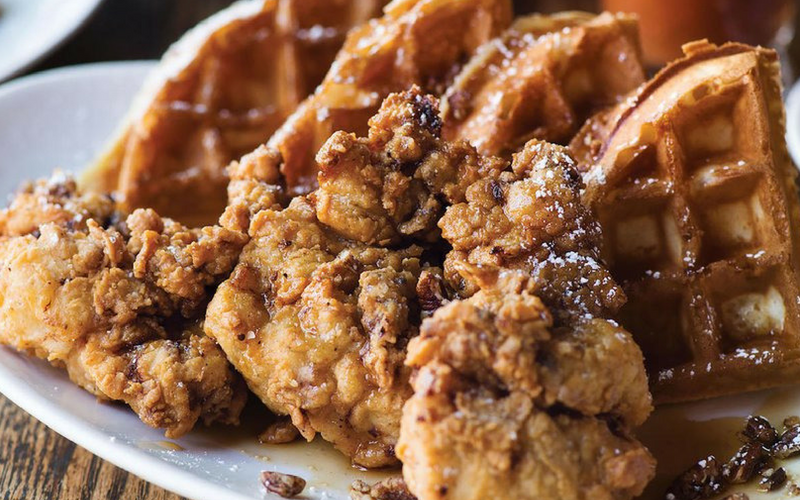 1337 14th St., NW
Birch & Barley serves their take on chicken & waffles every Sunday brunch. Perfectly fried chicken thigh, a classic Belgian waffle, scattered with pecans and drizzled in maple-chicken jus takes this dish to another level. Their chicken is juicy, seasoned perfectly and has a generous amount of crispy batter that'll impress any fried chicken lover!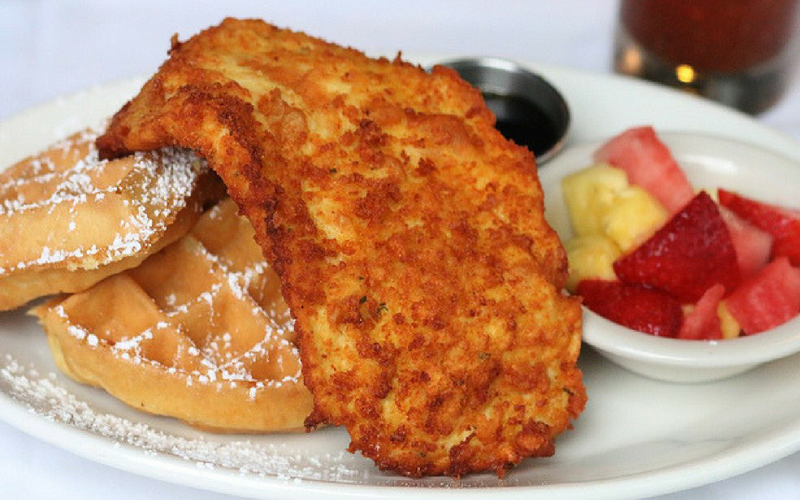 1815 Adams Mill Rd, NW
If you're looking for classic southern comfort food, SoHo is the spot to go. The portion sizes are just what you'd want for a southern style brunch (huge). They lightly fry a generously sized chicken breast and place it on top of three warm pieces of a Belgian waffle with a side of their fresh fruit of the day.
#FrayLife Tip: Southern Hospitality recently launched "BFD Wednesdays" so you can have brunch for dinner with bottomless mimosas to get you over hump day!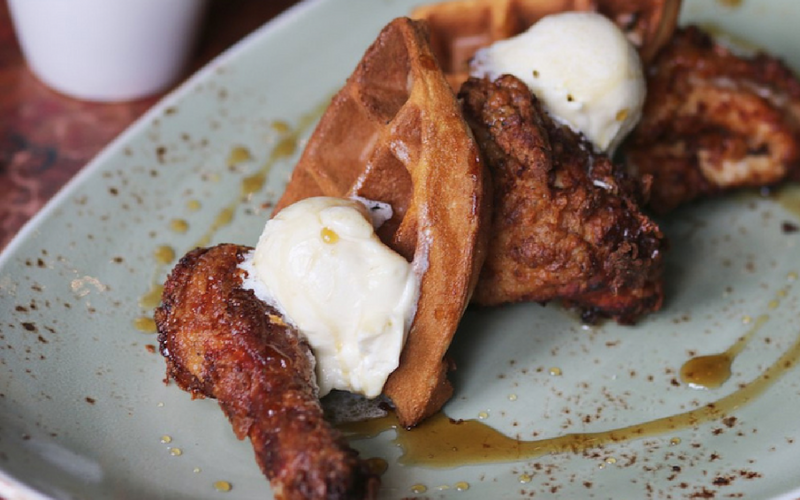 1825 18th St., NW
These chicken and waffles look fantastic and taste even better! They incorporate maple syrup in their breading and frying to ensure the chicken comes out juicy, moist, and slightly sweet. The waffles are served hot, crisp and drizzled with hot butter and even more warm maple syrup.
1712 Eye St., NW & 7101 Democracy Blvd, Bethesda
Wicked Waffle is the ultimate spot to get your waffle fix. These aren't toaster waffles, people, these are the real deal. Their marinated, panko coated, lightly fried chicken is paired with their perfectly cooked flaky, crispy waffle and drizzled with a sriracha maple syrup glaze.
#FrayLife Tip: Whether you want hot, cold, stuffed, topped, savory, sweet, breakfast, or lunch, Wicked Waffle has over 30 options of waffle sandwiches, treats, and more!
5520 Connecticut Ave., NW
Macon's Bistro's chicken and waffles are juicy on the inside, crispy on the outside and packed full of flavor. Served with a pickled watermelon rind and covered in a hot honey sauce, this dish offers a more unique twist on the classic dish. Bonus: their waffles are stuffed with gooey cheddar cheese!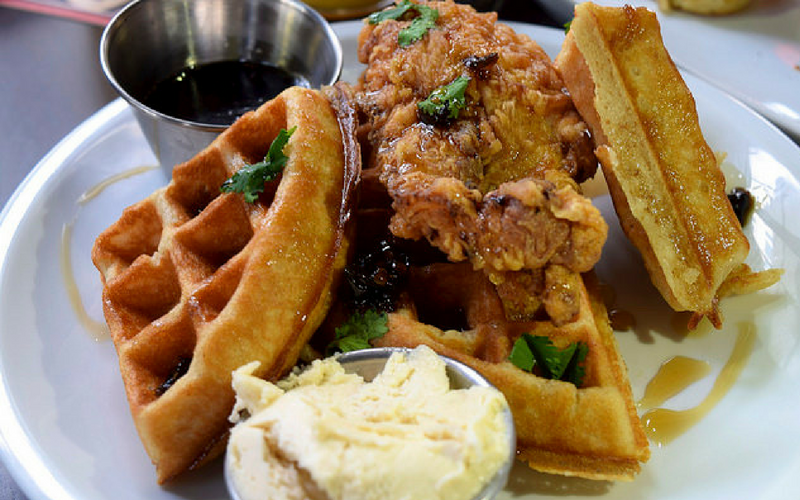 717 6th St., NW
Bar Deco has mastered their spin on chicken and waffles. They fry their chicken until golden and crispy, serve over their hand pressed freshly made sourdough waffles, and top it off with a sweet jalapeno jam.
#FrayLife Tip: Their $40 bottomless brunch includes a choice of entree and bottomless mimosas, bellinis,

and

bloody marys! Brunch is every Saturday & Sunday until 3 pm.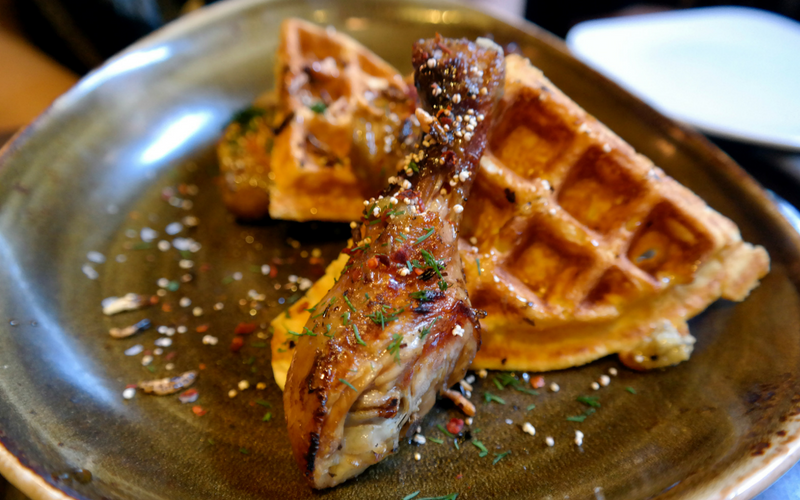 Multiple Locations
For a totally different and unique taste, try Kapanos Mediterranean twist on chicken and waffles. They spit-roast the chicken, drizzle it in Greek honey, and served with crispy quinoa, wild rice, and a greek potato hash.
#FrayLife Tip: Try their greek coffee waffles that are topped with chocolate espresso beans, cinnamon butter, and a delicious crema!
Do you know about a place serving up killer chicken and waffles that we missed? Let us know about it in the comments, or better yet, take a pic and tag us on social using #FrayLife!
Still daydreaming aka drooling about brunch? Check out these brunch patio spots that are perfect for summer!