Dress Up and Get Down This October Because Here Are the Spookiest Things To Do in DC All Month Long
Our goal at #FrayLife is to show you how to live your best life in the District. This month's edition of 'Your Month Ahead' will feature notable events showcasing the best in food, entertainment, music, and haunts! Get out and live the #FrayLife this October! Know of any events you think should be on here, tag #DCFray and #FrayLife on social media and we'll make sure to include it!
October 1st
– The age of technology and modern advancement not really your thing? Don't worry, you can be transported back in time at the Maryland Renaissance Festival. It runs the entire month of October, so make sure you check it out!
– Fright Fest at Six Flags is always a classic Halloween institution, so be sure to make your way down to Six Flags over America for some Thrills and Chills this month!
-Fans of the Heavy Metal Band GWAR? The iconic heavy metal band will take over one of the spaces at the rotating pop-up bar on 7th Street. GWAR PUB will be open Sunday through Thursday, 5:00 pm to 12:30 am and Friday and Saturday, 5:00 pm to 1:30 am.
October 2nd
-Wanting to do "What Lovers Do"? Make sure you don't miss out on Maroon 5 as they make a stop in the District on their Red Pill Blues tour! Tickets will sell out soon so be sure to make your way to the Capital One Arena!
October 3rd
– Fan of the soulful Leon Bridges ? His "Good Thing" tour will be playing at The Anthem in the Wharf Area. Who could ask for a better date night in the District? Tickets are still on sale!
-Tired of swiping? Come meet real people in person for great conversation and simple, old school speed dating at Hard Rock Cafe! Registration is open for men and women!
October 4th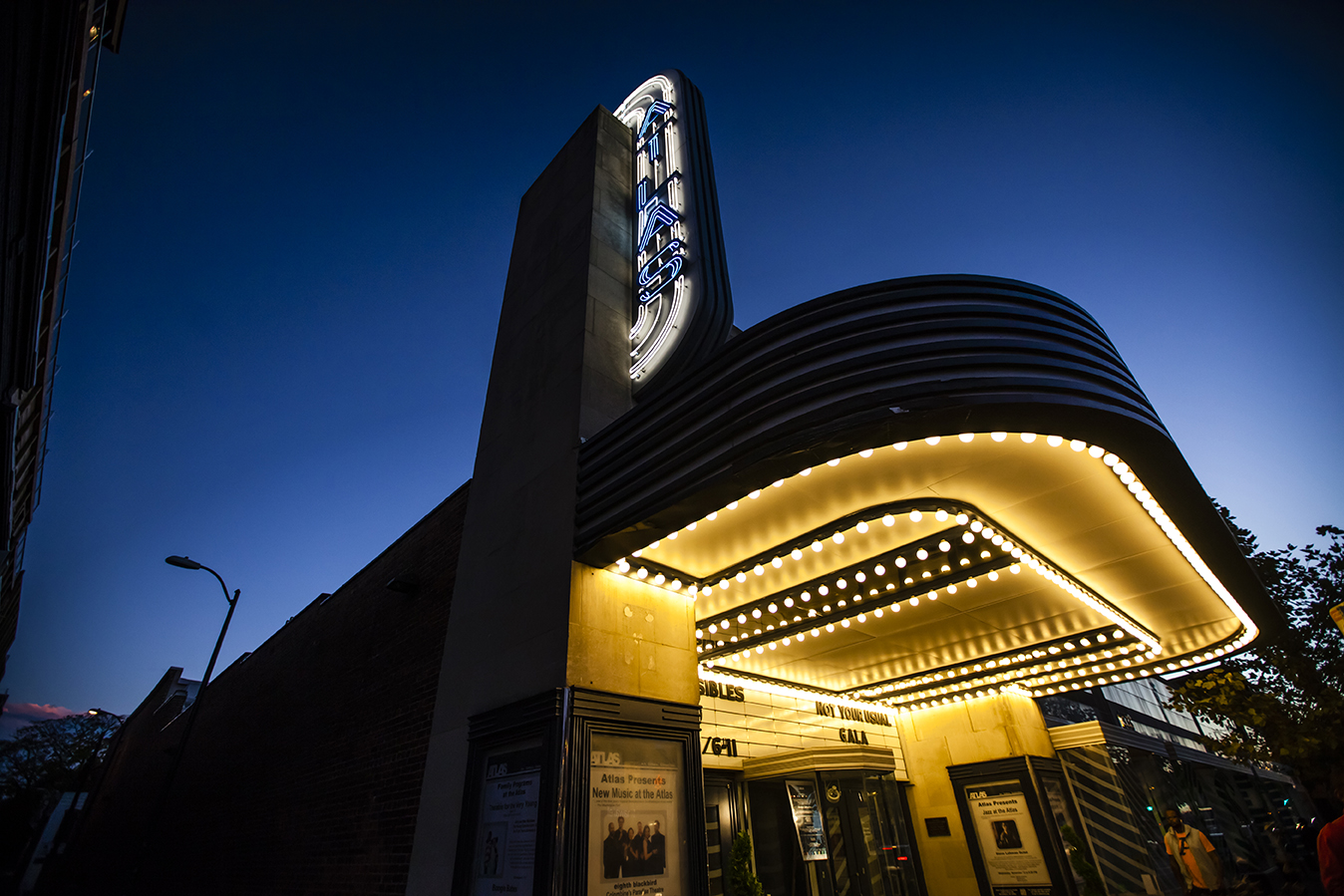 -80 years ago, the Atlas made its grand debut on H Street offering a dynamic new destination for art and entertainment in the nation's capital. Today, the Atlas celebrates its rich and honorable past as it embraces the promising years ahead – a landmark destination for performing arts and cultural connection. Join in on this unique and remarkable celebration and support the Atlas Performing Arts Center! Entertainment includes DC's own The JoGo Project, and cellist virtuoso, Benjamin Gates. The party won't stop until late night DJs from A-Squad Entertainment say so.  
October 5th
-Fan of the Grammy winning rapper Lupe Fiasco? He'll be making a stop in the District on this day. You'll want to "Kick, Push" to 9:30 Club for this one!
-Enjoy live tunes and spectacular views of the Potomac River at the Fall Wine Festival & Sunset Tour. Taste unlimited samples from 20 Virginia wineries during their most popular event.
October 6th
-In support of their upcoming album, "High as Hope" Florence and the Machine will be playing at The Anthem in the Wharf waterfront. Make sure to check out tickets here as they will sell out fast!
-Join us here at DC Fray and relax with weekly themed yoga instruction through noise-canceling headphones followed by juice bar treats. Registration includes a spot for your mat, headphones, yoga instruction, and an urban survival kit to take home with you full of fun and healthy swag! Remember to bring your own mat!
-The All Things Go Fall Classic is the home of what's next in music. The 2018 festival will feature a curated selection of exciting and emerging artists at Washington DC's iconic Union Market.
-HillFest will bring musicians together in an effort to translate performances into policy. The festival starts with a conference addressing policy concerns that directly affect musicians on a local and national level, followed by a day-long concert.
October 7th
-Beginning his career as a drummer and singer for Genesis, one of rock music's most captivating bands of the 1970s, Phil Collins embarked on a solo career that saw him become a household name in the 1980s, accumulating more U.S. Top 40 singles than any other artists of the decade. Expect to hear some of those smash hits like "In the Air Tonight" and "Sussudio", during Collins' concert at Capital One Arena.
October 8th
–With five Billboard Charting albums, J.Cole brings an all-star cast with him to his performance at Capital One Arena, a crew that includes Young Thug, Jaden Smith, EarthGang and Kill Edward.
October 9th
-Catch the Nine Inch Nails performing with The Jesus and Mary Chain as they make a stop on their Cold and Black and Infinite tour at The Anthem.
October 10th
-Through a series of "swiftly changing spectacular scenes", Shakespeare's classic play "Measure for Measure" becomes a mirror of modern society in a dexterously crafted adaption from director Declan Donnellan, designer Nick Ormerod, English theater company Cheek by Jowl, and the Pushkin Theatre Moscow. Tickets for "Measure for Measure" are available now!
October 12th
-Want to test your family's spy skills as you run top secret missions, go deep undercover, challenge yourself in Code Cracker competitions, explore all forms of spy tradecraft, and enjoy SPY snacks? Now's your chance to find out at the International Spy Museum's Spooky SPY Family Night where your family of spies gains exclusive after-hours access to the Museum!
-Ever met a Harvard dropout? Well if you want to see one up close and personal make sure you make your way to the latest edition Trillectro Presents starring Lil Pump. Tickets will sell out fast so make sure you go over to the Anthem to get them! Lesskeddit!
October 13th
-DC Fray is hosting another weekly themed yoga instruction. Registration includes a spot for your mat, headphones, yoga instruction, and an urban survival kit to take home with you full of fun and healthy swag! Remember to bring your own mat!
-The H Street Festival is an annual fair designed to showcase the unique qualities of this vibrant Washington, D.C. community. It'll feature more than 500 artists and performances on 14 stages plus an array of local, regional, and international cuisine, shopping, art exhibits, educational events, seminars and conversations with local entrepreneurs and community organizations.
-The Bethesda Row Arts Festival is recognized as one of the top fine arts festivals in the United States. For two days, the streets of downtown Bethesda are transformed into an outdoor gallery of arts and crafts. Over 190 selected artists will showcase their museum quality works of all different types, including ceramics, drawings, fabrics, glass, graphics, jewelry, metalwork, paintings, pastels, photography, printmaking, sculpture, wood, and 2D and 3D mixed media.
October 14th
-It's showtime, folks! Beetlejuice is coming to The National Theater as an original musical comedy based on Tim Burton's wonderfully demented film. Iit is ruder, raunchier and frankly, more repellant than ever!
October 17th
-Tired of swiping? Come meet real people in person for great conversation and simple, old school speed dating at Big Chief! Registration for men and women are available here! 
October 20th
-This 3-mile out and back hike may be short, but you'll still get your workout. After the hike you will head to Breaux Vineyards, a winery nestled among the Blue Ridge Mountains,where you'll get to participate in their Harvest Celebration and Oyster Throw Down. You'll sample a delicious selection of wine, enjoy oysters and a variety of local seafood, and listen to live music while taking in the vineyards and surrounding mountain views. Tickets are limited! 
-You are invited to a Halloween-themed scavenger hunt across Washington DC on Saturday, October 20th! The scavenger hunt consists of 10 haunted locations across the city given to you in a riddle. It is your job to figure out the location, make your way there, and take an Instagram picture documenting your success. Along the way to these ten locations, you will have other challenges involving feats of strength, food, alcohol, and hilarity. Your performance will be judged by the appropriate pictures. Starting at Balance Gym Thomas Circle at 9 am, come in costume to pick up your hunting packet. You will have four hours to complete the scavenger hunt. You must make it to Dacha Beer Garden by 2 pm. Prizes will be awarded based on your point tally from your adventures throughout the day!
-Get ready for an adult take over at Sandy Spring Adventure Park. DCFray will be there after hours, lighting up the park and jamming to live music until closing time. Come enjoy this unique and fun experience.You will develop skills, endurance, and confidence during your time in the Park. Plus, you'll have a really, really good time!
-Follow comedic duo Lenny and Mabel down the yellow brick road to the land of Oz and meet all of your favorite characters along the way! Tickets are free and may be reserved starting that Friday, one week prior to the show. A limited amount of walk-up tickets will be available on-site on the day of the show.
October 21st
–Celebrate the autumn season with 18th-century activities for the whole family at Mount Vernon. Take a horse-drawn wagon ride and play colonial games on the bowling green before heading to the Pioneer Farm to observe 18th-century demonstrations and greet General Washington. Find your way through a straw bale maze and listen to the Itinerant Band play colonial tunes
October 23rd
-King Richard the Lionheart is dead. His younger brother John secures the throne to become King of England, an inheritance that is instantly contested by the King of France. As countries wage war, John must maneuver himself against a sea of ambition, politics, corruption, and murder that threatens his kingdom. Catch this epic struggle of power and the turbulent reign of Shakespeare's earliest king at the Folger Shakespeare Library.
October 24th
-Seymour Krelborn is a meek, floral shop assistant who discovers a strange plant, which he affectionately names "Audrey II" after his crush. Little does he know that his plant will develop a soulful R&B voice and an unquenchable thirst for human flesh. Catch this rendition of the classic "Little Shop of Horrors" at the Kennedy Center!
October 27th
-Both adults and kids can enjoy creating your own hand-made truffles. Guided by an expert chocolatier from SPAGnVOLA, your truffles will be crafted from fine cacao hand-picked at the chocolatiers' farm in the Dominican Republic and roasted in Maryland. The instructor will share their passion for chocolate and knowledge of cacao growing, chocolate history and truffle making.
-Gremlins and goblins and witches on brooms, you are invited to party under the moon! Meet us at Butler's Orchard for a spooky evening filled with music, games, and s'mores over a festive bonfire. You can cook your own hotdog over the fire and take advantage of all you can drink beer & wine. DC Fray's Halloween Bonfire Party will be a little fun & a little frightening. It's a Halloween bash, so dress up if you dare! Prizes will be given for the best costume.
–Trick-or-treat at Mount Vernon! Participate in a special scavenger hunt, take a wagon ride on the 12-acre field, and create a boo-tiful Halloween craft in this unforgettable evening. Watch wool carding and spinning, historic chocolate-making, and fishnet making demonstrations in the historic area. In order to burn off all the extra excitement, try 18th-century dancing in the upper garden before greeting Martha Washington. A children's costume parade around the Mansion will begin at 5 pm and prizes will be awarded for the best George and Martha costumes! Trick-or-Treating at Mount Vernon takes place rain or shine.
October 29th
-Siblings Andre Darlington and Tenaya Darlington are food writers, cocktail fans, and enthusiastic musicians who grew up flipping their parents' records on a Thorens turntable. Now they've teamed up to write Booze and Vinyl (Running Press), which showcases 70 iconic albums from the 1950s through 2000s, each matched with the perfect cocktails. Join the Darlingtons at the Smithsonian Castle for a night of spinning records and stories of great albums, all while learning how to mix a couple of perfect cocktails.
October 31st
-"Halloween Whodunit" is put on by Die Laughing Productions, which has been bringing great murder mystery comedy shows to the Improv since 2016. This show is a lot of fun, and it's your chance to avoid staying home handing out candy to ungrateful teenagers all night. Win-win.
Still haven't gotten your fix on events? Make sure to check out some recurring monthly events in some of our article below!
GET OUR WEEKLY EMAIL »