Why Social Sports Are Good For the Body and Good For the Soul
#Selfcare seems like the phrase of 2019, and we're loving every excuse to keep that going throughout the summer.
Whether it is a  yoga session, run in the park or special dessert, self-care can be whatever you want it to be. So, why can't social sports?
The truth is, finding a game you love with people you have an absolute blast with may be one of the best forms of decompressing and improving your daily life. Beyond a few hours of fun, making social sports a regular part of your life can also have some long-term benefits.
Who knew getting active and staying social were GOOD for your mental and physical health? Oh that's right… we did.
Team sports are more than just a past time; they are an exercise in collaborative work and accountability, as well as an opportunity to make a long-lasting impact on your physical and mental health.
At DC Fray, we love contributing to a fun and active lifestyle, and watching you be the best version of you!
We don't have to tell you that exercise is healthy. Most of us grudgingly drag ourselves to the gym before or after work, several days a week, in an effort to shed extra pounds or make #gainz.
Personally, I think it's more fun to trick my body into exercising. Running down a soccer field is much more fun than running on a treadmill; diving for a volleyball can be even more rewarding than squats under the rack. If the gym builds your muscles but crushes your soul, make your workout infinitely more fun and reap the benefits of an active lifestyle.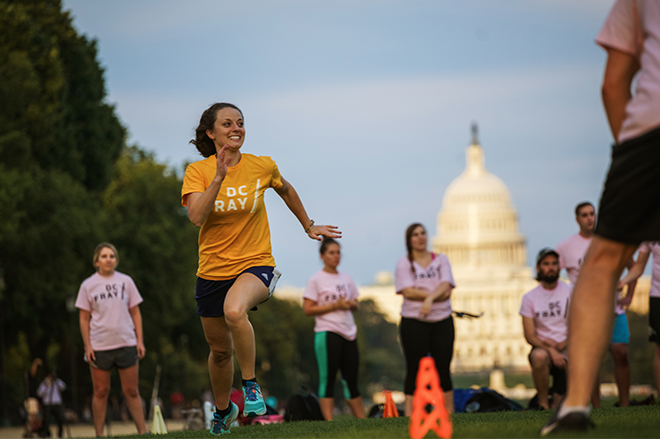 Beyond the aesthetics, adding games that require strategy all while getting up and moving (games like softball, dodgeball, or even cornhole and bocce) are great for your mind.
Not only are you reaping the general mental benefits of movement, but you're working your brain in a unique way – improving cognitive abilities, memory and concentration. Statistically, adults who consistently play sports are less likely to develop early dementia or Alzheimer's.
Exercise releases endorphins that make your brain happy: plain and simple. A sport that you love and the movement therapy that goes along with that can be an absolute mood-booster.
According to NPR's 2019 article "To Boost Mental Health, Try Team Sports," humans are predisposed to thrive on teams. Knowing you'll soon be kicking a soccer ball down a field can make a draining workday seem less endless. Exercise has been medically and scientifically found to be a tool to combat depression, with team sports topping the list as beneficial outlets.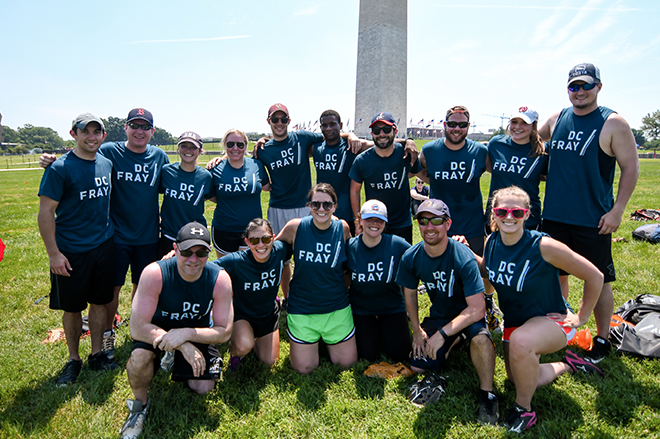 Lastly, there's no better way to love yourself than to surround yourself with people who lift you up.
What feels better than finding your tribe? It's surprisingly easy to do when sharing a common goal with a special team: your team. Adult sports attracts individuals ready to have fun; AKA people likely to be a lot like you. The social aspect of social sports is the most important one, adding camaraderie to your day, or just an extra friend in your life. You're not just releasing chemicals in your brain. You're not just improving your physical health. You're not just combating mental illness.
Every time you step on the field, you're making connections with people and forming a relationship that only team sports can provide.
Have you played any social sports? Let us know in the comments! and don't forget to tag us on socials using #DCFray and #FrayLife
Not convinced? Check out these 10 reasons social sports are an institution.