Wanna Get Lost? These DMV Corn Mazes Are A-maize-ing
Wanna hear something corny? Well lend us an ear and we'll tell you. Being in the DC area doesn't mean you can't enjoy one of fall's greatest pleasures. We're talking corn mazes. And we put together a list of the best ones in the DMV area that'll leave you saying, "Aww shucks!" So grab some friends and you know what to do.
5225 Catlett Rd Midland, VA 22728
Living up to their name, Cows-N-Corn features a gigantic corn maze with this year's design depicting, you guessed it, a cow. It's "Udderly Amazing Fun for the Whole Family"!
#FrayLife Tip:

Cows-N-Corn has "Farmer Jeff's" creamy ice cream in a variety of flavors, including Pumpkin & Apple Pie!
4501 Old Tavern Rd.The Plains, VA 20198
Corn Maze in the Plains was "Born for Corn",  which incidentally is also their theme for the year. At this farm, you can experience not only all the joys that come with navigating a corn maze, but you can also visit their petting zoo, pick some pumpkins (or slingshot them), and even take a hayride! After your visit, you may even come to find that you too were "Born for Corn".
1818 Greenspring Valley Road Historic Stevenson, MD 21153
Whether you're a proud University of Maryland Alumni or just really into the Terrapins, Rodgers' Farms is the place to be! Their 2018 design shows off the school's beloved Testudo and their motto "Fear the Turtle". Lucky for you, the only thing you have to fear is the fear of missing out.
5273 Harry Byrd Hwy, Berryville, VA 22611
Just when you thought you'd seen everything, Wayside Farm comes along and brings you an Emoji themed corn maze. Their ten-acre maze has it all from heart eyes to the poop emoji. And if that's not enough for you, they also have pig races, goat bridges, pumpkin playhouses, and a playard where you can literally roll in corn. So if your lifelong dream is to bathe in kernels, now is your chance!
1720 Crain Hwy, Upper Marlboro, MD 20774
Montpelier went all out for this year's corn maze. Their elaborate Wizard of Oz theme depicts all your favorite characters from Dorothy to Toto. And trying to find your way out of the maze is only half the fun. Once you're inside, you'll have the chance to play games in order to receive clues on how to get out. Good luck!
#FrayLife Tip:

This maze has no lights! So for a totally different maze experience visit them on a Friday or Saturday night, just remember to bring your flashlight!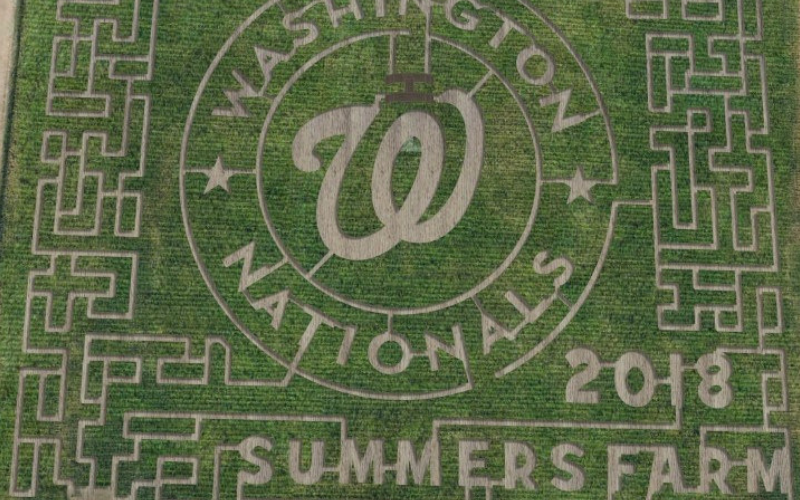 5620 Butterfly Ln, Frederick, MD 21703
12 acres. 9 foot-tall corn stalks. And 1 unforgettable experience. That is what Summers Farm offers you when you come here to tackle their Washington Nationals themed corn maze. Come and represent your favorite team or just come out and have a fun time. Either way, Summers Farm is a grand slam!
13001 Creagerstown Rd, Thurmont, MD 21788
Home to Maryland's Largest Corn Maze, Winterbrook Farms has a total of 4 separate corn mazes that feature 7.1 miles of trails over 30 acres of corn. This year's design serves as a fundraiser for thirteen-year-old Kaisy Knott who was battling childhood brain cancer. She passed away on September 10th but Winterbrook Farms is still sending all proceeds to her family. So you can come out for a good time and feel good about doing it.
9166 Liberty Mills Rd, Somerset, VA 22972
Nothing says fall like dinosaurs. That's why we saved the best for last with Liberty Mills Farm's dinosaur themed corn maze. They offer 4 separate trails each with their own perks and quirks. From a trivia-based trail to a mystery trail with no map to guide you, they have a trail for everyone.
Go on and get lost this Fall (we say that with love)! And don't forget to tag us on social media using #FrayLife and #DCFray!
Need even more October fun to add to your to-do list? Here are our favorite haunted houses around DC.