Still Hungry? Have Another List of DC Restaurants Serving Thanksgiving Dinner This Year
Planning a Thanksgiving feast can be exciting for some and a hassle for others– sometimes it's the perfect blend of both, hectic but well-executed. If your holiday dinner always end up more hassle than not, no need to sweat! And for those of you who consider yourselves culinarily-challenged, this is a good option for you too. Whether you live in NoMa or in Reston, there is a multitude of D.C. area restaurants that will be ready to serve on Thursday, November 22nd.
Restaurants in Washington, DC
– Nothing like an Italian twist on Thanksgiving classics. With classic roasted turkey breast stuffed with cornbread and chestnut gnocchi, why eat anywhere else?
– You'll never how much you needed turkey masala dosa or turkey meatballs in cranberry korma sauce in you life until you are knee-deep in it. With locations in Cleveland Park and Foggy Bottom– open from 5 – 10:45 p.m. and noon – 8 p.m. respectively– and dishes starting as low at $14, do your stomach a favor and try it!
– For $135 per adult and $55 per children 6 to 12 years old, you can get a three-course meal with Sorghum-brined turkey glazed with cornbread-oyster dressing
– Go all out at the Georgetown Four Seasons by ordering caviar and champagne carbonara with bucatini, lobster pot pie, and Alba truffles. Adults can indulge for $120, and kids ages 6 to 12 eat for $50.
 Well-renowned New York City family-style Italian restaurant will be offering the entire feast in-house and through delivery to your home or hotel. Their feast includes an 18 pound turkey, mashed potatoes with giblet gravy, sauteed string beans, sweet potatoes with marshmallows, plenty of other side and your choice of pie!
– Three words: banana bread pudding. After you try it, you'll never want to cook your own Thanksgiving dessert again. Enjoy their full three-course meal for $60 for adults and $28 for children under 12.
– Penn Quarter is offering a three course menu for ONLY $30. It includes the classics like butternut squash soup, stuffing, turkey (duh!), and pumpkin pie cheesecake.
– They will be serving standard Thanksgiving favorites like brussels sprouts, chestnut stuffing, cranberry sauce, gravy and sweet potatoes. Maybe you just want to keep it simple with a turkey sandwich (only $15!)– they have that too!
– Here you can enjoy turkey kabobs and sweet potato chaat while drinking some refreshing mango lassi. They'll be open from 5:30 – 9 p.m., so be sure to make your reservations while you still can!
– This new Wharf favorite isn't serving up your ordinary Thanksgiving meal. Think outside the box this year with their curried chicken and honeynut squash veloute with black truffle. For $85 per adult and $45 per child aged 6-12, you can enjoy an Afro- Caribbean inspired meal.
– Say it with me: Pumpkin Potted Crème. What else do you need? Their full four-course menu includes three savory dishes and one dessert for $95 per person.
Chilean sea bass congee and pasture raised turkey are only some of the favorites that have people ditching their traditional dinners at home for this new spin on Thanksgiving dinner.
– For $45 per adult and $22.50 for children under 12, you can get all the offerings of a traditional Thanksgiving feast without having to do the dishes. That includes the cornbread, the mac & cheese, the green beans, and several pies to choose from.
Restaurants in Maryland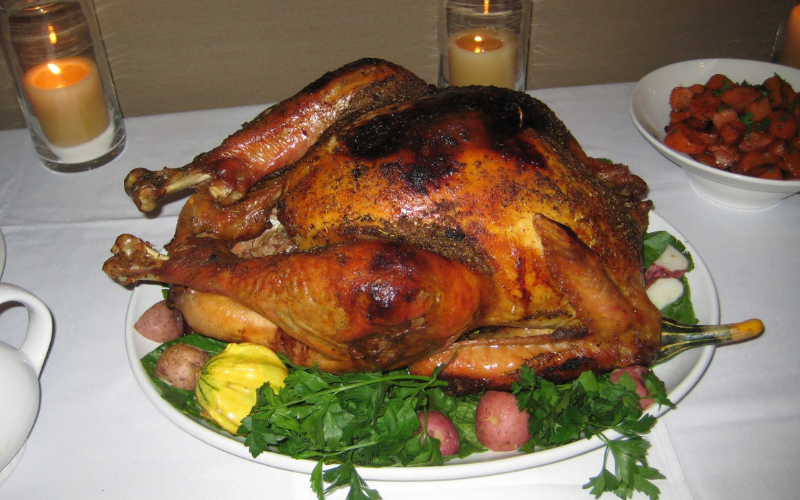 – This restaurant always gives off holiday feast vibes, so it's only fitting to come here for Thanksgiving at least once in your life for the food and ambiance. Get a full roast turkey dinner for as low $28.99!
Nothing is better than a buffet full of your Thanksgiving favorites. Wrong! A Thanksgiving Brunch Buffet is. From 10:30 a.m. – 4 p.m., stuff yourself full of breakfast, lunch, and dinner classics for only $30 ($15 for kids 6 – 12).
– This Gaylord National Resort restaurant will also be offering brunch favorites along with Thanksgiving Day classics. The "Grand Buffet" will be available from 12 – 5 p.m., with favorites like oyster BLT stuffing, stone ground grits, and cranberry orange cobbler.
Restaurants in Virginia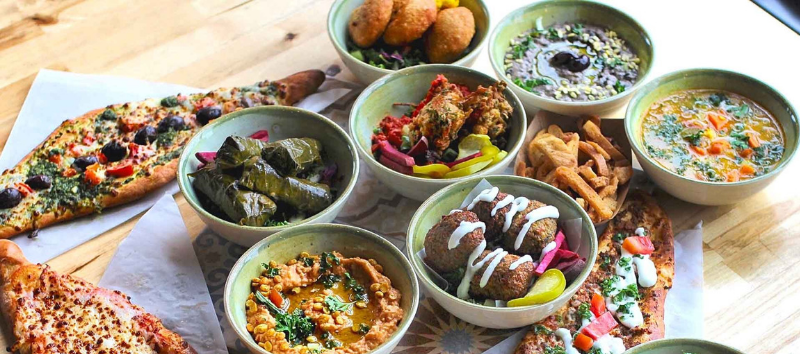 – This Falls Church favorite will be offering a vast array of vegetarian options, like beet salad and truffle risotto for the big day, so you don't have to leave that cousin at home! They're open from 11 a.m. – 8 p.m. and offering a three-course meal for $72.
– Along with Thanksgiving-inspired dishes, this Clarendon Balkan eatery will be serving holiday cocktails like mulled wine with star anise and cinnamon. All menu items are a la carte, and be sure to make a reservation sooner rather than later.
– Reserve your table at this Alexandria gem between noon and 6:30 p.m. to enjoy a $65 three-course prix fixe menu full of all your traditional holiday foods.
Here's a buffet for you Virginia residents, and it's full of locally-sourced ingredients. Their doors are open from 11 a.m. – 6 p.m. and it's reasonably priced: $38 for adults; $19 for children 13 and under.
– Also located in Alexandria, this restaurant will have live music during their three-course meal. Whether you choose sweet potatoes or whipped mashed potatoes, you won't want to miss this steal at $55 per person!
– The Tysons Galleria restaurant will be offering standard Thanksgiving items as well as a gluten-free menu from 11 a.m. – 8 p.m. $49.95 per person (kids $21.95) a little steep for your budget? Does it make it a sweeter deal that they let you choose TWO desserts??
Can't get enough Thanksgiving food options? Check out another list of restaurants serving up Thanksgiving goodness.
GET OUR WEEKLY EMAIL »