Sing Your Heart Out and Jam with Your Favorite Bands Using this #FrayLife Guide to DC's Music Scene
I don't mean to state the obvious here, but it. is. cold., and there is no such thing as spending too much time indoors this winter. Instead of hibernating, though, have fun while you're indoors by listening to some talented local and national musicians. The District is home to many great music halls and restaurants that transform into stages at night, so it's easy to get warm when you can dance the night away at a DJ dance party or play your air guitar for hours at a rock show. Here we've mapped out a few options for you to jam out at with friends:
If you're ready to get your groove on, this DJ-run dance club is the spot for you. With different performers almost every night of the week, there's always an opportunity to watch some live music.  Upcoming shows include Clayx & Teebee, Deep Sugar DC, gnash, and The Brummies, and tickets are affordable ranging from $10 to $25. Check out their full schedule of upcoming events here.
Keep it classy this year with Georgetown's very own Piano Bar right in the heart of M Street. They even take requests! Sing your lungs out with all your friends as you kick off 2019 on the right note– pun absolutely intended.
#FrayLife Tip:

Come out for Dueling Pianos every Friday and Saturday night at 9 pm.
The only thing better than a happy hour is a Reverse Happy Hour. This music hall has your typical 5-7 pm specials, but then you can catch another late night deal starting at 11 pm after you watch live music from performers like Rob Stokes, The Water Cycle, Tallies, and Jackie Cohen. You can even show off your own skills at one of their Open Mic Nights. Make sure you mark your calendars so you don't miss out on your favorites!
For all of you looking for a classic concert feel without the hassles of a huge crowd, 9:30 Club is just the right fit. There are upcoming performances by Jay Pharoah, The Wood Brothers, and Super Diamond. Make sure you buy your tickets in advance, as this venue sells out often!
Beer, pizza, AND music, this place has it all. As one of The Wharf's many hot spots, Union Stage has a variety of shows and events coming up. Want to feel a little nostalgic? Ashlee Simpson + Evan. Want to channel your favorite authors? The DC Moth Storyslam. Want to try your own hand at stand up? Jokes on Tap: Open Mic Comedy.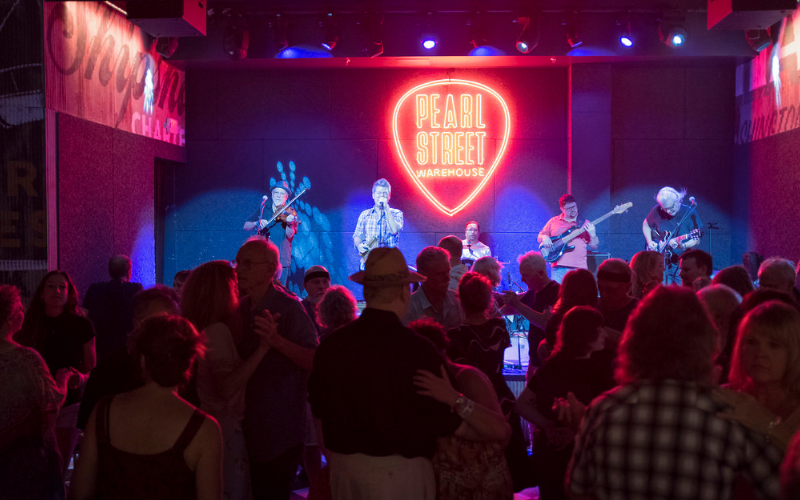 Pearl Street Warehouse prides itself on its laid back, relaxed feel. They welcome to the stage artists from a variety of genres, to include rock, country, folk, soul, bluegrass, rhythm and blues. Pearl Street even puts on a bunch of FREE shows, like upcoming performances by Drew Gibson, Funky Miracle at New Orleans Funk & Soul Night, and Mitchell Ferguson and Bryan Cherry from The Voice. Pencil these great shows into your planner right now!
#FrayLife Tip:

 There's an adjacent restaurant, serving up diner-style American food, so you'll be bale to eat and catch a post-work show all in one spot!
There are five bars at Madam's Organ. That' right, five—count 'em. The first floor is home to all your live entertainment needs. Check out who's on deck here. Once you've got your groove on and are ready to take it easy for the night, take a trip upstairs to the other levels that have ~free~ pool tables and, of course, more bars. If you've visited those bars a few times and are feeling exceptionally bold, you can perform as a part of the infamous "Drunkeoke," happening every Sunday, Tuesday, and Thursday.
"Where the music never stops" couldn't be a more fitting slogan for this venue. Gypsy Sally's showcases local and national artists, and as an added bonus it has #views of the Potomac and Key Bridge as it rests in the heart of Georgetown. Many events are 21 and over, so leave any kiddos or pesky younger siblings at home for a night out and get your tickets now for bands like Skydog, Danger Bird, and Passafire.
Have of an awesome spot that you visit to kick back and listen to your favorite artists? Leave a comment below or tag us next time you go to a show using #FrayLife or #DCFray.
If you're trying to push your limits and force yourself into the cold outdoors, start with these local bike paths. Get those quads burning and you'll forget about the temperature in no time!