7 Places That Prove DC Pizza Doesn't Suck
We'll be the first to admit, DC (in)famously has the dubious distinction of being "not a pizza town."
So much so that &pizza was founded because the owner (a native New Yorker) found it easier to start his own restaurant then find a pizzeria that met his expectations.
If you're like him and relocated to DC from one of America's major pizza havens, you may also struggle to find joints that live up to the ones you know and love from back home.
But we're here to show you that the za scene in the Nation's Capital is a far better than you might think, and you can find plenty of damn good pie places (including Bon Appetit's 2017 Pizzeria of the Year), if you know where to look.
Whether you hail from Chitown, Napoli, New York, or New Haven, here are our picks for the most authentic slice of home in DC:
1. New York Style — Wiseguy, Chinatown and Foggy Bottom
The Empire State's thin crust pizza is undoubtedly the most commonly imitated style today. Created with the Five Boroughs in mind, Wiseguy boasts a sampling of pies what would make Tony Sporano proud.
Classic plain (it's not 'cheese,' guys) and pepperoni are great baselines to establish how solid this pie really is, but Wiseguys shines with their adventurous toppings. Plus, each pie's thin, crispy crust is quintessentially New York, and the perfect blend of sauce and cheese ensures each slice is perfect when you need to grab lunch on the run..  
#FrayLife Tip: Order the New York way by opting for several slices rather than a whole pie. Since slices are cooked and then reheated in the oven when ordered, it gives the crust that perfect extra crunch.
2. Neapolitan Style – Il Canale, Georgetown
Comprised simply of dough, San Marzano tomatoes, fresh mozzarella cheese and a touch of basil, the Neapolitan's beauty is in its simplicity. While simple, creating a true taste of the Old Country is no easy task, and the Naples-based Associazione Verace Pizza Napolentana strictly regulates what can (and can't) be listed as a "True Neapolitan Pizza."
Luckily for DC residents, Georgetown's Il Canale is as real as it gets.
One of only three restaurants in town to receive such certification, Il Canale takes its craft seriously. From rolling the dough by hand to using buffalo mozzarella and tomatoes from the Campania region of Italy, the pizzaiolo ensure nothing but the best ingredients go into every pie. Piping hot and paired with a glass of house wine, you're in pizza heaven.
#FrayLife Tip: Opt for the plain pie. Toppings may work on other styles, but when ordering a true Neapolitan it's best to go sans extras.
Known as apizza (pronounced AH-beets) in Connecticut, New Haven pies are cooked at extremely high temperatures for a short period of time, giving the crust a distinct black char and chewy texture. Luckily, you don't have to be a Yalie to enjoy this dynamite pizza in DC. Pete's New Haven Style Apizza in Friendship Heights serves up a taste of New Haven without having to sit in I-95 traffic.
Pete's boasts a number of Nutmeg State-themed pies; don't miss the Merritt Parkway (kalamata oilves and prosciutto), Wooster Square (broccoli rabe and hot sausage) or the Arugula pizza. However, for a true taste of New Haven try the White Clam apizza. Made with fresh clams, the white pizza is briny, salty and arguably the town's most famous export.
#FrayLife Tip: Wash down your pie with a Foxon Park soda. Made in New Haven, the soft drink is made with real sugar and serves as the perfect sweet foil to every salty bite.
4. Chicago/Deep Dish – Alberto's, Dupont Circle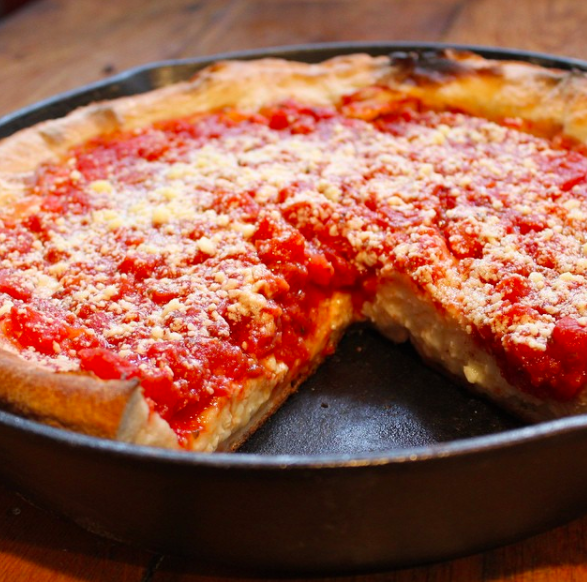 No food inspires controversy quite like deep dish pizza. Some call it an abomination while others call it a classic. Here at #FrayLife, we just call it delicious. The creamy, flaky crust serves as the perfect vehicle for deep dish's hearty fillings, and Alberto's in Dupont is our pick for this Windy City favorite.
Cooked in traditional "upside down" Chicago style, Alberto's makes its dough in-house daily and doesn't skimp on the toppings. From their Triple Cheese masterpiece to the sweat-inducing Heat and Hog, be sure to come with an appetite. Alberto's also is perfect for the big game or any group function; they offer party boxes designed to feed a starting nine (and then some).
#FrayLife Tip: Deep dish can take 40-45 minutes to cook; be sure to order a few drinks while you wait. Patience is a (delicious) virtue!
As seen above, DC can certainly do traditional pizzas as well as their original counterparts, but it's also got a few iconic local styles of its own.
Here are a couple DC originals to go check out:
5. Jumbo Slice — 18th Street in Adams Morgan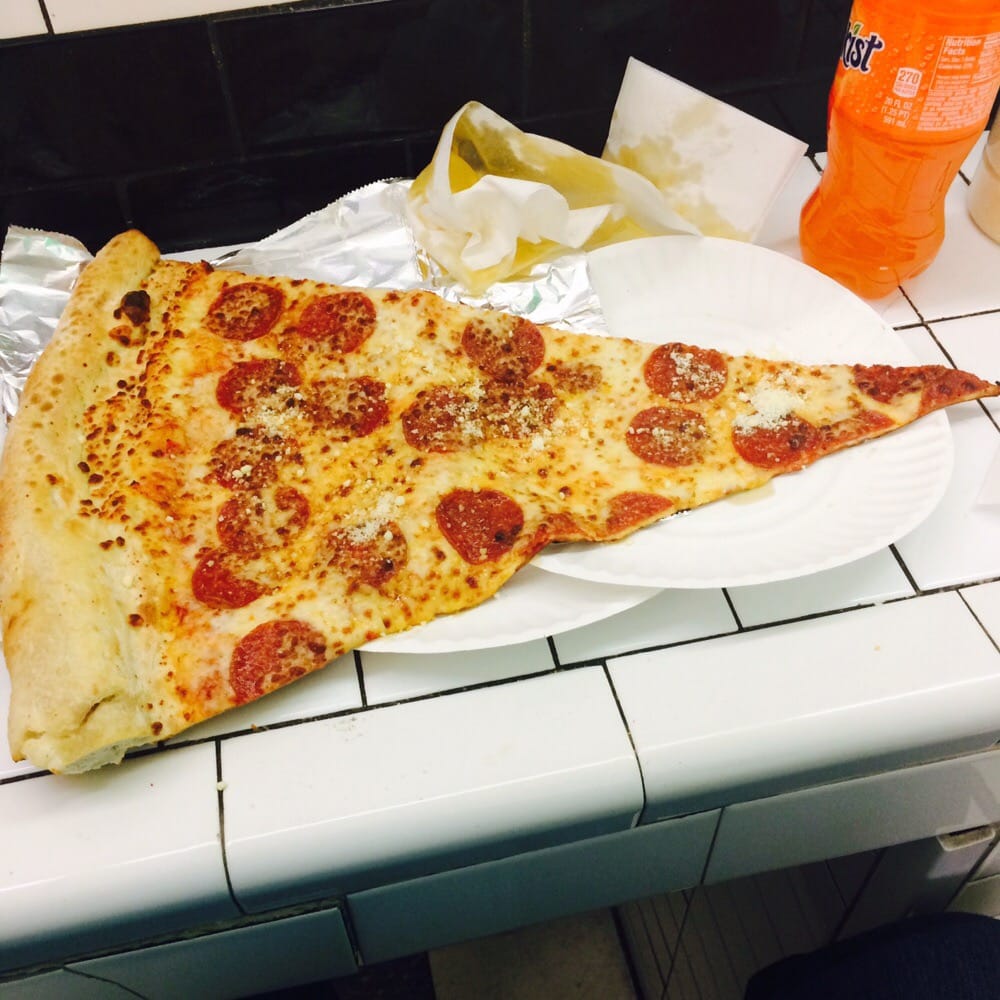 The king of late night drunk eats, the "Jumbo Slice" has become a catch-all term around town, however, not all of DC's slices are created equal. For the true Jumbo Slice experience, head to 18th Street in Adams Morgan.
Until you actually size up a slice from the original iconic joint, the name "jumbo" doesn't quite do it justice. Nearly an arm's length, these slices are a two plate, 10 napkin affair. From 1 to 3 a.m., lines stretch out the door and around the block with bar-goers waiting for a taste of DC's most
famous pizza. At just over $5 a slice, jumbo slice is as much a deal as it is a meal. While it may not be the most appease all pizza snobs, it's the quintessential way to cap of a great DC evening.
#FrayLife Tip: If you don't want to wait in the long line at the original, try the two other locations in AdMo for (slightly) shorter post-bar lines.
6. Matchbox – Multiple Locations
For those who enjoy a higher end, yet casual sit down pizza experience (perfect for a date night), Matchbox is must-try. Unlike most on this list, Matchbox offers a full menu of quality American cuisine, but their pizza is their claim to fame (and the main reason the restaurant is opening locations across the country). Matchbox offers a well-rounded menu of classic and contemporary pizza combinations, along with a quality beer, wine and cocktail list to wash it all down.
#FrayLife Tip: Don't sleep on Matchbox's brunch. The breakfast pizza is a no-brainer, but the entire menu is on par with DC's best hotspots.
7. Timber Pizza, Petworth/Your Local Farmers Market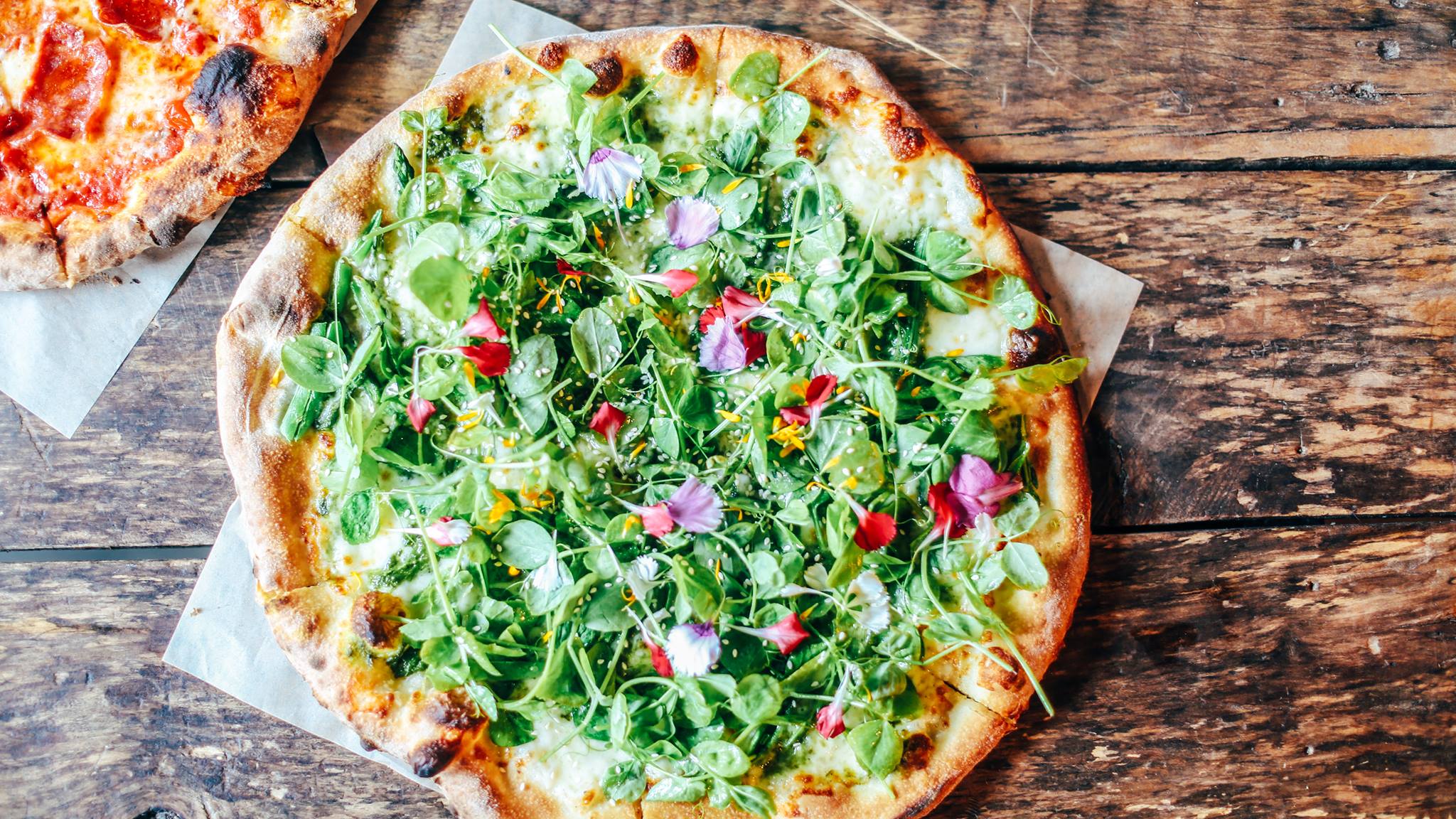 What do you get when you combine two "pizzaholic" work buddies with no pizza making experience, a wood-fire oven and classic pickup truck, and a CIA-trained Argentine Chef?
Timber Pizza- Bon Appetit's 2017 Pizzeria of the Year.
If you've been in DC for a bit, you probably know the deal by now, but if not, here's the elevator pitch version of the story:
The Timber founders left the tech industry in 2014, started selling wood-fired pies at local farmers markets, quickly developed a cult following, partnered with CIA-trained chef Dani Moreir, opened their first brick and mortar restaurant in 2016, and haven't looked back since.
The national recognition is much deserved, as Timber offers a pizza menu like no other. The Green Monster features a pesto sauce with zucchini and kale, while the Turu combines provolone, mozzarella and Argentine sausage. Too early for pizza? Timber also offers wood-fired bagels and breakfast sandwiches that can hold you over till well past lunchtime.
#FrayLife Tip: Try the Argentine empanadas as an appetizer. Moreir combines sweet and savory fillings with a rotating array of spicy dippy jams.
Did you miss your favorite pizza place in DC? If so, drop us a comment telling us what it is!
Want to discover other DC eateries that stack up against any other city's? Here are 15 DC restaurants that took home national awards last year.
GET OUR WEEKLY EMAIL »