Our Favorite Bars to Watch March Madness in Your DC Neighborhood
Let the madness begin!
It's that time of the year again, where offices lurch to a halt as people's eyes are glued to their monitors in hopes of a perfect bracket. While picking perfection is nearly impossible, enjoying yourself at one of these bars is definitely not. We've compiled a handful of the best bars to catch all the mayhem below. Regardless if your bracket gets busted on Day 1 or it's still alive for the Final 4, here are our top picks for catching games in each neighborhood: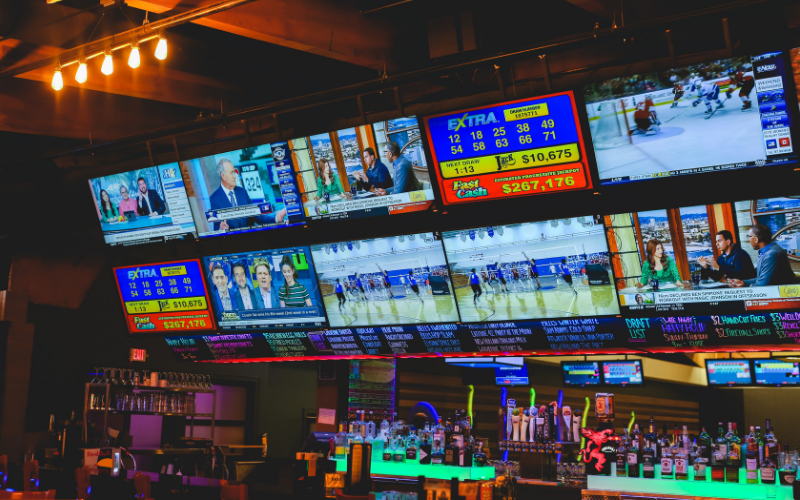 Ballston
First Down Sports Bar & Grill
4213 Fairfax Dr, Arlington
This local Arlington dive bar is a watering hole of sorts for sports lovers. TVs lined wall to wall make up this neighborhood bar. Mix in some of the best wings in the DMV and beer towers for an amazing environment for watching March Madness
Clarendon/Courthouse
Bracket Room
1210 N Garfield St, Arlington
What's better for a March Madness viewing than a bar that already has the word "bracket" in their name? Bracket Room has TVs on the bar, inside the bar, on the walls, and even in the bathrooms. Happy hour specials reign supreme here during the late afternoon/early evening games during the tournament.
The G.O.A.T
3028 Wilson Blvd, Arlington
The G.O.A.T is still relatively new in bar years, but it has already racked up quite the reputation for being a hot spot during game days. People flock to this sports mecca for two full levels of entertainment. With enough televisions to broadcast every single tourney game simultaneously, this spot will be hard to beat when the madness begins.
Georgetown
Church Hall
1070 Wisconsin Ave NW, Washington, DC
Another new bar makes this list as the beer hall inspired sports bar, Church Hall, has become a go-to spot since it's opening. An extensive beer list is one of the many highlights for this new spot, which opens at noon on Thursday, March 21st, to the pleasure of those looking to catch every single tourney game.    
Dupont Circle
Buffalo Billiards
1330 19th St NW, Washington, DC
In the heart of Dupont Circle sits Buffalo Billiards, a sprawling sports bar with all sorts of activities to stay busy. From shuffleboard to skeeball, to billiards, this bar has everything you'll need to pass some time or work out some stress when your bracket picks aren't going quite as expected.
Public Bar
1214 18th St NW B, Washington, DC
Public Bar has become a beloved destination by sports lovers due to their multiple projector screens and personalized televisions in their booths. This is an especially electric atmosphere due to their high energy DJs throughout the day/night, which will turn any March Madness game into a party.
NoMa
Dirty Water
816 H St NE, Washington, DC
Another neighborhood-style bar makes the list, which sits along the H Street Corridor. What puts this bar apart from other sports bars is its open-air rooftop, which also has TVs for tournament viewing. With the spring weather finally beginning to arrive, this is an ideal locale to enjoy all the madness of the tournament.  
U Street Corridor
Nellie's Sports Bar
900 U St NW, Washington, DC
Nellie's is known as the home of an electric drag brunch, but this isn't only a spot for bacon and eggs. Different sports memorabilia crowd the walls at this U Street establishment, creating a collegiate environment for the big dance. Grab a burger and some fried pickles before indulging in college basketball all day.
Adams Morgan
The Game Sports Pub
2411 18th St NW, Washington, DC
This Adams Morgan establishment infuses American and international concepts together for an eclectic menu of dishes. Combine that with happy hour deals on sangria and their daily punch, and you've got the perfect atmosphere for any game day throughout the saga that is March Madness.
The Blaguard
2003 18th St NW, Washington, DC
Branding themselves as a neighborhood bar, The Blaguard sits at the crossroads of U Street., Adams Morgan, and Dupont Circle. With 20 beers on tap and tons of televisions to catch all the action, this neighborhood hotspot is a perfect destination for any college basketball fan.
Navy Yard
The Big Stick
20 M St SE, Washington, DC
A staple in Navy Yard for Nats fans, The Big Stick isn't just for the baseball crowd. Situated a few blocks away from the stadium, this sports viewer's paradise has everything any fan could need for a game. From buckets of beers, to big screens and sandwiches, The Big Stick will have you covered for the tourney.
Blue Jacket
300 Tingey St SE, Washington, DC
This brewery is a crowd favorite for all those who live in or visit the Navy Yard neighborhood. A full-service brewery with over 5,000 square feet of brewing space stretched over 3 levels, this beer lover's paradise is boasting 20+ original ales and lagers each and every day. But let's not forget about the menu that is paired perfectly with their beer, plus the TVs lining the walls, making Blue Jacket fully ready for the tourney.
Penn Quarter
Penn Social
801 E St NW, Washington, DC
We wouldn't have a full list of great sports bars in the area without the mecca, Penn Social. This multi-level bar is one of the largest sports bars in the region with dozens of TVs, including massive projector screens on the bottom level, some that take up a large portion of the wall. You won't miss a single second of action here, that is guaranteed to have a raucous environment for the big dance.
Logan Circle
Players Club
1400 14th St NW, Washington, DC
Players Club mixes the nostalgia of old-school video games with the upscale bar scene. If you come here for a game it will be hard to leave. With pinball, skeeball, retro arcade games and more, you can best believe that once halftime hits the competition could heat up even more at this locale.  
Where will you be watching as college basketball's best teams compete for the glory? When you're celebrating that buzzer beater or big upset, make sure to tag us in your March Madness fun with #FrayLife #DCFray.
Click here for even more bars to get in on the madness
GET OUR WEEKLY EMAIL »