Date Guide: Keep Warm While Keeping Your Resolutions
We know it's cold this winter here in DC and you have New Year's Resolutions you're trying to keep, but the temps and your personal development plans don't give you an excuse to have boring date nights!
It's way too easy to stay home and just 'Netflix and chill' with your significant other, and it's way too hard to stick to your health goals when you fall into the dinner & a movie routine every weekend.
Luckily, you live in DC and there are plenty of exciting cold weather date options, if you know where to look. That's why we came up with five indoor date ideas that will keep you active, healthy, and warm well into the new year.
Bowling's a classic and there are plenty of alleys in the DC area. But, Pinstripe's in Georgetown offers more than microwave pizza and french fries. Make a reservation to eat at the bistro and follow up with a game of bowling or bocce. The menu has healthy appetizers, salads, and sandwiches that will leave you feeling better than a cheeseburger would so you'll have plenty of energy to bowl more strikes!
#FrayLife Tip:

 Try to make it to the bistro for happy hour weeknights from 3-7pm so you can save money while you snack on healthy apps.
Visit ZAVAZONE in Maryland or Virginia for a fun couple of hours of jumping on trampolines, flipping into foam pits, and completing obstacle courses. Trust us when we say that a few hours will be plenty of time because the trampoline park becomes an accidental workout that will have you sweating as much as you're smiling.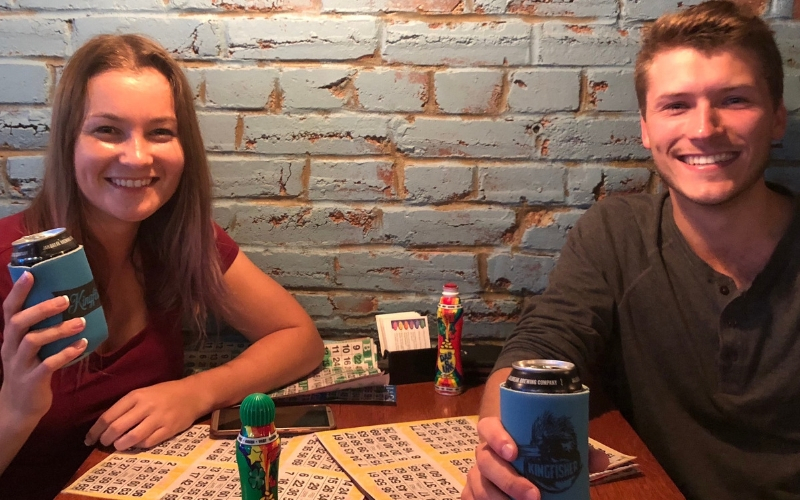 Yours truly, DC Fray, brings free bingo nights to Kingfisher DC every Monday night. Show up early, enjoy happy hour, play the bar's board games, and then take a bingo sheet. Bingo is perfect for a date because it is easy to play and keep up good conversation at the same time.
#FrayLife Tip:

Kingfisher has free popcorn and they let you bring outside food in. We like to grab a healthy salad from Sweetgreen around the corner and eat it before the game starts.
Of course you can book a couple's massage at any spa, but if you're looking for something unique and local, House of Steep in Arlington is a Tea House & Foot Sanctuary, which means it heals you from the inside out with hot tea, herbal foot baths, and reflexology massages. Take some time to turn off your screens and relax as a couple. The menu offers tea and treatments for pain and health concerns. Depending on how much time and money you want to spend you can do anything from just enjoying a hot cup of tea to getting a targeted foot soak.
#FrayLife Tip: Splurge for the reflexology foot massage, which is still cheap by comparison to a body massage or pedicure and will leave you feeling amazing.
Make it a resolution to eat out less. Cozy Meal is our pick of the many cooking class options in DC because there is a class for everyone. A lot of the classes are specifically "for two," which makes them perfect for date night. You can enjoy the meal you make and then use the skills you learn to cook together more in the future. A quick visit to their website will help you narrow it down by locations, class type, and even dietary restrictions. Hopefully this can help with that new year diet that barely lasted a week… We blame doughnuts.
#FrayLife Tip: Make sure to look at all the location options in DC and Maryland to find the one closest to you.
Let us know if you try any of these activities, whether its on a date, with friends, or by yourself, by tagging us on social using #DCFray or #FrayLife. Leave us a comment below if you know of any unique date spots not included here!
BUT WAIT– there's more! Check out these hidden gems that are also perfect for a night out here in the District.
GET OUR WEEKLY EMAIL »