How To Be The Ultimate Tour Guide When Your Friends Visit
When I was growing up in a suburb that was only around a 30-minute drive to DC (with no traffic of course, which was rare), trips to our nation's capital happened quite often in my family. I dreaded sitting in the car and making the trip there, but now I appreciate the fact I had the unique opportunity to experience a city like DC so often.
If you're looking for recommendations on places to go when you explore DC with friends from out of town, I have curated a list of some of my favorite spots. Keep in mind that this list does not even scratch the surface of all there is to explore. And that's the most exciting part about this city—how many places and things to do there are!
The monuments and memorials are obvious must-sees, so I am not even going to include them, but a special recommendation—go see them at night. They're incredibly beautiful lit up by the moonlight; plus, you avoid the crowds.
Where to Learn:
Newseum
555 Pennsylvania Ave. NW
Washington, DC 20001
If you don't have time to squeeze in more than just a couple museums on your trip, a must-see, I think, is the Newseum. Because I have a journalism background, I feel biased in saying this is the best museum in DC; however, many people I know from the DC area agree. Some of the exhibits include a civil rights exhibit, an FBI exhibit, a 9/11 gallery, a Berlin Wall gallery, and a Bloomberg internet, TV, and radio gallery. Purchase tickets to the museum here.
#FrayLifeTip:
Don't have time to spend more than an hour at the Newseum? Take the
60-minute First Amendment Tour
to see the highlights of the exhibits and collections.
Where to Immerse Yourself in Politics:
US Capitol
1st St. NE
Washington, DC 20515
If you can plan your visit to DC far enough in advance, a tour of the White House should be on your itinerary. Submit a tour request to your local congressperson as early as possible, as it is nearly impossible to get tickets if you don't. I was able to get tickets by submitting a tour request form nearly five months in advance. However, a good and easier alternative to a tour of the White House, if you don't get tickets, is a tour of the US Capitol. You will get to see the rotunda, the National Statuary Hall, the Crypt, and the former Supreme Court and congressional chambers. The tour is free!
#FrayLifeTip:
You can also ask your local congressperson for gallery passes when the Senate and House of Representatives are in session.
Where to Shop:
Georgetown
Georgetown is the oldest neighborhood in DC and was actually around before DC was founded. The neighborhood is filled with history, amazing restaurants, hotels, and a vibrant nightlife, and it is a popular destination for shopping. (I even got my senior prom dress in Georgetown.) From small boutiques to unique shops to popular brand name stores, Georgetown has it all.
#FrayLifeTip:
Georgetown Cupcakes is a popular tourist destination, and it is well known because the co-owners of the shop won
Cupcake Wars
nearly ten years ago and also appeared on TLC's
DC Cupcakes.
I can personally attest that these cupcakes are the best you will ever taste. There is usually a line out the door, but you can avoid that by ordering ahead
online!
Where to Eat Breakfast: 

Founding Farmers

1924 Pennsylvania Ave. NW

Washington, DC 20006

The name of this restaurant is a shout-out to the Founding Fathers, as some of them were farmers prior to becoming political leaders. This rustic-chic restaurant is a solid choice for breakfast, lunch, or dinner; however, I particularly like coming here during breakfast/brunch hours. Some items on the breakfast menu are chicken and waffles, banana foster pancakes, poached egg hashes, and bourbon-batter French toast. View the full menu here.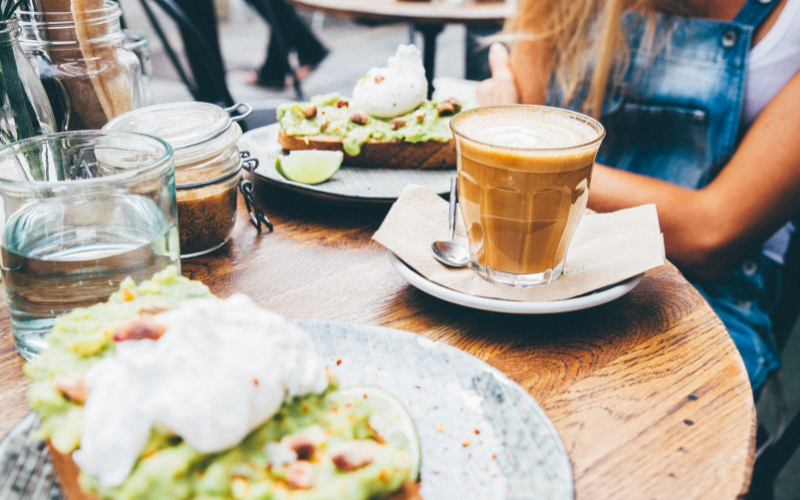 Where to Be a Fan:
Audi Field
100 Potomac Ave. SW
Washington, DC 2004
The Caps are most recently Washington's claim to fame for sports because of winning the Stanley Cup last year; however, if you want to attend a sporting event in DC, I would recommend taking a trip to Audi Field to see DC United play. The new stadium itself is worth a visit, with a rooftop bar and patio, indoor lounge, fan plaza, and top-of-the-line concessions. World-renowned chef Jose Andres oversees the food and drink options at the stadium, so they are bound to be delicious.
#FrayLifeTip:
Wondering where to go before, or after, the game? I've got some ideas for you
here.
Where to Eat the Best Grilled Cheese:
Stoney's
1433 P St. NW
Washington, DC 20005
One Christmas my family had just left mass at the Basilica, and we were starving. Stoney's happened to be literally the closest place that was open, so we wandered in. Little did I know, but Stoney's has an entire section on its menu dedicated to my favorite American delicacy, grilled cheese. If you're a fan of the classic ham and grilled cheese, they make a great one. They also have loaded-up grilled cheese options like the Boss Hog and the Thunderbird.
#FrayLifeTip:
Head into Stoney's on Wednesday nights at 8:00 p.m. for trivia. The first-place winner receives a $50 Stoney's gift card!
Where to Waterfront Dine:
Sequoia
3000 K St. NW
Washington, DC 20007
This beautiful restaurant is situated on Georgetown's waterfront and boasts breathtaking floor-to-ceiling-window views of the water, Kennedy Center, Roosevelt Bridge, Roosevelt Island Key Bridge, and the Virginia skyline. During warmer months, enjoy the weather over some drinks and food on the spacious outdoor patio. The inside of the restaurant is colorfully decorated with contemporary art, which only adds to the unique ambience of the place.
Photo Cred: Sequoia DC
#FrayLifeTip:
Sequoia is also a popular destination for brunch on Saturdays and Sundays. View the brunch menu
here
.
Where to See a Music Show:
The Anthem
901 Wharf St. SW
Washington, DC 20024
The Anthem is a music venue in DC's newest waterfront neighborhood. It is a more intimate concert venue than the Capital One Arena, seating only 6,000 people. Many of the bars and restaurants in the Wharf have live music as well, making the music and bar scene one of the best you can get in Washington. Past performers who have come to the Anthem include Keith Urban, NEEDTOBREATHE, Imagine Dragons, Dave Matthews, and other talented artists.
Where to See a Show:
The Kennedy Center
2700 F St. NW
Washington, DC 20566
The Kennedy Center is a popular place among locals and tourists alike to see a show. While it is a performing arts venue, it is the national memorial dedicated to President John F. Kennedy. It is located on the Potomac River and has everything from ballet to comedy shows to theater shows. To see what is going on at the center, click here.
#FrayLifeTip:
Check out the Rooftop Terrace Restaurant on the terrace level of the Kennedy Center. The restaurant boasts beautiful skyline views of the district and is open every night before performances, from 5:00 to 8:00 p.m. It is also open on Sundays for brunch from 11:00 a.m. to 2:00 p.m.
Where to Dance:
Decades
1219 Connecticut Ave. NW
Washington, DC 20036
This five-story dance club is a super fun place to be on a weekend night. Each floor is dedicated to the 80s, 90s, or 2000s, playing the best hits from these decades. There is bound to be music you and your friends all can enjoy. On Thursday nights, the club has "Throwback Thursdays," on Friday nights it's "Flashback Fridays," and on Saturdays, "Rewind Saturdays."
Where to Enjoy No Cover and Cheap Drinks:
Madhatter
If you're in your 20s, all I can say is that Madhatter is a great time. By day it is a restaurant in Dupont Circle serving up sandwiches and quite a few seafood entrees, plus braised short rib mac and cheese, Cajun chicken pasta, sizzling fajitas, and more. At night it transforms into a lively two-story bar with a DJ and a dance floor. The bar is infamous for their large "Madhatter" green drink, which comes in a plastic top hat for $35. Enjoy no cover charge on Friday and Saturday nights!
#FrayLifeTip:
On Thursday nights, Madhatter serves $1 Miller Lite drafts from 8:00 p.m. to close.
Where to Fight Late-Night Munchies:
Ben's Chili Bowl
1213 U St. NW
Washington, DC 20009
Ben's Chili Bowl is an absolute staple of the DC food scene. A half-smoke is one of DC's specialties, and I strongly believe Ben's Chili Bowl makes the best. (A half-smoke is a sausage that consists of half beef and half pork, which is smoked and served on a bun, typically with mustard, onions, and spicy homemade chili sauce, at least at Ben's.) There is nothing more satisfying than biting into a juicy half-smoke after a long night out—trust me.
#FrayLifeTip:
The original Ben's Chili Bowl on U Street is open until 4:00 a.m. on Friday and Saturday. You're welcome.
Bonus Stop: Old Town, Alexandria
Old Town is my favorite spot in the DC Metro area. Its close proximity to DC makes it an ideal stop, and it was named a Top 5 Best Small City in the US in 2018. You can drive to Old Town from DC easily, but you can also take the water taxi from Georgetown to Alexandria for $15 one way or $28 round trip.
There is so much history behind the quaint yet intricate town, and it is full of shops, restaurants, museums, and, of course, the beautiful waterfront. As you walk up and down the cobblestone streets and experience the excitement of King Street, I challenge you not to fall in love with the beautiful place that is Old Town, Alexandria.
Where to Brunch:
Chadwick's
203 Strand St.
Alexandria, VA 22314
Chadwick's is a great casual spot for brunch in Old Town near the waterfront. Champagne Brunch is Saturday and Sunday from 10:00 a.m. to 4:00 p.m. Enjoy savory dishes like the three-egg omelet, brunch tacos, and steak and eggs, or sweet dishes like the cinnamon brioche French toast, chicken Francois, or buttermilk pancakes. View the full brunch menu here.
Where to Casual Dine:
Don Taco Tequila Bar
808 King St.
Alexandria, VA 22314
I love Mexican food and especially tacos, so this place is a favorite of mine on King Street. When you are seated, a menu is brought to you, and you simply mark what type of taco you want and how many. I recommend the al pastor, pomegranate skirt steak, or the el gringo tacos. Don Taco also has nontaco options like burritos, Mexican street corn, tostadas, and empanadas. For dessert, I am a sucker for apples, so I always get the apple crisp empanada.
#FrayLifeTip:
Hit Don Taco's late-night happy hour from 10:00 p.m. to 2:00 a.m. after a night out. All tacos are buy 2, get 1 free!
Where to Fine Dine:
The Wharf
Another favorite food of mine is seafood. The Wharf is an authentic seafood restaurant that serves up what I think are the best crab cakes in town. The building itself is full of history at 200 years of age. There is nothing better than a crab cake that is made to perfection—good lump crab meat and not too much filler. The Wharf does just that and calls crab cakes its "specialty." The other seafood options on the menu are delicious as well and include horseradish-crusted salmon, Flounder Chesapeake, Old Virginia rockfish, jumbo fried shrimp, and whole Maine lobster. This is a great place to eat if you want to have a nice dinner out or celebrate a special night.
Where to Satisfy Your Sweet Tooth:
Pop's Old Fashioned Ice Cream
109 King St.
Alexandria, VA 22314
Pop's is an Old Town staple. It is very popular, often pretty crowded at times—but the delicious, old-fashioned ice cream makes any wait worth it. As previously mentioned, I am a big apple gal, so I usually opt for the Johnny Appleseed Sundae, which consists of vanilla ice cream, apple pie chunks, butterscotch, caramel, and whipped cream. View the full menu here.
Where to Drink:
Murphy's Grand Irish Pub
713 King St.
Alexandria, VA 22314
There are plenty of great bars in Old Town to grab a drink; however, if you're a sports fan like I am, Murphy's Grand Irish Pub is the place to be, especially on game days. And much to the satisfaction of a good friend of mine, Murphy's is a New England Patriots bar. They also have live music every night upstairs, an extensive craft beer menu, and delicious American and Irish fare!
Where to Channel Your Inner Artist:
Torpedo Factory Art Center
105 N. Union St.
Alexandria, VA 22314
I have zero artistic ability and have never had much of an interest in art, yet this place has always intrigued me. If you love art, then you must visit the Torpedo Factory. It used to be an old munitions plant, but now it is a vast collection of artists' personal studios. There are more than 80 artists' studios, seven galleries, and two workshops.
Photo Cred: Torpedo Factory Art Center
Want to explore the DMV even more? Take the water taxi to National Harbor, a "waterfront wonderland." You can check out my guide to National Harbor here.