Drink Your Way Through the History of Heurich Brew House Museum
There are almost as many unanswered questions as there are artifacts in Heurich House Museum's new rotating exhibition "HOME/BREWED: How the Chr. Heurich Brewing Co. Witnessed DC History." Several of the artifacts on the walls cue visitors to wonder about Heurich Brewing Company's history, as well as the impact it had on today's local beer industry.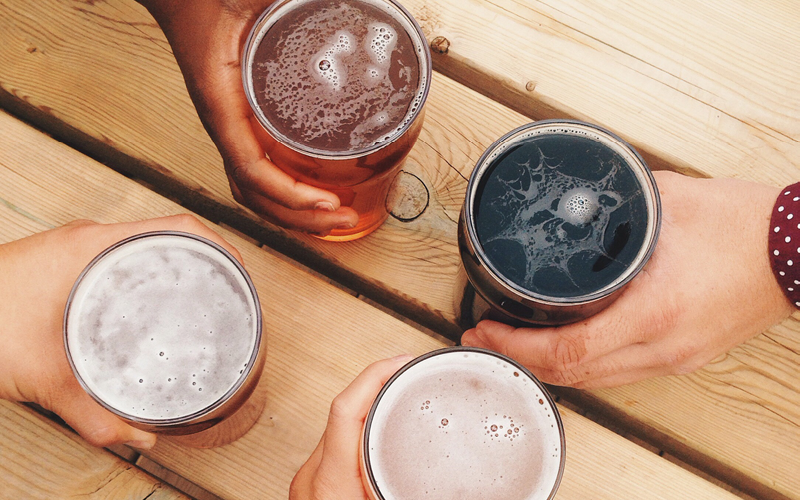 "There's so much we just don't know," explained Kimberly Bender, the Director of Heurich House Museum also known as The Brewmaster's Castle.
The building containing the brewery's archives burned down in 1938.  All records since the brewery's founding in 1873 were lost in the fire, along with a major chunk of D.C.'s history.  Brewmaster Christian Heurich's Dupont Circle mansion still stands, though.
Luckily for Heurich House, the museum is slowly beginning to piece the city's brewing history together thanks to local collector Jack Blush.  Blush spent over 40 years amassing Heurich Brewing items from bottles and cans to bus advertisements.
Did you know that Heurich Brewing Co. was a household name in the local booze market over a century before the modern craft brewery boom? In the sea of today's prominent local craft breweries like Three Stars, Atlas, and DC Brau, the Heurich name somehow became just a whisper. Heurich's brand was once widespread throughout Washington, like at Senators' baseball games, on buses, and in bars. One could find his name on everything from coasters to number two pencils.    
The items currently on display only represent a fraction of Blush's collection. Bender hopes to raise enough funds to purchase the full 1,000 plus items from Blush so the museum can display them permanently.  
In addition to acquiring the collection, Heurich House is deepening its research on Heurich's historic brews by working with the Oregon State University's science department to recreate the Senate lager. With science on their side, the museum is taking steps toward answering what this beer actually tasted like.
"It's impossible to know," said Bender.  Any brewing recipe that might have existed went up in flames in that 1938 fire.
The museum intends to brew Senate beer locally and have it ready for sale in 2019.  This will be the first relaunch of Senate beer since the brewery stopped production in 1956.  
It is the museum's hope that the beer relaunch and "HOME/BREWED" exhibit facilitate the information-gathering process in order to fill in the blanks the questions on display pose.  
Explore DC beer history the #FrayLife way
You can visit Christian Heurich's historic mansion and see the HOME/BREWED exhibit in the carriage house during their regular visiting hours.  Alternatively, you can enjoy the exhibit with a beer in your hand by visiting during their special scheduled happy hours! Throughout the month of December, the museum will hold happy hour every Wednesday and Thursday from 6-8pm and Fridays from 6pm-9pm.  Registration recommended. Full schedule and registration link here.
#FrayLife Tip: Any time of year, we recommend you do the

Brewmaster Tour

of the mansion, which includes an hour-long tour of the house and a flight of local beer.
Let us follow along during your visit by tagging us on social using #DCFray, and be sure to leave us a comment below with your thoughts about the new exhibit!
Looking for more thirst quenching beers? Check out these hidden dive bar gems, it's a trip well worth outside your comfort zone.
GET OUR WEEKLY EMAIL »