Are You Craving Healthy Eats in a Hurry? Here are our 7 Go-To Spots to Grab Fit Food in DC
DC has long been known as one of the country's healthiest cities, and as millennials, we tend to be pretty dialed into where our food is coming from, how it's prepared, and how certain dietary choices impact the way our bodies feel.
We also like (read: expect) our to be food as flavorful as it as healthy, in addition to being highly customizable and equally convenient.
Luckily, DC has a ton of options, ranging from juiceries to fast-casual and plant-based restaurants, that appeal to the busy, health-conscious and, more often than not, Instagram-ready millennial.
Check out some of our top choices around the District for when we need to refuel with a healthy meal before getting back to living the #FrayLife.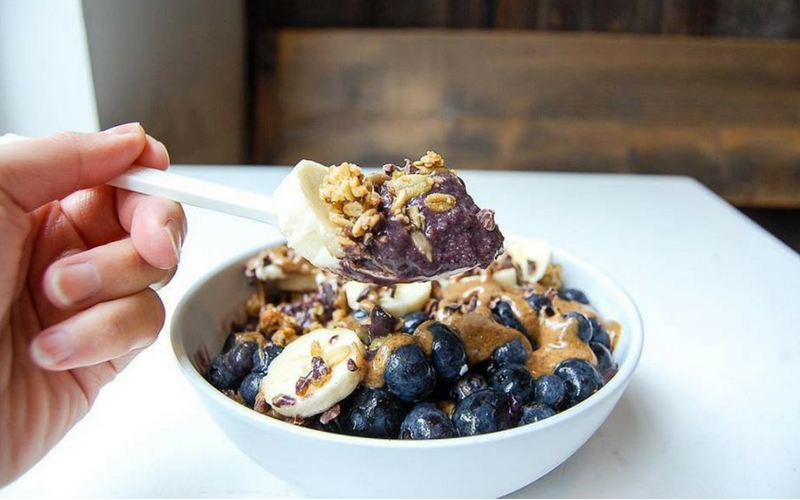 Hit up this micro juicery post workout for a mouthwatering selection of juices, smoothies and acai bowls. South Block has several convenient locations across DC, Maryland, and Virginia including ones in Arlington, Clarendon, Alexandria, and Georgetown. You can even find a smaller, "best of" selection at Union Market. If you want to see the quality that goes into these juices, stop by their micro juicery in East Falls Church where juices are made. You can peek through the windows and take a look at the juicers in action.
#FrayLife Recommendation: PBJ bowl. This bowl has a base of blended acai, peanut butter, bananas, blueberries and almond milk and is topped with handmade granola, blueberries, and bananas. Customize it and make it your own by subbing almond butter or adding from a number of toppings like goji berries.
#FrayLife Tip:
Don't miss out on Yoga on the Block! South Block hosts free yoga classes every 2nd Saturday.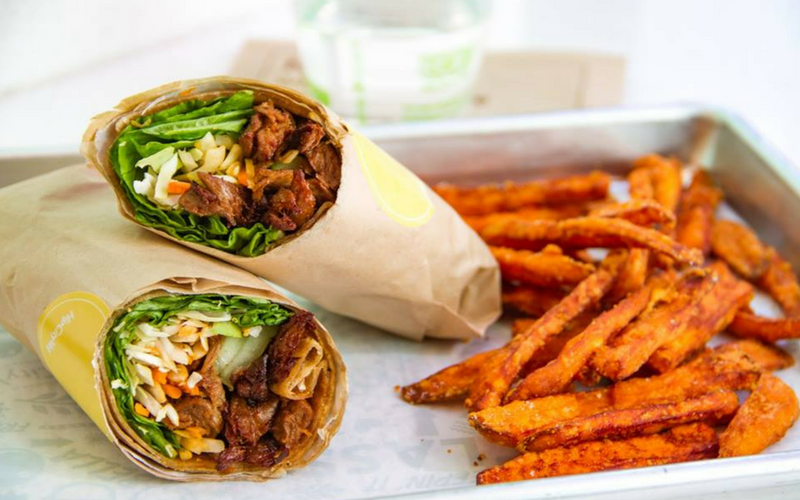 At this plant-based, fast-casual restaurant you don't have to give up burgers, fries and shakes to eat healthily. The menu here features fast-food inspired items like chicken sandwiches and burgers - sans the meat. Instead, they use fresh, local and organic ingredients that show up every morning. Additionally, all packaging (containers, cups, straws, and utensils) are made of corn and are entirely compostable.
#FrayLife Recommendation: Crispy HipCity Ranch and sweet potato fries. This plant-based, fried "chick'n" sandwich is loaded with the works - lettuce, tomato, onion, pickles and a peppercorn ranch dressing. It's no wonder it's the second most popular item on the menu. Not a vegan? You'll hardly be able to tell that it's not actually chicken..yea, seriously.
This casual, counter-service restaurant serves up award-winning Modern Israeli Street Food. Named Best Fast Casual by the Washington Post, Top 10 Food & Restaurant Trends by Forbes Magazine and Fast Casual of the Year by Eater DC, it's a must try. The menu features pitas, bowls, salads, and snacks - most of which are also gluten-free (just swap the pita out for greens)! You'll notice plant-based ingredients like chickpeas, black beans, lentils and cauliflower in the different dishes here.
#FrayLife Recommendation: The Shouk Burger and polenta fries. This Middle Eastern-inspired veggie burger is layered with roasted tomatoes, tahini, arugula, charred onions and pickled turnip.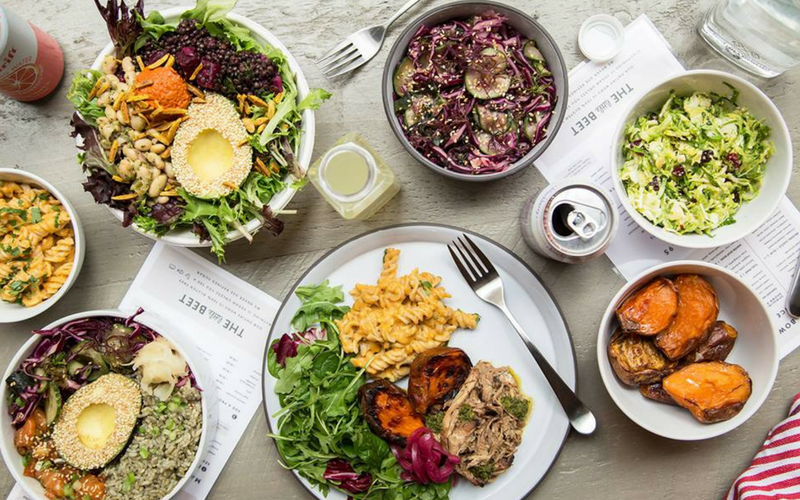 One hundred percent gluten-free, mostly vegan, and always fresh - this restaurant in Dupont is another one on the top of my list. The food here is made from scratch and prepared fresh every day. Dietary preferences? No problem. Little Beat can accommodate dairy free, soy free, vegetarian, vegan, gluten-free or nut-free preferences. The menu is inspired by local, seasonal and natural ingredients. You can choose from chef made or build your own plates and bowls. Just pick your greens + grains, add a protein and finish with your choice of sauce and a garnish.
#FrayLife Recommendation: Brussel Hustle. This bowl has a mix of chicken, brussel sprouts, pecorino cheese, cranberry, avocado white bean spread, salsa verde, pickled onion, and super seeds.
This D.C. based, healthy fast-casual restaurant features Mediterranean inspired customizable salads, grain bowls, and pitas. Start by picking a base. They offer a variety of greens and grains from super greens and arugula to brown basmati rice and black lentils. Then pick your dips and spreads. We're talking hummus, Harissa, and jalapeno-infused feta mousse. Next up is your protein ranging from falafel to spicy lamb meatballs, toppings, and dressing. Cava has 8 locations sprinkled throughout DC, so there's no excuse to miss this one.
#FrayLife Recommendation: SuperGreens salad with the works. Try a couple of dips + spreads (you can pick up to 3). And make sure you get the Crazy Feta - it's jalapeño infused feta mousse and it's crazy good.
Also, don't forget to try out some of the juices/teas like watermelon mint and strawberry citrus.
#FrayLife Tip:

Can't get enough? Be sure to check out Cava Mezze, the sit-down restaurant that started it all. You can also find Cava dips and spreads in Whole Foods and other organic markets. PLUS the all you can eat brunch is one of the best in DC.
Also founded in DC, this one should come as no surprise. Sweetgreen works with about 500 small to mid-sized farmers to get whole vegetables, whole fruits and whole grains that are delivered to their stores every morning. They source locally where possible, so be sure to checkout chalkboard source lists found in every store to see where your food came from. Sweetgreen has a variety of chef made seasonal options, warm bowls, and salads or you can opt to make your own.
#FrayLife Recommendation: It's hard to pick just one because they change the menu seasonally and most of the options are awesome. If you're looking for one that's always available, Guacamole Greens is hard to beat.
This farm to taco restaurant, located in an old family-owned woodwork shop in Georgetown, serves up seasonal and entirely plant-based tacos. No meat here, but you won't miss it. Tacos are served on hand-griddled corn tortillas that are made in-house daily and topped with hyper-local microgreens from Little Wild Things City Farm, a woman-owned sub-acre urban farm 2 miles from the Georgetown location. Chaia is 100% vegetarian, nut and gluten free and all tacos and sides can be made vegan (with the exception of the Creamy Kale + Potato Taco). The menu is small, but these tacos are packed with flavor. Can't decide? We don't blame you - load up with the taco trio and don't forget about the sides or Kombucha on tap!
#FrayLife Recommendation: The Charred Green Beans (queso fresco, jalapeño salsa, and garlic chives) and Creamy Kale + Potato Tacos (pepper jack, poblano crema, green sauce and pickled onions). Add the black beans side - it comes with a delicious jalapeño crema.
Where's your go-to spot in the District when you want a healthy, fast, and casual meal? Share us on your next delicious meal by tagging it with #FrayLife on social.
Want to get out and be active after your healthy lunch? Here are 8 waterfalls near DC you need to hike to ASAP.
GET OUR WEEKLY EMAIL »