Your Guide to the Perfect Charm City Weekend Escape
When's the last time you took a trip to Baltimore. I don't mean coming to visit for a couple hours for an O's game, lunch at the Harbor, or casino stop, I mean when's the last time you actually went and explored the culture and character of the city?
Over the past few years, Baltimore has worked hard to rebuild its reputation and has emerged as a premier destination on the east coast.
One of the most appealing things about modern day Charm City is that there is such a variety of fun things to do for those of you looking to get active, be social, and experience new things.
Have a taste for fine dining? Looking for some history or new cultural attractions? Want to have a cocktail and hear some live music?
If you said 'yes' to any of the above, you need to plan a trip to Baltimore ASAP.
Being only an hour or so drive from DC makes Baltimore ideal for a quick day trip or weekend getaway, especially in the summer when the city is even more alive and buzzing.
I grew up in Baltimore and lived here all of my life, so I pulled together some of my tried and true favorites to create an itinerary you can use to have the perfect #FrayLife 24-hour getaway next time you need a break from DC, but don't feel like traveling far.
Saturday
It's only a quick drive up I-95, so sleep in a little and arrive mid-morning when things start to get fun.
Getting your adrenaline flowing and heart rate elevated is the best way to start the weekend and one of the best places to do this is at Rev Cycle Studio.
The Federal Hill location offers both spin and barre classes that are accompanied by killer music and instructors that push you to your limit while still making you laugh. Depending on the weekend they have different outdoor events that switch up the scenery of your workout from the standard studio (think at a brewery, at a local brunch spot, on the water). Even if you don't catch an event they have themed classes, my favorite so far being a 'Rap Caviar' barre class featuring a serious dose of Cardi B accompanied by a butt kicking workout. Your first class is only $12 so there is no excuse not to get in a sweat while you are in town.
#FrayLife Tip:There are showers in the studio so after class you can freshen up before exploring the rest of Baltimore!
Just in case your sweat sesh at Rev didn't wake you up enough, I suggest you continue your journey with a coffee from 3 Bean Coffee. They have creative specialty drinks that are different than anything you have tried before. Their coffee is perfect for giving you a little pick me up to start your day. I recommend the Lavender Latte.
If you have time, I recommend hanging out to enjoy your beverage and admire the super cool decor featuring many styles of reclaimed wood. 3 Bean also doubles as a hotspot for local creatives and entrepreneurs to gather so you may run into some of the city's budding talent or just some friendly locals who are eager to give you some tips and tricks for navigating the city.
#FrayLife Tip:
If coffee isn't your thing, or even if it is, try the kombucha on tap!
While the caffeine is flowing it's time to check out some of the most unique museums in the city. I suggest picking one to start with if you are only in town for a weekend but most definitely coming back to check out the other. My two picks are: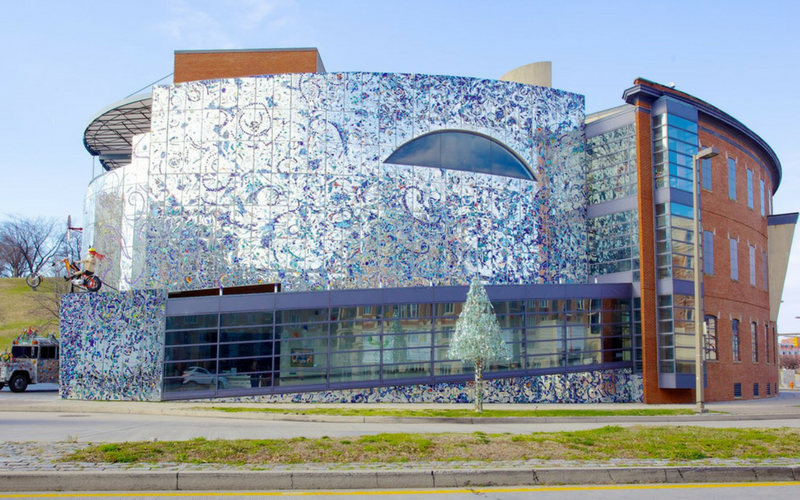 Location: 800 Key Hwy
With over 4000 pieces in their permanent collection and a selection of rotating exhibits, the AVAM plays host to pieces done by artists with no formal training. All of the pieces are made by self-taught artists which makes for some super creative work. Every hallway is full of different bright colors and a plethora of mediums which make your whole visit completely unpredictable. I am not kidding, there is literally some type of unique art everywhere in the building. Even the bathrooms are decked out with pieces that span every wall.
Location: 1415 Key Hwy
The Baltimore Museum of Industry pays homage to Baltimore's past as a "working man's town". It showcases a different innovative ideas and inventions that changed many industries throughout the years. This museum is the opposite of an ordinary museum because it's interactive and features items that you can recognize from your everyday life, or as a blueprint for the modern day alternative. 
Next up, it's time for lunch. Head over to Port Covington at drop in to Rye Street Tavern (225 E Cromwell St) for great atmosphere, delicious food, and equally delicious cocktails. The fried chicken is a must try along with some oysters from the raw bar. As for cocktails, the Brown Derby is a great place to start (it even features Baltimore's very own Sagamore Spirit Rye Whiskey). The open concept and huge windows give guests a beautiful view of the water and there is even an outdoor seating area where you can hang out and enjoy the scenery up close.
After you eat, head next-door to The Sagamore Distillery (301 E Cromwell St) where you can tour the distillery and end in the tasting room with free samples of Sagamore's whiskies. On the tour you walk through every stage of the distilling process and even get to see how the whiskey is bottled and labeled. If you want to take home a souvenir, there is an option to label your own bottle to bring with you. Maryland is full of breweries and wineries but the distillery provides a unique experience that highlights Baltimore's history with whiskey that most do not know. I am not a usual whiskey drinker but I really enjoy the tasting room because it focuses on the education, flavor profile, and pairings associated with each sample. The tasting is very interactive and gets you laughing with those sitting around you.
#FrayLife Tip:
The tour not only educates you on the whiskey making process but also shares a ton of historic information about Baltimore that was fresh and interesting even for a Baltimore native.
I highly recommend saving some time for a shopping trip in Harbor East before heading to an amazing dinner.
This trendy shopping area plays hosts to a variety of shops such as South Moon Under, J. Crew, Anthropologies, and Madewell, just to name a few. There is also a huge Under Armour store that is located in Harbor East so you can buy some UA gear right from where the brand started. All of the stores are walking distance and right on the water so you can enjoy a beautiful view while you travel from shop to shop.
If you're into good food and equally as delicious drinks and equally as awesome views, I suggest grabbing dinner at the Bygone (400 International Drive 29th Floor).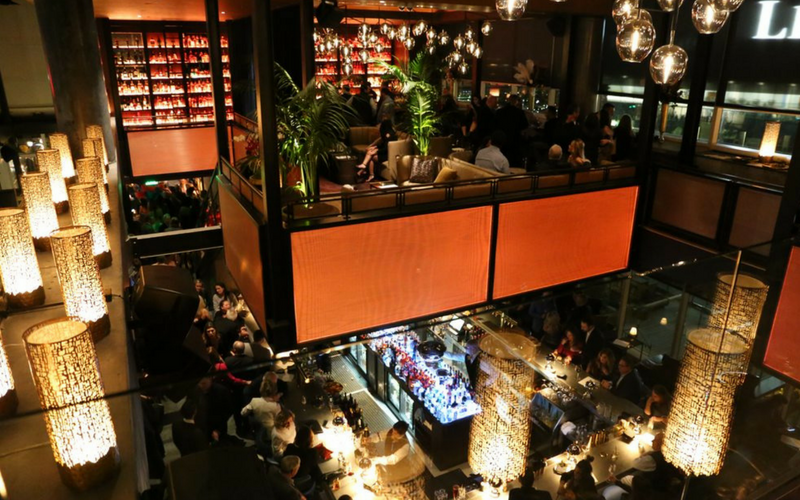 It's located at the top of the Four Seasons hotel and is truly one of the most glamorous dining experiences in the city. It boasts an old school, Gatsby-esque feel that is unlike any other local restaurant. The food takes things to another level with heavy focus on seafood (think caviar and lobster level). The wine list is impressive and the helpful staff are readily available to assist you in picking the best bottle to compliment your meal. While a dinner at the Bygone will cost you a pretty penny it is totally worth it for the quality of food, service, and view of the entire city.
If you just want to come to Baltimore for the day, you can always take it easy on the booze, or try to convince someone to DD you back to DC, but you should make a full weekend out of it if you can.
When it comes on where to stay for the night, the Sagamore Pendry (1715 Thames St) is definitely the way to go.
It's right on the water in Fell's Point and just recently built and renovated. With over 120 luxury rooms, a gourmet restaurant, luxurious pool area, and phenomenal service, staying at the Pendry will make you feel like you're truly on vacation, even if you are just 40 minutes away from home. The intricate decor and artwork make staying at the Pendry an experience in and of itself and to be honest it almost feels like a super cool museum. There are hidden gems that pay homage to Baltimore, like the cannon in the floor of the bar, you will have to find the rest for yourself. The courtyard area is one of my personal favorite places on the campus. There is an assortment of comfy nooks that are perfect for reading, relaxing, and taking in the beauty of the foliage and sculptures that surround you.
Fell's Point is great for nightlife and you'll be right in the middle of it if you stay at the Pendry.
If you're into live music, check out the Cat's Eye Pub (1730 Thames St) which features some funky local bands with a dive bar type of feel. If you're looking for an upbeat crowd and good drinks near the water, Barcocina (1629 Thames St)  and Bond Street Social (901 S Bond St) are where it is at.
Sunday
When you wake up after your night out, if your hangover isn't too bad, make sure to take advantage of the Pendry's awesome amenities before grabbing some great brunch food at one of the nearby options. The Pendry has so many amenities to enjoy I can bet that you'll be asking for a late check out so that you get to enjoy them all. The pool deck, for one, is the best in Baltimore and has a poolside bar, shaded cabanas, and a waterfront view for you to enjoy. Their fully loaded fitness center is open 24/7 if you are looking to get in a workout and their spa offers state of the art massage and facial treatments if you are looking to indulge in #SelfcareSunday.
Blue Moon Café is a Baltimore favorite for breakfast and brunch. The have a sort of hole in the wall mixed with old school diner feel with the most friendly staff you could imagine. Their unique pairings, generous portions, and specials like Captain Crunch French toast are part of their claim to fame. The food is anything but healthy but oh so delicious. Good thing you checked out the 24/7 gym at the Pendry, right? Luckily the vibe is extremely casual so feel free to rock the workout clothes for brunch.
Want more variety and outdoor seating on the water? Boathouse (2809 Boston St) is the way to go. You might want to change out of the workout gear if you are checking out this place but I promise it is worth it. They have great breakfast cocktails as well as a variety of really good omelets, all with a view of the harbor! It is walking distance from the Pendry and located right off of the charming cobblestone mainstreet of Fells Point. They also have a ton of gluten free options!
Before you head home, take a walk through Canton's Waterfront Park (3001 Boston St) to soak up some sun and enjoy a little peace and quiet in one of Baltimore's underappreciated gems. This is the place where locals like to take their morning jog or walk their dogs. Since the Fell's Point and Canton neighborhoods have been growing in popularity for young families you will often you will find kids running around and enjoying nice weather and watching in awe as boats drift in and out of the harbor.
Baltimore has so much fun to offer, especially during the summer months, and it's so close that it makes for an ideal, yet often overlooked, getaway from DC.
Next time you need a break from the district, do yourself a favor by packing your bags and heading up to Charm City for a great weekend you won't forget! When you do, make sure you tag your Baltimore adventures using #FrayLife on social.
Need other awesome day trip or weekend getaway ideas this summer? Here are 4 of our favorites.
Michelle is a lifestyle blogger who was born, raised, and currently lives right outside of Baltimore City. She's newly married and a dog mom to two rescue puppies. When she's not blogging or working her 9 to 5, you can find her getting her workout fix at barre class, binge watching reality TV, or sipping rose while planning her next travel adventure. Check out her blog and follow her on Instagram.
GET OUR WEEKLY EMAIL »