#FrayLife First Look: DC Polo Society
Marco??
POLO!!
No, we're not talking about the old school game you played in the pool as a kid.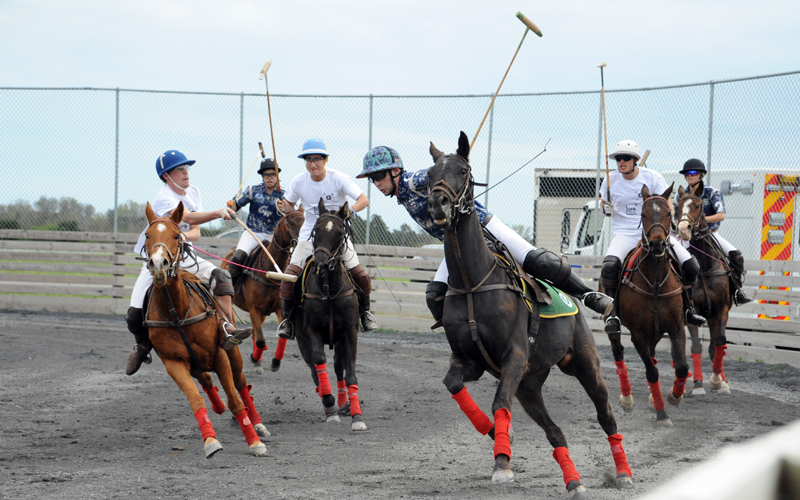 We're talking action-packed excitement as pro players on horseback show off their skills and compete for glory, while you and your friends sip drinks and watch from the stands.
That's right, folks…DC Polo Society has launched its inaugural season just in time for summer. This one-of-a-kind extravaganza is the first of its kind here in The District, and you'll definitely want to be a part of the fun.
Here's what you need to know:
On 5 Sundays this summer, DC Polo Society will transform Congressional Polo Club into a space where "tradition and modern fun collide for weekend tomfoolery with friends & family."
Aka DC Polo Society is taking Sunday Funday to a whole new level.
In addition to the heart-pumping action on the pitch, each match will feature tailgating, yard games, food trucks, cocktails, and more fun. It's the perfect excuse to throw on your most bougie outfit and escape to the countryside with your friends, Fray teammates, or family. Your four-legged friends are also welcome (on leashes), so nobody has to be left behind.
The summer series of polo matches kicks off with Opening Day on May 19th at Congressional Polo Club, a membership-based organization located just outside of DC in Poolesville, Maryland, which offers everything from equestrian sports to trail rides to riding lessons that brings a diverse group of individuals together to form a friendly environment.
The agenda will be the same for all the events in the series with gates opening at 2 pm, the match beginning at 3 pm and last call occurring at 5 pm The main difference between the events will be the theme:
– May 19th –  "Opening Day"
– June 30th –  "Red, White, & Brews"
– July 28th – "Funbrella"
– August 25th – "Play Date"
– September 22nd – "Brunch & Brews"
General admission tickets start at just $25. Want to get the best view in the house? Check out VIP packages for reserved seating and other perks.
What's better than some live sports and day drinking with your best pals? If you answered, "nothing"
Want to learn more about DC Polo Society? Check out their site, follow them on Instagram @dcpolosociety, and sign up for the email list to get all the updates and exclusive offers.
Will you be there for the inaugural season of DC Polo Society? Whether you come once or attend all events, don't forget to share us in the Sunday Funday excitement by tagging #FrayLife and #DCFray on social!
View More Articles By Haley Dick