Date Guide: Coolest Spots to Watch Summer Movies in DC
Summer is when all the latest Hollywood blockbusters hit the silver screen. It's also the time of year when you would most likely rather not be cooped up in a dark theater for 2+ hours.
Luckily, DC has stepped its game up lately and the city has some awesome movie watching options to help add some flair to your next date night.
There are plenty of places you can catch films outside in the fresh air, but also a number of theaters now offering higher-end food, drinks, and overall experience that helps make up for you having to spend a few of your precious summer hours inside.
Check out our #FrayLife guide to DC's coolest spots to watch a summer movie and get two thumbs up for your next dinner & a movie date night.
With a name like Atlantic Plumbing, you probably wouldn't have thought twice about peeking into this venue – but you'll be glad if you do!  This cinema was designed to have their bar as the main feature. Grab a movie themed drink and sit in the cocktail lounge before your picture starts, or order some food!  They even serve you using real plates and glasses.
#FrayLife Tip: The theaters are smaller, so reserve your seat online to make sure you get a good spot!
Head to Union Market to experience this unique movie house.  Check out Independent and Foreign films as well as the new Blockbusters.  Try their gourmet snacks or quench your thirst with their selection of craft beers and wines.  Angelika Pop Up offers the unique experience of the Coffee Club Matinee. Catch a flick before noon and you'll get admission and coffee – all for only $6!
#FrayLife Tip: After the movie, satisfy your sweet tooth next door at Dolcezza Gelato Factory & Coffee Lab.
Find yourself closer to Arlington than D.C.?  Not to worry – Arlington also has a unique cinema experience! Head to this old school 1930's style theater to check the next film on your list.  Waiters serve beer and cocktails straight to your seat. On some evenings you can even catch a comedy show!
#FrayLife Tip: Schedule date night for this spot's Discount Mondays to save a little cash.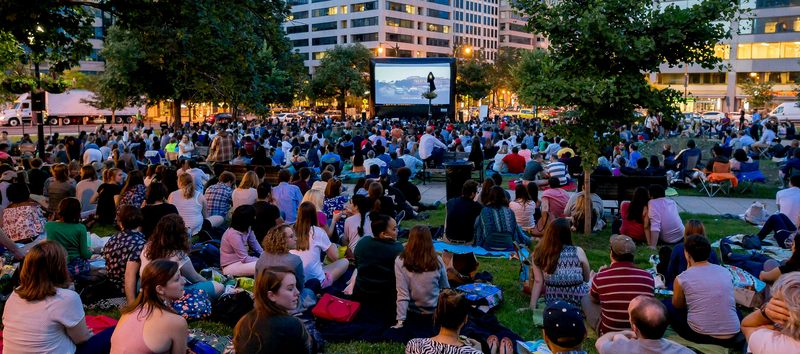 Still not tempted to leave the summer weather for the dark inside of a theater? The Golden Cinema Series may be for you! This 10 week long outdoor movie series begins June 1st in Farragut Park. You won't be able to catch the latest Blockbusters, but you'll be able to watch some great flicks under the stars! Check out their website for the film line-up.
#FrayLife Tip:  Get there early for some other Farragut Friday fun – like lawn games and table tennis!
There are even Arlington options for outdoor movies!  This one's got a theme – The Music of the Movies: Oscar Scores & Classical Musicals. Friday and Saturday nights starting in June, head to Arlington Mill or Penrose Square for your chance to catch some of classics. From Willy Wonka and the Chocolate Factory to Coco, you're sure to find something to tap your feet too!
#FrayLife Tip: Get there early and bring your own chair to ensure a spot in front of the big screen!
Back for another summer, this award-winning outdoor movies series brings the NoMa neighborhood together every Wednesday. With the summer schedule including hits like A League of Their Own, Chicago, Mad Max, Ghostbusters, and more, there's sure to be something for you regardless of your movie tastes. See the full schedule here.
Where is your go-to spot in DC to watch a summer movie? Let us know by leaving a comment below or tagging us in social using #FrayLife!
Want to spend some time outside before hitting the movies? Use our guide to find the farmers market in your neighborhood!
GET OUR WEEKLY EMAIL »