Bad for your Body, Good for your Soul. Here are the Best Places to Treat Yourself to Sweets in DC
Did someone say cupcakes?!
It's officially dessert season (though we would argue every season is dessert season), and the city is flooded with local bakeries eager to satisfy the sweet tooths of any and everyone who rolls through. Despite what some may think, choosing what to eat for dessert is a HUGE decision that should never be taken lightly. Here are four DC bakeries that never disappoint and are sure to become your favorite spots for all your sugar needs.
Baked & Wired
Get baked with a mouthwatering cupcake from Baked & Wired, located in Georgetown. Cleverly called cakecups, this bakery offers a wide variety of flavors fit for every occasion. Get risky and try some of the fun flavors like "Elvis Impersonator AKA The Unporked Elvis" and "Phat Mint Oreo." You won't be sorry you did.
#FrayLife Tip: Baked & Wired's menu features both a vegan and a gluten free cupcake, so nobody has to feel left out.
Georgetown Cupcake
Probably one of the most well-known DC destinations, Georgetown Cupcakes is all about creative fun with their seasonal cupcake creations. They create cupcake sets for every holiday, season, and occasion, with themes such as political party dozens, a Puppy Bowl dozen, and a royal wedding dozen. Their daily menu varies, but this TV famous cupcakery will not disappoint no matter which flavor you decide to go with.
#FrayLife Tip: Georgetown Cupcakes provides assorted Season's Greetings Dozens that are perfect for any Holiday party. They will also feature a specialty 2019 cupcake to help you ring in the New Year in the sweetest way possible.
Magnolia Bakery
That's right! This New York favorite has made its way to the District. Located at Union Station, this cupcakery makes all of their treats first thing in the morning for the perfect, fresh start to your day. The menu features all kinds of sugary goodness from cupcakes to cookies to scones, and so much more– there's bound to be a sweet for one and all. They even have homemade banana pudding. Who can resist that?!
#FrayLife Tip: Magnolia Bakery ships NATIONWIDE, so these sweet treats can couple as the perfect birthday or holiday gift for everyone on your list!
Buzz Bakeshop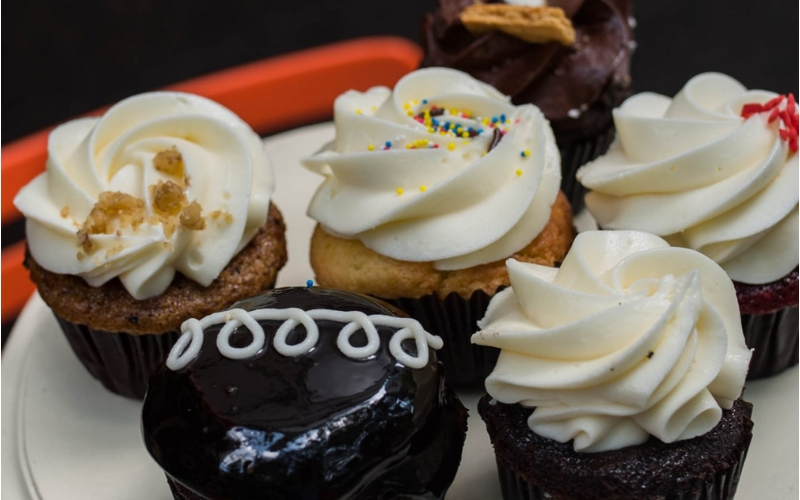 With locations just outside of DC in Arlington and Alexandria, this bakery is your one stop shop for all the good things in life: desserts. Their cupcake selection features the traditional favorites like vanilla and chocolate, but also includes gourmet delicacies like s'mores and lemon for when you feel like living life on the edge. Covering all the grounds, Buzz Bakery makes savory options for those days when your sweet tooth just isn't aching.
Life's too short to not have good dessert. Treat yo self to a sweet treat this holiday season (or anytime of year because you deserve it), then hit the gym for a workout to balance out the indulgences and get back to living the #FrayLife.
Have a favorite bakery we didn't mention? Let us know in the comments below or tag us using #DCFray and #FrayLife, so we can put it on our radar!
Looking for some caffeine to wash down all that dessert goodness? Check out our article on the Starbucks' new Signing Store located at 6th and H Streets.
View More Articles By Haley Dick