Celebrate Fall By Tapping Into These 7 Local Craft Beers
WARNING: this article contains no pumpkin beers
It's not that we don't appreciate a good pumpkin beer. It's just that there's a reason Oktoberfest and most other beer festivals take place during the fall.
Harvest season and cooler weather bring the arrival of many amazing brews with bold ingredients and complex flavors.
But many people miss out because they're too busy searching through- or trying to avoid- the never-ending onslaught of pumpkin beers (which begins in mid-August, for some reason).
It's a mistake to let your love or hate for pumpkin beers get in your way of seeking out stouts, porters, Märzens and the plethora of other exciting fall beer styles, so we're doing our part to call out some of the best from around the DMV.
Here are 7 of our favorite fall (non-pumpkin) beers you can find at some of DC's best local breweries:
DC Brau: Oktoberfest
DC Brau's Oktoberfest is a refreshing Oktoberfestbier that can be enjoyed all thru the fall. A light amber-copperish hue topped with intense German malt aromas of toasty bread, light caramel and faint biscuit. The mouthfeel is smooth and creamy with a medium body that gives the beer a pleasing richness. Look for it seasonally on taps around town, or hit up the tasting room and try it straight from the source! 
Location: 3178 Bladensburg Rd NE B, Washington, DC 20018
Hours: 4-9pm M-W; 4-10pm Th; 3-11pm F; 12-9pm S-Su
3 Stars: Southern Belle
Southern Belle brings deep, rich malt flavors with a subtle hint of roasted coffee. Smooth, yet slightly effervescant with a slight bitterness that doesn't linger but has undertones of toasted pecans and oak. Pairs perfectly with cool weather meals like roasted meat or rustic casseroles. Head over to the brewery for a few pints or to fill your growler with coffee goodness.
Location: 6400 Chillum Pl NW, Washington, DC 20012
Hours: 4-9pm T-F; 1-7pm Sat; 12-6pm Sun
Hellbender: Dunkelweisse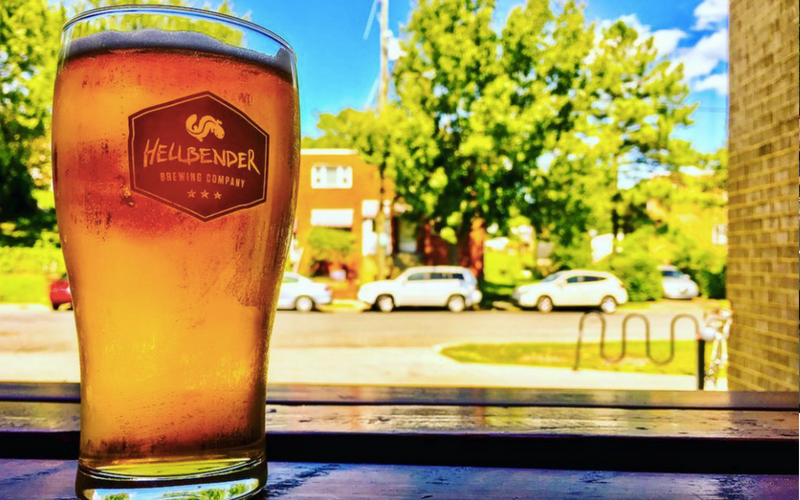 Hellbender's take on a 100% wheat Dunkelweisse. Deep banana flavors with a subtle clove spice. Midnight and cara-wheats balance the beer with a nutty, malty backbone. This is one of the only beers in the world made without any barley, so head over to the brewery in NE and try out this truly unique brew.
Location: 5788 2nd St NE, Washington, DC 20011
Hours: 5-9pm Th-F; 12-7pm Sat; 12-6pm Sun
Port City: Long Black Veil
Long Black Vail is a Black IPA that's name reflects a dark part of local history as well being a dark beer with a lot of character. The beer, which is named after Alexandria's famous mystery of the veiled Female Stranger, is jet black in color with a crema-like head. Generous amounts of dark malt for balance alongside the hop character, which create a complex texture and flavors with a satisfying finish. Perfect for a cool, fall day in Alexandria.
Location: 950 Wheeler Ave, Alexandria, VA 22304
Hours: 4-9pm M-Th; 3-10pm F; 12-9pm Sat; 12-6pm Sun
Denizens: Cool Breeze Oatmeal Stout 
Cool Breeze is an English-Style Oatmeal Stout with a large amount of raw and malted oats to create a nice rich flavor and round mouthfeel. The malt bill creates a nice balance of flavors reminiscent of coffee and chocolate chip cookie in this low ABV Stout. Treat yourself to a pint at Denizen's outdoor beer garden on a cool fall night.
Location: 1115 East West Highway, Silver Spring, MD 20910
Hours: 4-11pm M-Th; 12pm-1am F/Sat; 12-10pm Sun
Atlas Brew Works: Silent Neighbor
Silent Neighbor is named as an homage to the brewery's neighbors in the historic Mount Olivet Cemetery and has a hearty richness shrouded in mystery. The stout has notes of rye, chocolate, and roasted barley blended with rich molasses and subtle fruity bitterness. This whole grain belly warmer is the perfect haunt for fall- or any season- and well worth taking a trip to the brewery.
Location: 2052 West Virginia Ave NE #102, Washington, DC 20002
Hours: 4-10pm M-Th; 4-11pm F; 11am-11pm Sat; 11am-10pm Sun
Haxan is a robust porter named after the Scandinavian silent film on witchcraft. This Right Proper favorite has an assortment of roasted malts and oats that bring notes of coffee and chocolate frosting. Head over to Brookland or Shaw and try the Coffee-Barrel Aged version of this full-bodied porter- if they have it!
Location: 920 Girard St NE, Washington, DC 20017 (Brookland); 624 T St NW, Washington, DC 20001 (Shaw)
Hours: 4-9pm M-F; 12-9pm Sat/Su
What is your favorite local fall beer?
GET OUR WEEKLY EMAIL »