6 Ways to Channel Your Inner Serena Williams and Get Your Dose of Tennis in DC this Winter
Roger Federer, Serena Williams, and Rafael Nadal have been totally redefining the idea that tennis is a sport with an expiration date; they've proven that age doesn't matter when remaining top in the world! They've absolutely increased the popularity of tennis and inspired so many people to watch and play tennis more. Whether you play regularly, once every few months, or need to dust off your racket and get back into tennis after a decade, there's no reason not to get your full dose of tennis in the DMV! Check out some of these awesome community meet-ups to play, watch, or practice one of the (arguably) best social sports in DC year-round.
DC Fray Tennis Leagues
No matter your skill level, DC Fray offers clinic-style leagues in both Arlington and DC every season on weekday evenings with drinks and socializing after! The first hour session has drills and games aimed toward beginners, followed by a second hour long session geared toward intermediate/advanced players with a stronger focus on gameplay. The coaches provide a fun atmosphere, no matter your level, with music to pump you up as you play!
#FrayLife Tip: DC Fray provides tennis balls, prizes and an onsite tennis assistant that helps give tips, create games, and organize matches.
ACTA (Arlington County Tennis Association)
Also known as the Arlington County Tennis Association, ACTA offers doubles team tennis and organized matches for all levels throughout the year.. The doubles teams are both mixed and same gender, so it's a great opportunity to meet new people! ACTA also has a coordinator that helps place you on the right team, create a team if you have an existing group, and reserve courts for scheduled matches so you don't have to worry if you are a first timer! The winter season starts January 5, but the deadline to sign up is December 22 so hurry! Matches are usually played indoors at either the Arlington YMCA or East Potomac Tennis Center, and the best part is there's an end of the season party and winning teams get prizes! Sign up HERE as a new player– leave a note in the comments section that you signed up through FRAYLIFE and a coordinator will reach out!
#FrayLife Tip:

The league is for players ranging from beginner to former college athletes, so there is definitely a place for everyone!
USTA Leagues and Clinics
Improve your game while being competitive! The United States Tennis Association is a national organization that hosts leagues, tournaments, and clinics all over the United States. Once you become a member, you can play in competitive singles and doubles leagues at your level. Teams in the DMV have won national championships, so it's definitely not too late to get competitive again! Even if you are not a USTA member, there are clinics available year round. Check out upcoming dates, details, and sign up for you free non-member account here. Use Team Number 3026401154 and then you'll receive a confirmation email.
#FrayLife Tip: Sign up Now and get $5 off registration with Promo Code TARA  
Rock Creek Park Tennis Center
Rock Creek Park offers tennis classes year round and at every level! They have indoor and outdoor spaces, so even the cold can't stop you from playing. It's especially great if you can't commit to a scheduled league, because they offer drop-in options and cardio fit tennis classes that get you sweatin'! You can check out their current schedule HERE.
East Potomac Tennis Center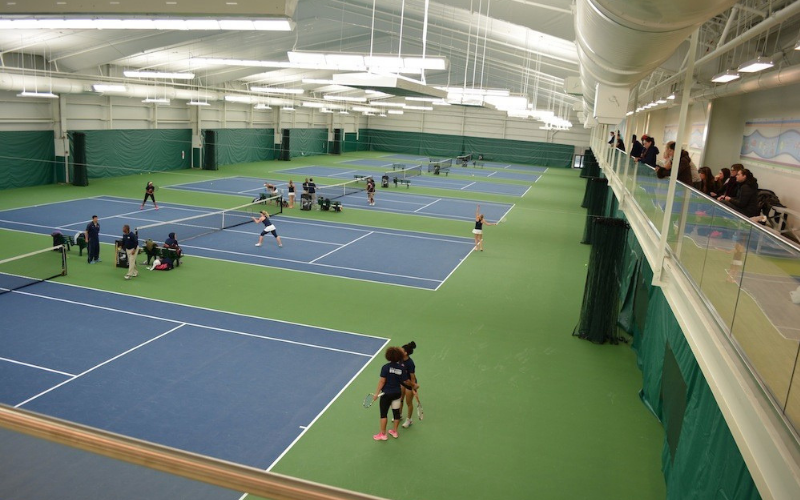 East Potomac Tennis Center is perfectly situated in the center of DC, so you can metro over and pop into East Potomac to reserve a reasonably priced indoor or outdoor court with your friends. Or try one of their many adult clinics by purchasing one of their class packs. The clinics are year round, for every level, and very social! The staff organizes monthly meet-ups for players to get to know each other off the court. Check out their current schedule of classes here.
#FrayLife Tip:

You don't have to be a club member to sign up!
Watch Professional Tennis at Citi Open Tennis Tournament and the Washington Kastles  
The biggest tournament of the year in DC is hosted every Summer at the Rock Creek Park Tennis Center. Dozens of top players in the ATP and WTA take on the challenge for an entire week. This tennis event is the one you HAVE to attend because of the opportunity to get so darn close to professional players, and even meet and greet some of them! But if you miss it because you're on summer vacation, you can also get a glimpse of professional tennis in the fall by catching the Washington Kastles- DC's own professional tennis team that boasts the talents of Venus Willams, Naiomi Osaka, and the Bryan Brothers.
#FrayLife Tip:

DC Fray hosts tailgate parties for both the Citi Open and the Washington Kastles, so be sure to be on the lookout for details on the 2019 season!
Winter has us feeling all sorts of some type of way. We're trying to figure out how to do fun things indoors and good, hearty food to keep us warm. Check out one of our latest articles on all the awesome local eateries home to famous soups, stews, and more!