6 Surprising Things to Do at the National Arboretum
Want to get out of the city without leaving DC?
A whopping 446 acres of rolling hills, woodlands, valleys, and beautiful gardens are waiting for you at the U.S. National Arboretum.
While it originally opened in 1927 for floral and landscape research to solve agricultural problems benefiting the nation's food supply, it's grown into a popular destination to relax, take a hike, have a picnic, or do a number of other things you probably never knew you could do there.
The National Arboretum is open every day of the year except on December 25, and the flora and fauna-abundant grounds are totally worth exploring this spring or summer if you've never been.
Per usual, we're here to inform and inspire you to get out and live the #FrayLife, so here are 6 things you didn't know you could do at the Arboretum:
1. Shine on IG at the Capitol Columns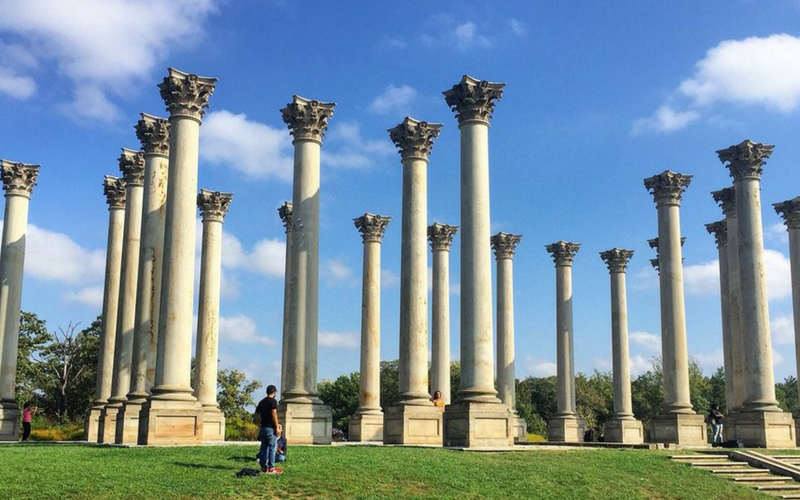 One of the most Instagrammed spots at the National Arboretum is the Capitol Columns (don't forget to tag us in your post using #FrayLife), an arrangement of 22 of the original Corinthian sandstone columns taken from the Capitol building while it was under construction in 1958. These columns once towered over the inaugurations of Andrew Jackson and Abraham Lincoln, but could not properly support the Capitol dome.
2. Watch 'Mr. President' and 'The First Lady' Take Flight
This mated pair of bald eagles just laid a second pair of eggs!  They live in a Tulip Poplar tree amongst the Arboretum azaleia collection with their newly hatched fuzzy eaglets, DC6 and DC7 (naming competition to come).  Catch their American majesty online live on the Eagle Cam 24/7.
3. Get Your Yoga On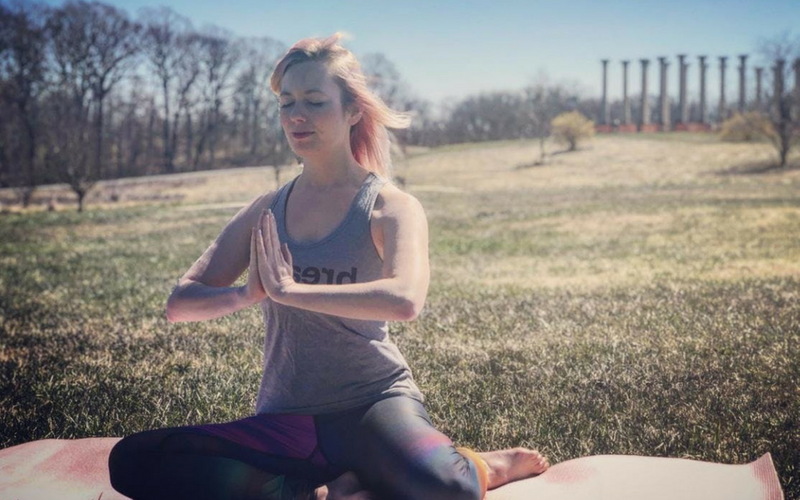 Not only can you hike and go for a solid run at the Arboretum, but you can take a yoga class too.  You can participate in organized "Yoga in the Meadow," a 60-minute outdoor vinyasa yoga class, or "Hike & Yoga," a two-hour hike along the grounds paired with yoga.  Namaste.
#FrayLife Tip: Pack a picnic and make a day of it!  With 446 acres, there are no shortage of spots to set up your hangout.  
4. Take a Full Moon Hike
Every month during the full moon you can enter the arboretum at night for a two-hour moonlit hike.  On this brisk hike your guide will share chosen points of interest and seasonal highlights. These events fill up quickly so be sure to register online ahead of time to reserve a spot.
5. Bring Your Dog
Join PACK, the Humane Rescue Alliance's People and Animal Cardio Klub.  PACK is group of HRA volunteers who run with adoptable dogs at the National Arboretum, providing outdoor recreation and enrichment while they wait for their new homes.  PACK volunteers run Saturday mornings at 8:30 with dogs from both the New York Ave. and Oglethorpe St. adoption centers. Click here to get involved.
#FrayLife Tip: Follow the rules. Don't climb trees, don't pick any flowers, and keep your dog on leash. If you try to play fetch with your dog like this writer did, an employee WILL stop their golf cart in its tracks, blow a whistle at you, and publicly shame you into keeping your dog leashed at all times.
6. Jam Out at Summer Concerts
From June 14-August 2, the Arboretum hosts free evening concerts in the meadow below the Capitol Columns.  Though the events are free, reservations are required.  Don't forget to pack a lawn chair or blanket!
Do you know something awesome to do at the National Arboretum that didn't make our list? Let us know by tagging us on social using #FrayLife.
Want an exciting way to get to the Arboretum (or any other DC activity)? Check out these fun and active transportation options.
GET OUR WEEKLY EMAIL »