27 Of The Most Fun Things You Can Do In May
Springtime is in full swing, and that usually means that everyone in DC is spilling over into patios and heading to outdoor festivals. May is the month before things can get really humid, so make sure you take the time to fully enjoy it. It's good that in a city like Washington, you can never really be too bored!
Here at #DCFray we've rounded up quite a few different kinds of events to keep you busy all month long. Make sure to tag #FrayLife if you find yourself having some fun (which we know you will).
May 1
–       There's still time to enjoy the cherry blossoms in DC. The actual blooms may be gone, but the interactive exhibit at ARTECHOUSE is still going strong. Called #Inpeakbloom, this exhibit offers an inside look into the fragile and fascinating process of cherry blossom growth, as well as all that these flowers symbolize for the city. We also love that there are so many female artists involved and a part of the exhibition.
Photo Cred: ArtecHouse
May 2
–       We've mentioned a few Phillips After 5 events in these roundups before, and they're a fantastic way to infuse more culture into your life, and potentially meet new people with similar interests. This month's theme is Maravillas de America Latina, which if you don't speak Spanish, translates to marvels from Latin America. The museum will be partnering with the American Latino Museum for art pieces, as well as local Latin restaurants and shops to bring you cocktails and food to enjoy.
May 3
–        Learn to dance in a nonthreatening, supportive environment right on the National Mall! Salsa on the Mall is all about building a healthier and stronger community in DC, and this event will have everything from salsa lessons to health screenings and education for you to partake in. Get a group together and get moving!
–        Old Town Cocktail Week starts on May 3rd and goes through May 11th. This week-long celebration includes everything from specialty cocktails at classic and trendy Old Town Alexandra establishments, to tastings and seminars, to many a collaboration between local vendors. Get ready to learn a lot about your alcohol.
–         Fridays at the Fountain opens every Friday during starting May 3rd. The seasonal pop-up beer garden set in the Crystal City Water Park features food, wine, live music, and more. Grab a bite to eat and enjoy different handpicked live music every week with friends!
May 4
–       One of the perks of living in Washington D.C. is having access to the world at your fingertips through the embassies. The Australian Embassy will be holding its doors open on the 4th to highlight their country's creative industries. Now is your chance to dive deep into Australian culture,and enjoy the free food and drinks along the way. Just make sure you bring a photo ID to enter the building. It is an official embassy after all.
–       It's the 8th Annual Running of the Chihuahuas, and if you're a Chihuahua lover or a dog lover, or just want a good time, you won't want to miss this. It's going to be at The Wharf and admission is free. It's not just the run; there's also a doggie costume contest, drinks, music and more to enjoy. And if you think your Chihuahua may have what it takes, make sure to enroll them in the run!
–       If you love chocolate, boy do we have an event for you. The annual DC Chocolate Festival is going to be at the French Embassy this year, and they'll be featuring all sorts of your favorite treats. Not only will you get to eat it, but you'll also learn about how it's made, the business of producing and the history around it.
Photo Cred: DC Chocolate Festival
May 5
–       May 5th is the start of market week at Eastern Market. This means that all week Eastern Market will be open and holding events and activities for you to partake in. If you've been thinking about shopping locally on a more regular basis, this is a great place to start. It also aligns with National Small Business Week! Come support your community on Sunday with the market week kickoff, and stay up to date with all about the different happenings throughout the week here.
–    It's Cinco De Mayo, #FrayLife babes! The 4th Annual Cinco de Mayo Pub Crawl is here to help you kick off your fiesta as you celebrate Mexican culture. Bars will be serving up favorites like margaritas, sangria and the classic tequila shot, so grab your pals and get ready to celebrate! Tickets are cheap, but they go fast so don't wait too long to purchase!
May 6
–       Obsessed with all the Met Gala fashion? Well, if you didn't get your invite (we're sure it got lost in the mail), you can head to Saint Yves for a viewing party with your fellow fashionistas. You'll also get to hear from some big names at the post viewing party panel, and have a chance to win best dressed on their red carpet.
May 7
–       Glow Yoga on the Mall will be your chance to start the month off on a healthy and social note. No matter what level you're at, you'll enjoy this vinyasa flow class, and you'll especially enjoy the beautiful golden hour/sunset views from your mat. You are responsible for bringing your own mat, but we'll take care of the body paint and glow sticks. Because nothing makes yoga more fun than when you're glowing.
May 8
–       Looking to finally meet someone special that you can also have an interesting conversation with? Speed dating is a quick, almost exhilarating way to do that, and you're only committed to two minutes at a time. Plus, sometimes you need to get out from behind your screen and meet someone in real life. If you're a man in the LGBTQ community, join us for our speed dating event and happy hour at Nellie's Sports Bar.
May 9
–       We host bingo at various establishments throughout the week, and you won't want to miss the Union Market night since it will be hosted outside! It won't be as hard or intense as trivia, but that may be a good thing for you.
May 10
–       DC is big on food trucks, and rather than running all over town to find the best one, let them come to you while you're cheering on the Nats. Truckeroo happens every month in The Bullpen, right off of Nationals Park, and May 10th will be the first one of the season! Admission is free featuring live music, outdoor games and more. And of course, you'll be tasting all the amazing food and cold refreshing beverages you can imagine. If you can't make this one, check back here for more dates this summer.
May 11
–       Now is the season for wine and beer festivals. Tickets to the Charles County Wine and Food Festival are currently on sale for the May 11th event, which is great for all wine (and of course food) enthusiasts. There will be over 100 different wines to taste, many of them local. Walk around the festival with your glass and grab something to eat in between drinking, or participate in one of the craft activities. For an additional charge, you'll also be able to create your own keepsake glass to take home.
–      Break out your inner child at our Late Night Grown Up Takeover at Sandy Spring Adventure Park event! With multiple slots available from 6-9 p.m., you can have yourself a night of zip lining, climbing and a whole lot of fun. 
May 12
–       We've all been waiting for the countdown of the grand opening of the Spy Museum, and the day is finally here! There will be even more interactive exhibits and in-depth analysis on spy history. And, since it's Mother's Day, all moms will get in free! So, if you're looking for something exciting to do with the family, this may be the perfect thing.
May 14
–       Dacha Beer Garden is a fantastic outdoor spot to drink in its own right, but it's even better when they host an arts happy hour. All proceeds go to the Capitol Hill Arts Workshop (CHAW), and this event allows you to enjoy an extended happy hour with drink and food specials. If the arts are important to you, it's a great way to connect with like-minded people and support a worthy cause.
May 16
–       Every year, The Washingtonian Magazine hosts a Rose Soiree, and it is the party to kick off the summer season. This year it will be at Long View Gallery, and you'll be able to sip all the rose you want, as well as enjoy appetizers and live music all included with the purchase of your ticket. We recommend getting tickets early because they do tend to sell out.
May 17
–       Jazz in the Garden is always a lovely way to get outside in DC, and the first one of the season is set to happen May 17th. Make sure you get there a little early to beat the line for sangria and grab a seat on the grass. Check out the lineup and other details here.
May 18
–       Celebrate Asian heritage at the 13th annual Fiesta Asia Street Fair. Whether you know everything about the culture or nothing at all, it's an experience for all involved. There will be over 20 countries represented in music, cuisine, dance and interactive activities. And, admission is completely free.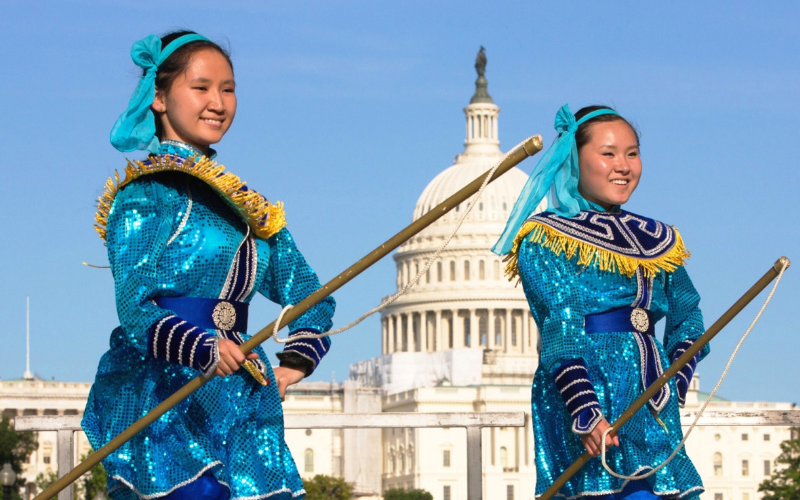 –       This month needed a bar crawl, and the Caribbean Bar Crawl will fill that void. It's got all the essentials of a good crawl, but it will also have live music and dancing at every venue participating, which in our opinion is double the good time.
May 19
–       Venture out to Arlington to experience its diverse food scene through Quarterfest, one of the biggest food and drink festivals the city puts together. While you can wander the festival for free, there are also several drinking and tasting packages available for purchase.
–      Hit two birds with one stone at #FrayLife x Trails & Ales Beer Hike at Maryland Heights, a 5.3 mile loop hike, then finish it off with a cold one. This is a perfect opportunity to get in your workout and treat yo self all in one!
–     Celebrate the start of DC Polo Society at the opening of the summer monthly polo series. All are welcome for a true Sunday Funday experience featuring tailgating, cocktails, food trucks and more! Tickets are available online.
May 20
–       Another bingo night for you, courtesy of us, this time at Kingfisher in the heart of the 14th Street Corridor. This bar also has a ton of board games for you to play every night of the week!
May 22
–       Thinking of going old school and trying your hand at the dating scene without your phone? You don't have to go at it alone because we've got a speed dating event that takes all the pressure off. Come out to Big Chief and enjoy two rounds of four minute, rapid fire dates. The next day, DC Fray will send you your best matches to keep the conversation going. And in between meeting people, you can partake in happy hour food and drinks, as well as a raffle (which if you win, you could use towards your next date).  
May 27
–        May 27th is Memorial Day, and if you're not out of town, take this day to enjoy the outdoors (and hopefully sunshine) with your friends and family. Head out to a picnic on the National Mall or spend the day wandering through the cobblestone streets of Georgetown or Old Town Alexandria. Of course, don't forget to appreciate and thank our veterans.
May 28
–       We've got a different (and way more entertaining) way to get that summer body ready this May. At our Silent FitHop on the National Mall event, you'll get to learn cool new dance moves from a professional instructor and listen to the music you like with a pair of headphones that don't disrupt or clash with anyone around you. Plus, it's another great way to make friends in the city!
We hope this gave you a nice mix of activities to suit any sort of taste. We always want to make sure that you have enough chances to get out there and be social in this city.
May is exciting because it's the prelude to summer, and we at #DCFray would love to know what you're up to! Share your May or summer plans in general with us by tagging #FrayLife when you're out and about living your best life.
GET OUR WEEKLY EMAIL »