Embrace the Cold with 4 Thrilling Winter Activities You Don't Usually Think of in DC
When you think of winter in DC, thoughts of going skiing or snowboarding immediately come to mind.
While both of these sports are a great time, let's be honest– not all of us are the best skiers and snowboarders. While this is by no means a reason not to try the two sports, there are plenty of other winter activities that are just as fun.
From snow tubing to ice skating, to sledding, and curling, DC offers a variety of winter sports that will help you create lasting memories this winter.
1. Snow Tubing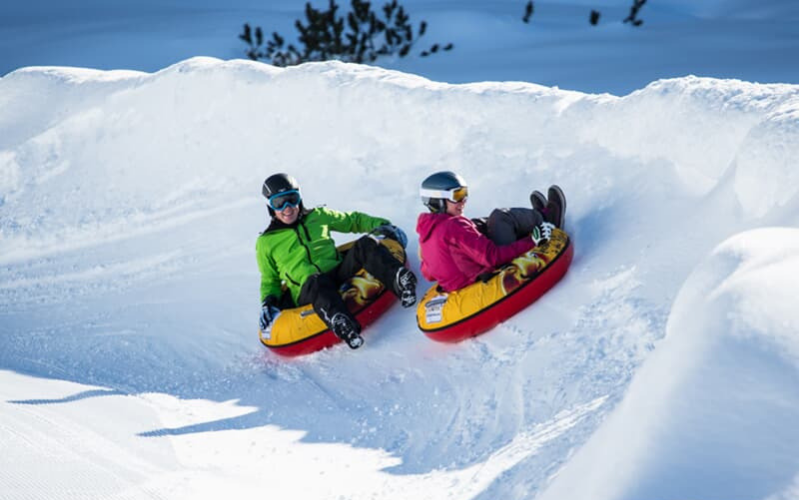 Liberty Mountain Resort – Carroll Valley, PA
If you're not ready to shred the slopes, or you're just looking for another activity to do at winter resorts, snow tubing is for you! Just two hours from DC, Liberty Mountain Resort's Boulder Ridge has 15 lanes for snow tubing. Snow tubing requires zero effort, unlike skiing and snowboarding. The unlimited rate is available Tuesdays through Thursdays and is $26.
#FrayLifeTip:

Warm up afterward in the Boulder Ridge Lodge, which has three party rooms, a snack bar, an arcade, and a wrap around porch!
Massanutten Resort – Massanutten, VA
Washingtonian said Massanutten Resort has the best snow tubing, and for good reason. About two and a half hours southwest of DC, the resort has 16 lanes that are 900' in length 120-foot vertical drop. Tubing Monday – Friday is $25 for a 2-hour session, and $30 on Saturdays, Sundays, and holidays.
#FrayLifeTip:

Tickets are sold on a first come, first served basis 30 minutes before the first session each day in person at the Family Adventure Park, and they

do

sell out fast!
Whitetail Resort – Mercersburg, PA
Travel north an hour and forty-five minutes to Whitetail Resort to enjoy 16 lanes of tubing. Choose a 1 hour or 2-hour session to get your tubing fix. Tickets are six dollars more expensive on the weekends and always sold on a first come, first served basis. You can also purchase an unlimited ticket Tuesdays – Thursdays for $25.
#FrayLifeTip:

Step inside after tubing to sip on hot cocoa and eat food by the fire, or if you can't get enough of the outdoors, stand by the fire pit on the outdoor patio.
Avalanche Express – York, PA
Make your way North for a family friendly time at Avalanche Express. With lane passes available for any day of the week, and cheaper night passes available from 8 -10 p.m., there's no excuse not to round up the gang and hit the lanes! The best part? There's a spa and ice skating on site for those who don't enjoy to slide penguin style.
#FrayLifeTip: Join us for a trip to Avalanche, adult style, on 2/9, 2/23, or 3/9! The night will begin with a pregame at Kelly Irish Times before boarding the BYOB #DCFray bus to keep the fun going all the way up the road.
2. Ice Skating
Washington Harbour
Ice skating is a classic winter activity that also doubles as a fun date idea. Washington Harbour has the largest outdoor ice skating rink in DC, at 11,800 square feet. Admission is only $10, and skate rentals are $10. And for those of you who need to brush up on your skating skills, Washington Harbour also offers "Learn to Skate" classes throughout December, January, and February. You can register here.
#FrayLifeTip:  

Ball on a budget with 2 for 1 admission on Tuesdays from 4 to 6 p.m.
National Gallery of Art
Ice skating at the National Gallery of Art's Sculpture Garden combines aesthetics, sport, and fun. This rink is the ideal location for a winter date night, especially because of the art surrounding you while you skate combined with the smaller, more intimate rink. The cost for two 45-minute skating sessions is $9. Skate rentals are $4.
#FrayLifeTip:

Hop off the ice and head to the Pavilion Cafe for panoramic views of the Sculpture Garden, as well as delicious soups, salads, sandwiches, specialty coffee, wine, and more.
The Wharf
A highly popular area in DC, The Wharf opens up their own ice skating rink during the colder months. The rink is located at Transit Pier, across from The Anthem. Admission is $12, and skate rentals are $6. There is nothing quite like skating and taking in those river views.
#FrayLifeTip:

DC residents receive a $2 skating discount on Mondays with a valid ID showing a 20024 zip code.
3. Sledding
Sledding brings out the kid in everyone. There are many hills in the DC area to provide ample sledding fun the next time a snowstorm hits. The best locations in DC that allow sledding are The Capitol Hill, Rock Creek Park, Fort Reno Park (this location is the highest natural point in DC – perfect for sledding), and Rock Creek Park Trail.
4. Curling
Potomac Curling Club – Laurel, MD
Many think of curling as a sport in the Midwest, but it has actually become popular all over the country. Potomac Curling Club in Laurel, Maryland has men's, women's, open, and social leagues. If you have no idea how to curl but are interested in learning, the club hosts several "Learn to Curl" nights and "Try Curling" open houses for only $10 a person.
Curling and Cocktails – The Wharf
For the social curlers and drinkers looking for a more laid-back curling environment, partake in a free game of curling at The Wharf's ice skating rink on Jan. 29th at 7:30 p.m. You cannot pre-register for this event and must sign up on-site. If you don't have a friend to be your partner, don't worry– you'll be matched with one! Winter cocktails will be available to sample on the sidelines.
#FrayLifeTip: Didn't make the free event? Join us for Curling Tournaments on 2/19 to get in on the action! 
Looking for something completely out of the box to get into this winter? How about Hungry Human Hippos? Yep, you read that right. We're throwing it back to the good old days and bringing to life the game we all knew and loved! Join us at Medstar Iceplex on 3/16, 4/19, or 4/20 for some winter fun like never before.
#FrayLifeTip: Our February Hungry Human Hippos event sold out FAST, so don't wait to secure your spot on the ice!
Do you know of any other winter sports or events going on in DC? Make sure to let us know about them in the comments below or tag us on social using #DCFray and #FrayLife!
Don't let winter put a freeze on your dating life. Check out these fun winter date ideas that are sure to keep the romance alive!