Weekly Wins: Things to Do in DC 11/28 – 12/4
Since Thanksgiving is over, it's officially acceptable to start playing Christmas music. As you bundle up and experience the holiday season in The District this week, keep the wins we have for you in mind!

Knock out some of your holiday shopping early at the local holiday pop shops in the area.

And if you still need some encouragement to get into the holiday spirit, or an excuse for a cheery good time, there are a couple holiday parties, festivals, and tree lightings in this week's wins that should do the trick.

Wednesday, November 28

– Now that Thanksgiving has passed, the holiday season is truly here. Celebrate the right way with a holiday wine tasting! Head to Ozio Rooftop Lounge at 6 p.m. to sip on six different pours and learn about wine from the industry's experts. Tickets are $45.

Thursday, November 29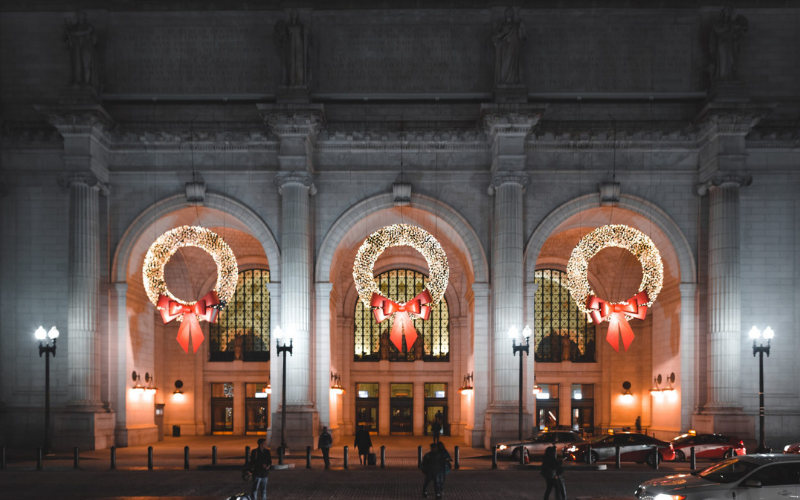 – A holiday celebration will take place Thursday night at Union Station. There will be a Norwegian Christmas lighting at 6 p.m., a Mars Urban Arts Initiative Holiday Pop-Up Concert at 7 p.m., and at 8 p.m., world-renowned musician Yo-Yo Ma will perform the Bach Cello Suites during a simulcast from the Washington National Cathedral. The event is free to attend, but registration is encouraged.

– Spend your Thursday night tasting hand picked whiskeys at Jack Rose Dining Saloon from 6 to 8 p.m. More than five different whiskeys will be available to taste. Your ticket includes admission to the tasting and light hors d'oeuvres.

Friday, November 30
– The Caps have won six in a row, and will try to up the streak to seven Friday night at home. They will take on the New Jersey Devils at 7 p.m. The lowest priced tickets are going for $40.

– The 2018 American Holiday Festival will take place at DAR Constitution Hall at 8 p.m. The show is 90 minutes long and will feature performances from the U.S. Army Band "Pershing's Own." While the festival is now sold out, you can still get there early for a chance at seats. Any vacant seats will be given to those without tickets 15 minutes before the show.

– Need to find the perfect holiday gift? A holiday shopping pop-up located at Bethesda Row, will make an appearance at 12 p.m. and stick around for the weekend until Sunday at 3 p.m. All the vendors and artists featured in the pop-up are female, and will offer amazing clothing, jewelry, accessories, food, and hand-crafted Artisan home decor items. Live music will entertain you while you shop!
Saturday, December 1
– Experience beautiful holiday lights at Georgetown GLOW. Strategically decorated against the DC's oldest neighborhood, GLOW will allow you to experience Georgetown and the Waterfront Park in a whole new way. The experience is free, and begins at 5 p.m.
– It's time for #DCFray's very own 4th Annual Santa Bowl Flag Football Tournament! You can register as an individual player or get your friends together to organize your own team, with all proceeds benefiting Bridges to Independence.
– Another holiday pop-up shopping experience will take place in Dupont Circle from 12 to 6 p.m. Local artists and vendors will be featured. In addition, the pop-up will include the Heurich House Christmas Market and Art Rave at 15th and P Streets. This is a unique opportunity to shop for fine art, imported food, shoes, and clothing.

– Put on your best holiday cocktail attire and partake in a night of Irish Ceili dancing at The 9th Annual Scooby Doo Mansion Ceili Ball. While you dance, enjoy a bonfire, mulled wine, a photo booth, sweet treats, and holiday fun. Your $16 ticket includes live entertainment and some bubbly to start off the night, but the event is BYOB. Proceeds from the event will go to N Street Village, MobileMed, Christian Legal Aid DC, and Doctors Without Borders. The fun begins at 7 p.m.

Sunday, December 2
– The 40th Annual Logan Circle Holiday House Tour will take place Sunday afternoon from 1 to 5 p.m. It is a long-time tradition that offers guests an exclusive glimpse into the jaw-dropping art collections, modern architecture and historic accents of one of Washington's most popular neighborhoods, while enjoying the entertainment of street carolers and warm wassail. Tickets are $30.

Monday, December 3

– Start the first week of December off with some jazz music and delicious food. The Union Live Band will perform your favorite jazz and R&B covers, while you your meal at Union District Oyster Bar and Lounge. The entertainment begins at 9:30 p.m.

– Oz Restaurant and Bar's main dining room will transform into a yoga studio Monday night from 7 to 8 p.m. Come out for a yoga session and hang out after to taste fresh pressed juice, in addition to snacking on a few plates from the restaurant's new dinner menu. Tickets are $20.

– Relax after a long day at work with a mind and meditation workshop. You will learn how to manage emotions, release stress, live in the moment, and work towards a healthier and happier life. The session includes a short discussion, group meditation, and light breathing and yoga exercises. The workshop is free, and will be held in Fairfax, VA at 7:30 p.m.

Tuesday, December 4
– 'Tis the season of holiday parties. Work Design Magazine will host their holiday party and pop-up event Tuesday night from 4 to 7:30 p.m. Check out new products and enjoy an open bar, wine tastings, and decorate holiday cookies. Tickets are $25.

– Sip on hot cocoa and listen to holiday classic at Fairmont Hotel's 15th Annual Tree Lighting Ceremony. The event is free, but guests are encouraged to bring an unwrapped toy to donate to HORTON'S kids. The event will begin at 5:30 p.m.

How are you staying warm in DC this winter? Snap a pic in your coziest holiday gear, and share with us on social using #FrayLife #DCFray.