Weekly Wins: Things to Do in DC 7/4 – 7/10
Hbd, America! We'll wait while you think of a better spot to celebrate Independence Day. The District is jammed-packed with events this week to help you enjoy the holiday the right way.
From parades, to interactive exhibits, to rooftop parties, this year's 4th will definitely be one to remember. The next six days keep the fun going with concerts, food festivals, and don't forget the booze cruise!
Yup, summer is in full swing here in the city and #FrayLife is here to stay (although, it could be a little cooler). Here's what we're looking forward to over the next seven days:
Wednesday, July 4
– Known as America's largest Independence Day parade, this red, white, and blue spectacle begins on the corner of Constitution Ave and 7th St NW and ends at Constitution Ave and 17th St NW. The parade starts at 11:45, so make sure to get there early!
– Wanna hit the weights or crank out some cardio for FREE? If you are or ever have been a DC Fray player, then get ready to save on gym fees this July! That's right, our awesome sponsor Balance Gym is hooking you up with free workouts for the entire month of July! Want in? Show up to ANY Balance Gym location during the month of July wearing your favorite DC Fray t-shirt (United Social Sports shirts work too!) and you get to workout for free. Classes except for CrossFit and BalanceBurn are free as well!
– Celebrate the 4th at Dacha Beer Garden with the DC Brau crew! They'll have giant Jenga, prizes, swag, and other festivities.
– Two words: John Stamos. A Capitol 4th on the West Lawn welcomes back Emmy Award-nominated actor and producer to host the festivities. The country's longest-running live national July 4 TV tradition will feature all-star musical performances by Jimmy Buffett, Pentatonix, The Beach Boys, Andy Grammar, and many more!
– The National Building Museum continues to deliver exciting exhibits. Fun House is no different! Opening July 4th, this event includes a sequence of interactive rooms featuring well-known Snarkitecture environments and objects, as well as new concepts developed for the Museum's Great Hall.
– Get ready for a spectacular view of the fireworks at Jack Rose's sixth annual rooftop terrace party. The event features $4 specials on Flying Dog cans and $5 drafts, including the D.C. debuts of the Neon Freedom Meyer Lemon Gose and the Brewhouse Rarities Lemon Lime Pilsner.
Thursday, July 5
– The sci-fi epic, Space Odyssey, is turning 50 years old and in honor of the milestone, AFI Silver will be running a one-week-only screening in its original 70mm format. The event kicks off with a Q&A with actor Keir Dullea, who played astronaut David Bowman in the film.
– To celebrate the 100th anniversary of the "mateship" between the United States and Australia, The Phillips Collection continues its popular series of after-hours programming. Learn about the history of both nations and enjoy Australian-brewed beer and music from DC jazz musician Akua Allrich.
Friday, July 6
– Get ready to wake up and dance! The National Building Museum continues its streak of can't-miss events with Daybreaker. Start your Friday off right a morning yoga and dance party complete with free breakfast treats, fresh coffee, and healthy juices.
– Community Forklift kicks off their Forklift First Fridays series as they open up their market with family-friendly activities, as well as food trucks and pop-up bars.
Saturday, July 7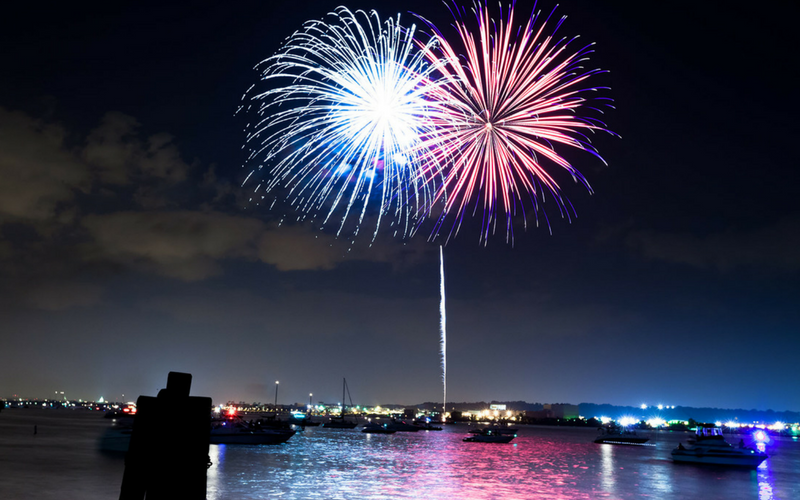 – Celebrate one of the most historic towns in Virginia with Alexandria's Birthday bash along the Potomac waterfront! Enjoy live music by the Alexandria Symphony Orchestra, food vendors, a dazzling fireworks display, and, of course, birthday cake!
– Come out and grab a taste of Asia at the Chinatown Community Festival. Street food will be provided by local Asian restaurants and cultural demonstrations will take place across the entire block of I St.
– Experience a one-of-a-kind theatre, music, and art festival. The Capital Fringe Festival is a month-long spectacle features artists and performers from the vibrant independent art community. With a mission to bring artists and audiences together, this is a must-see event.
– The Potomac Pirate Booze Cruise is anything but an ordinary night on the town. Enjoy the open layout, large upper-deck, full bar, and surround sound music. This magical night is centered around great music, dancing, new friends, delicious cocktails, beautiful views, and warm breezes. Don't forget to channel your inner Jack Sparrow and dress up in your pirate attire!
Sunday, July 8
– DC Vault is celebrating their 10-year anniversary and to commemorate the special occasion, they're hosting a pole vault competition free to everyone who wants to test their aerial luck against the best of the best.
Monday, July 9
– Bar Sports Alert! A quick reminder that registration for all DC Fray bar sports closes at midnight. Take advantage of our popular leagues like cornhole and bocce!
Tuesday, July 10
– Taylor Swift is back at FedEx Field for another unforgettable performance. She will be showcasing her "Reputation" tour with special guests Camila Cabello and Charlie XCX.
– Join DC Fray and other district yogis for Glow Yoga on the Mall as the sun sets! Meet us on the mall to light up the night in glow sticks and paint as our favorite instructor from Balance Gym, Andrea, leads you through an hour-long Vinyasa Flow. Bring your own mat, and we'll bring the glow and coconut water from ZICO!
What are you up to this week? If we missed any cool stuff to do, let us know on social!
Don't know where to get the best view for the fireworks this week? Check out our favorite watch spots here.
GET OUR WEEKLY EMAIL »