Happy Hour Guide – Fall 2017
If your go-to Happy Hour isn't enough to make you forget about your long work day then the following seven specials listed below might just do the trick. Happy hour happens Monday through Sunday in the District of Columbia, here's where you should go:
MONDAY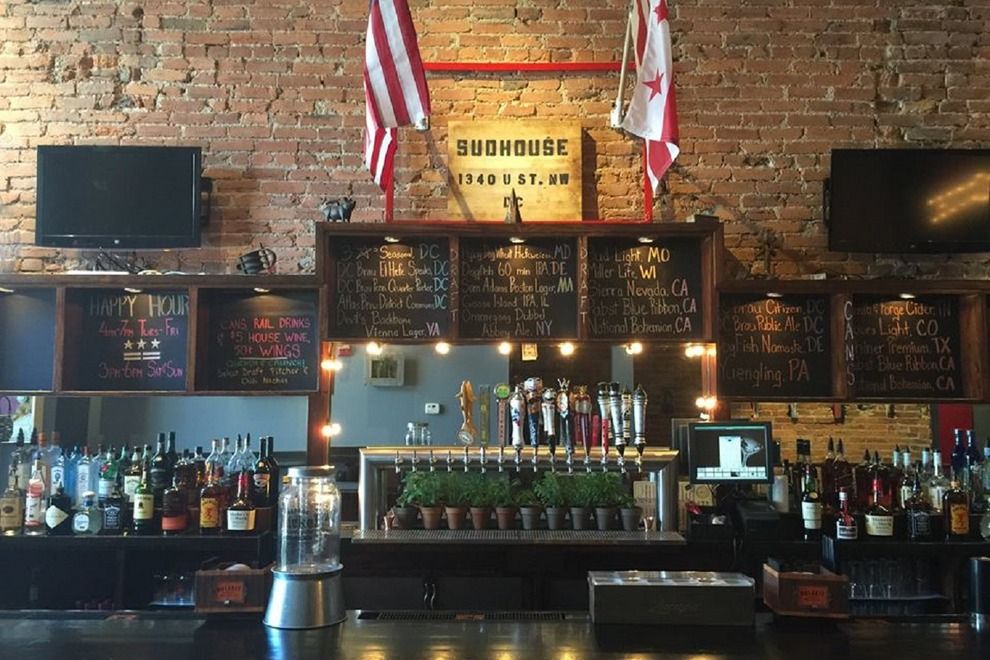 Sudhouse — 1340 U St. NW
At Sudhouse happy hour lasts all day on Monday and includes tons of food specials too. The U ST happy hour hotspot's Monday menu includes $3 beers, $6 moscow mules, $5 Cocktails/Wines/Drafts.
TUESDAY
1831 Bar & Lounge  — 1831 M St. NW
If you're around Dupont Circle on a Tuesday 1831 is the place to be for happy hour. From 3-8PM drink specials include $1 Natural Light, $2 Shooters, $3 Coors Light Draft, Miller Lite, Bud Light, Yuengling; $4 Sauv Blanc ($15 for Bottle), $5 Malbec ($18 for Bottle), $6 Pinot Grigio ($21 for Bottle), $6 Tito's Handmade Vodka, $7 Margaritas, and $14 for buckets of Tecate.
WEDNESDAY
El Centro  —  1218 Wisconsin Ave. NW
At El Centro not only are Margaritas $5 all day on Wednesdays but you can also partake in free salsa lessons from 9-10 PM.  Other happy hour specials include $5 sangrias Mexican beers, red & white wine and $6 guacamole, tacos & more.
THURSDAY
Chef Geoff's  —  3201 New Mexico Ave
Commonly referred to as, "The best happy hour in Washington D.C." Cheff Geoff's HH menu has it all. From 3-7 PM Wednesday-Sunday deals include $1 off all pints, $3.95 16 oz. PBR cans, $4.95 Steigl Radler cans, $6.95 house wines, $7.50 select cocktails, and $9.50 for draft beer "Supermugs." Not to mention if you're hungry snack plates start as low as $4.95 and you can even order the popular Chef Geoff Burger with a side of fries for $7.95.
FRIDAY
Toro Toro  —  1300 I Eye St NW
It's not easy to find a good Friday night happy hour in the city but if you're downtown or anywhere near Metro Center you're in luck! At Toro Toro HH specials run from 4-8 PM on Friday night and include plenty of $5 drink and small plate options.
SATURDAY
Bread Soda — 2233 Wisconsin Ave. NW
If you're looking for a solid beer menu, chill environment, spacious bar with lots of activities/games, and a long happy hour over the weekend — look no further. At Bread Soda happy hour runs from 12-7 PM on Saturday and Sunday and includes affordable beer and half-priced grilled cheese sandwiches.
SUNDAY
Dino's Grotto  — 1914 9th Street NW
Not a big bottomless brunch person? Spend your Sunday-Funday at Dino's Grotto and enjoy all day/night happy hour specials. Dino's HH menu includes $4 taps, $5 antipasti, $6 wine, Bellinis, and Spritz, $8 signature drink and Negroni, half priced mussel pots, and 50% off wines.
GET OUR WEEKLY EMAIL »