If Fresh Produce is Your Name, Farmers' Markets are Your Game. Check Out Which DC Markets Made Our List
Can you remember the last time you ate a vegetable straight from the vine? Delicious, right?
If you live in D.C., chances are you don't have a flourishing garden on your apartment balcony, so it's probably been a while since you've eaten a farm-to-table veggie. But if you really want to embrace living in one of the healthiest cities in America (#TakeBack1), there is nothing more D.C. than stocking your pantry with fresh, sustainable foods from dozens of our local farmers' markets.
Need an extra push to skip the grocery store? Here's a knowledge boost for you: buying from farmers' markets means helping out local families from surrounding states, who travel all the way to D.C. to provide healthy options for District residents. And, even more enticing, when you buy from farmers' markets, you know your produce was sustainably farmed and harvested that very morning, meaning extreme freshness!
We may be saying a sad farewell to summer days, but just because it's getting colder out doesn't mean you have to give up on freshness. We've curated a list of markets open through the Fall that are bound to amaze you with their seasonal selections. So grab some friends, stock up on the best produce in the city, and, most importantly, eat to your heart's content!
Northeast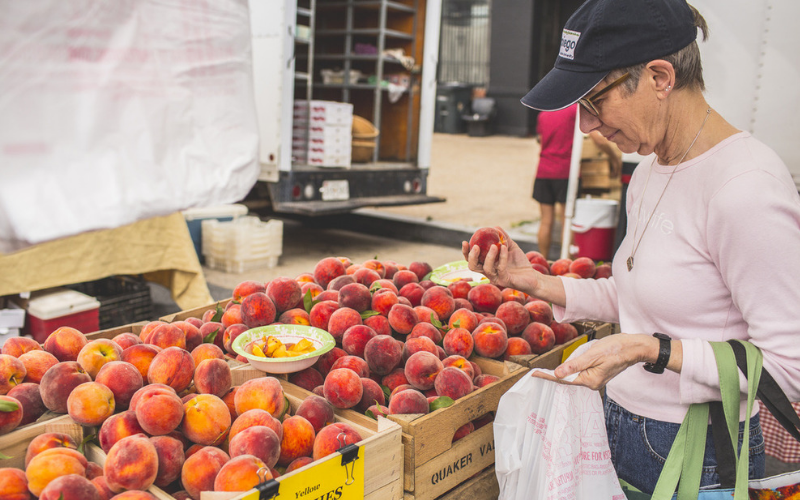 Saturdays 9 am -12:30 pm through December 15
800 13th Street NE
Stop by the H Street Market on your way back from one of the many brunch spots in the area! This market, located on 13th street between H and I streets is chock full of diversity. Vendors range from hearty bread stands to Mediterranean dips and flatbreads. Grab a cup o' joe from Zeke's Coffee stand or a brew from Right Proper, depending on your mood. And don't forget some locally-grown mushrooms from Steve Mushroom Farm for your favorite Fall recipes!
Brookland Monroe Street Farmers' Market

Saturdays 9 am – 1 pm through December 8
716 Monroe Street NE
Is there anything more D.C. than a Farmers' Market with yoga? Talk about multi-tasking! Head over to the Monroe Street market to drop in on some all-levels yoga for only $10 (#worthit). Once you've broken a sweat, rehydrate with some fresh berries from the surrounding stands, or a pick-me-up from Zeke's Coffee. Don't forget to snag some Snarfies organic pet treats for your pup on the way out!
Thursdays and Saturdays from 7:00 am – 4:00 pm year-round
Lot 6, RFK Stadium
The RFK open-air market is a spot like no other. Held in Lot 6 of the RFK stadium, this little-known market has been a well-kept secret in D.C. for over 25 years. When the market opens, the community gathers – it's rare to take a trip and not see neighbors calling out to each other to catch up on the week's news. This is the perfect place to meet some new people while wandering the aisles of some of the freshest produce in the city!
Southeast
Tuesday through Friday 7:00 am – 7:00 pm; Saturday 7:00 am – 6:00 pm; Sunday 9:00 am – 5:00 pm year-round
225 7th Street Southeast
Eastern Market is nothing short of an institution in D.C. Built in 1873, the indoor market is loaded with some of the freshest seafood and meats in the District, with plenty of local cheeses and breads to make it a full shopping trip. If you visit on a weekend, stroll the outdoor aisles of fresh produce and local art (so local, in fact, that most vendors are creating it right there in their booths).
Saturday 9:00 am – 2:00 pm through November 17
3200 6th Street SE
As one of the only farmers' markets in Southeast D.C., the Ward 8 market was opened in 1998 after the closing of the only local grocery store. While grocery stores have returned to the area, the market is still held each Saturday through late Fall behind the Martin Luther King Elementary School. Be sure to enjoy the Tommy Gunz Loaded Grill food truck or stock up on seafood from Seafood R Us. Ward 8 residents join in on the fun, too, selling homemade items from soaps and oils to delicious muffins and cakes.
FRESHFARM Capitol Riverfront Market
Sunday 10:00 am – 2:00 pm through October 28
200 M Street SE
Headed to a Sunday game at Nats Park? Make a pitstop at the Capitol Riverfront Market in one of the coolest parts of town. Grab a spirit or some cider at the market before the game, or sip on a JustJuice smoothie for some hydration power. If you're coming to shop, the herb-based vinegars from Shrub District are a must. Be sure to snag some berries, veggies, and grass-fed beef from local vendors as well.
Northwest

Saturdays from 9:00 am – 1:00 pm through November
Intersection of Upshur & 9th Street NW
If you live a bit north, stop by the Petworth Community Market to stock up on your week's pantry supplies while jamming to live music. Located in a triangle intersection of Georgia Avenue, Upshur Street, and 9th Street, this small city oasis caters to the community's needs with everything from fresh produce to bagels and homemade sweets. Definitely try some of Number 1 Sons' pickles, made right here in D.C. and grab some Sri Lanka street food at the Short Eats pop-up for lunch. This market even has a weekly e-newsletter that will let you know exactly what to expect from their vendors each Saturday!  

Wednesdays 4:00 pm – 7:00 pm through October; Saturdays 9:00 am – 1:00 pm through December
Intersection of Park Road NW & 14th Street NW
This market is located right in the center of bustling Columbia Heights. Head there first thing Saturday morning for some delicious homemade European pastries from the Ravenhook Bake House stall. If waking up early isn't your thing, stop in around lunch time for some out-of-this-world Argentinian empanadas. This market is also a great place to stock up on some unique meats like goat and rabbit from Country Vittles, who travel all the way from Pennsylvania each weekend.

Saturdays from 9:00 am – 1:00 pm through December 22
Mt. Pleasant Street Plaza, NW
Just around the corner from the well-known Columbia Heights market is the lesser-known, but just as gorgeous Mt. Pleasant farmers' market. If you go to any market in the city, it should be this one – they are extremely conscious of sourcing sustainable foods from within the watershed area, and focus on providing everything you might need in one market. Hungry right now? Try some of People's Bao, or stop by Pleasant Pops if it's a hot day. Need fresh cheese? Spring Gap Mountain Creamery has you covered. Want to stock up on food for the week? Grab some sandwich supplies like veggies, fresh bread or gorgeous eggs from local farms. (Check out their site for a ton of info on each vendor at the market).
Saturdays from 9:00 am – 1:00 pm through November 17
Intersection of 14th Street & U Street NW
This probably isn't true, but the vendors at the intersection of U and 14th streets must be in a competition for who can set up the most gorgeous stall. Every vendor at this market comes prepared with a massive stock of the most perfect fruits, veggies, and bread you've ever seen. Mountain View Farm's stall hosts a selection of fruits and veggies that will have you wondering why you've ever stepped foot in a grocery store. If you're celebrating a special occasion, grab some beautiful hanging plants and flowers from the Plant Masters stall (they even have our favorite – succulents!). And don't forget to bring some cash to buy some homemade Amish desserts!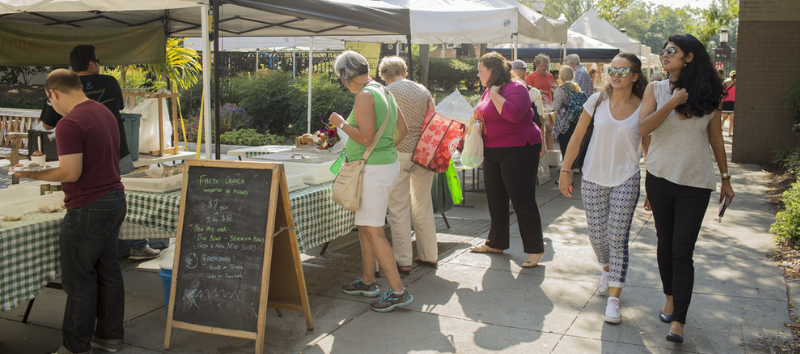 Wednesdays from 3:00 pm – 7:00 pm through November 21
901 23rd Street NW
Looking for a market that can replenish your pantry mid-week? Foggy Bottom is the place to go. This market is a perfect stop for anybody working downtown or near the National Mall. Grab some unbelievable handmade pastas and sauces from Cucina Al Volo (seriously, how do they do it?) or paella from Les Caprices de Joelle. If you're in the mood for lighter fare, visit Zayt & Za'atar for Mediterranean-style flatbreads and salads. Add some Greek cookies and baklava from Baklava Couture to make the perfect three-course meal. And don't forget to stop by Suttler Post Farm to bring home some beautiful flowers!