DC on A Dime April: Spring Sports Edition
Spring has sprung, so you know what that means… it's officially time to get outside and have some fun! Fray-Lifer, we know you love sports. We hope you also like saving a few bucks because as March Madness winds down and the season heats up, there are so many low-budget ways to have some sporty fun in the springtime.   
Take me out to the Ball Game
The Nationals are back and Nat's Park is better than ever! With a new bar in Navy Yard popping up what seems like every day, this season is going to be the most fun yet. Unfortunately, great seats can get pricey, especially if you're trying to become a regular at the 100+ home games this year. The best way to save? Roll through on a weeknight. There are game prices that dip below $12 during the week, and the hot dogs taste just as good, we promise! Another Hack: Buy the cheapest tickets in the stadium and meet up with your friends in the Bud Light loft instead. The view will likely be closer than your nose-bleed seats, and the crowd there is always ready to have a good time.
Work out your Swing on the Green
Did you know you can get in a round of golf at the East Potomac Park Golf Course starting at $13? This is an absolute steal in the golf world, especially considering the unique location in the heart of DC that includes views of the Washington Monument. There's even a mini golf course and a driving range! Take the free jitney across the water from The Warf for some extra fun!
Play some Pickup at the Park
Public spaces are a dime a dozen in the DMV, but a few particular spots are always bustling with opportunities to play a pick-up game with some neighborhood friends. The Kalorama Park near Adams Morgan often has lively basketball games going on, and Marie Reed field (also in Admo) has several tennis courts open to the public on weekends! Shaw Skate Park is a great spot for, of course, skating, but basketball as well! Lastly, Garfield park in the Navy Yard Area features tennis, basketball and bocce courts.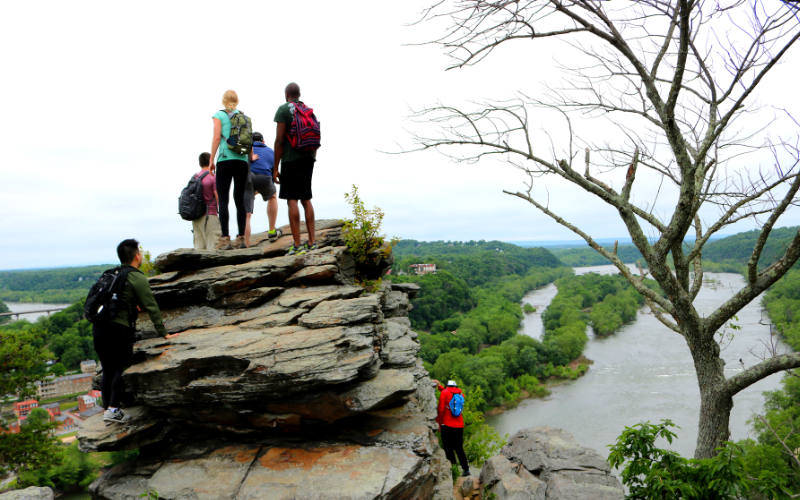 Play a game at Happy Hour
There is a bar and a happy hour for just about every occasion. Want to pair your cheap beer with a free round of outdoor fun? Look no further! Radiator in NW Washington has a full-size shuffleboard on their outdoor patio, and both Vinoteca and Pinea, just steps from the White House, feature full bocce courts! If you're more of a beer drinker, the North East quadrant's favorite beer garden, Bardo Brewpub, has plenty of cornhole to go around, as does Noma's Wundergarten.
We know there's more! Do you and your friends have a go-to spot? Share your favorite DC park for pick-up games by tagging your posts with #DCFray and #FrayLife.
If you're looking for cheap ways to whip yourself into shape, grab a buddy and check out these bike trails scattered around DC.