Colder Nights Call For Darker Beers! These Local Fall Craft Beers Have You Covered
It's time to put down those summer ales and fruity Goses and pick up a fall brew! Fall craft beer is so much more than pumpkin flavors and Oktoberfests (though there is absolutely nothing wrong with a gourd-inspired beer). This is the season for more complex, slightly darker beers ideal for chillier weather and a fire pit.  
#FrayLife rounds up some of the best local and national craft beers that pair perfectly with crisp air, fall foliage, football, scarves, and flannel to help you get into the spirit of Autumn.
For the football fanatics:
Flying Dog Brewery created this beer especially for the Baltimore Ravens complete with a purple-camo can design. It's a light lager at only 5% ABV perfect for game day.
For those who love strong hops and bold flavors:
Atlas Brew Works warns on its website that this limited release is "not a beer to bring home to Mom" that features "criminal hop bitterness and a dank pine aroma." This beer is not for those with sensitive taste buds or weak stomachs.
Every month and a half, Port City creates a limited release lager only available on draft, so you have to go to the Alexandria brewery to get it. This month Port City presents Baltic Porter, a strong dark beer bursting with malt flavors of dried fruit, toffee, toast, chocolate, and port wine.
This stout is brewed with both malted and unmalted oats with an ABV of 4.5% for easy drinking. Ideal fire pit beer.
For the PSL-lovers:
Basic bitches (like myself) love this beer. Shipyard Pumpkinhead is a light and delicious pumpkin beer best served in a cinnamon and sugar-rimmed glass. For the beer drinkers who want a little more body and oomph, try Shipyard's Smashed Pumpkin Ale.  
Clocking in at 10% ABV, this bourbon barrel-aged pumpkin ale includes fall spices of cinnamon, ginger, allspice, and clove. It's very rich in pumpkin spice flavor.
Crowd-pleasers:
Stop by D.C.'s favorite beer garden and see what seasonal beers are listed on the board as there is usually something for every kind of beer drinker. The outdoor location by the Potomac River is the perfect setting to enjoy a fall beer on a crisp autumn day. Bring your dog!
This dark lager has a light (yes, light!) body and crisp fall feel. Hints of roasted coffee beans, mild hops, and delicate malt backbone.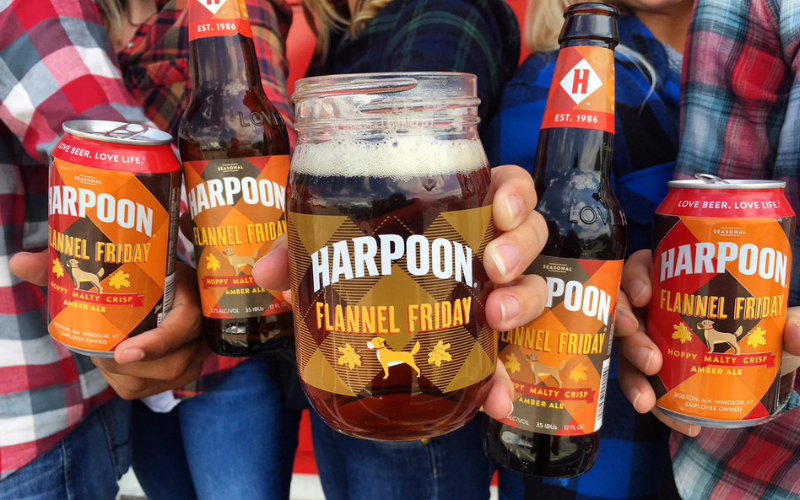 Harpoon marks the arrival of fall with their festively packaged Flannel Friday Ale. This is an amber hued, medium bodied ale with notes of citrus and pine.
This is a Mexican-style Vienna lager perfect for fall. According to the Denizen's Facebook page, Buena Onda is a light-bodied lager that's "deliciously toasty and bready".
Have a favorite fall draft we forgot to mention? Let us know in the comments! And be sure to tag us on social media using #FrayLife and #DCFray next time you sit down with one of DC's best local brew!
GET OUR WEEKLY EMAIL »