Make Your Instagram Feed Shine at DC's Most Iconic Photo Spots
The District is exploding with trendy new coffee shops, hipster street art, and a growing number of new restaurants that are competing to be the next #instafamous hot spot for IG food and style bloggers.
But outside of the mouth-watering eats and Washington Monument views, we thought it was time to expose which Instagram spots are truly a DC local's favorite.
#FrayLife put together a list of our top favorites we think you will love with some tips along the way in case you decide to impress on your next date or looking for a cool update on your gram.
So check out the spots we found for you and in the meantime, follow @dcfray on Instagram for a daily dose of cool DC photos, and tag #FrayLife to feature yours!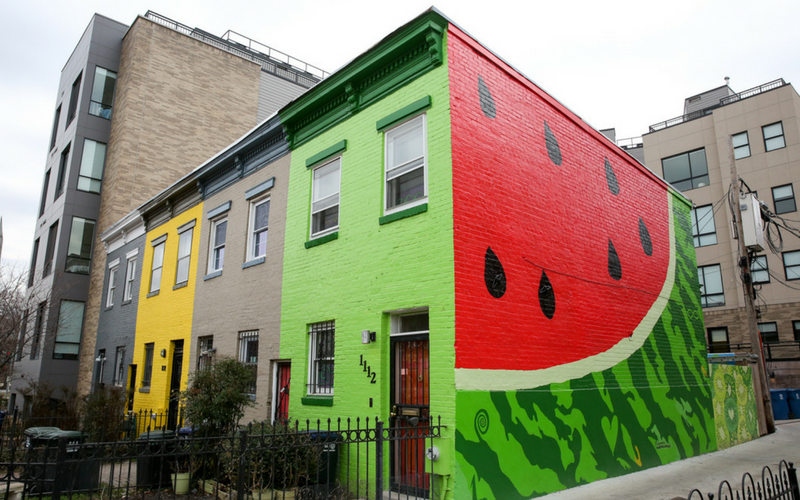 Location: 1112 Q Street NW (Logan)
The owners of this house painted the watermelon mural to deal with a bad paint job. Little did they know it would turn into a tourist spot and a perfect background for IG bloggers. Make sure to hashtag #dckiwi and #watermelonhouse when you snap a shot here!
Location: AVA NoMa, 55 M St NE (NoMA)
As much as we love fruit murals, we are completely obsessed with the lettering and bright colors in this mural by Ricardo Gonzalez at the AVA NoMa building, created for last year's Pow! Wow! DC.
#FrayLife Tip:

This mural is a perfect pit stop to take while en route to H Street corridor.
Location: 2 Lincoln Memorial Cir NW (National Mall)
The view from the top of the stairs of the Lincoln Memorial is a classic DC snapshot. Stop by on your morning run and gasp at the view of the sunrise or head over to the stairs after your social sports practice on the National Mall and enjoy the sunset - it's totally worth it.
#FrayLife Tip: Did you know there are run clubs in the DMV that run around the monuments? Check them out and get a view of the Lincoln while you run! 
Location: 627 H St NW(Chinatown Metro)
Most people swear by the view at the top of the W hotel, but we think the POD is way cooler because of the unique angle of the city streets and monuments in the background that you can snap from up here. Did we mention how amazing the cocktails are too?
#FrayLife Tip:

Definitely stop by for happy hour at the POD if you are looking for a quick drink before a game or concert at the Verizon Center.
Location: 8th St NW & F St NW (Chinatown Metro)
The courtyard of the National Portrait Gallery is one of our favorite spots in DC to hang and grab a book to read. The beautifully detailed architecture that surrounds you in the courtyard is overwhelming and impressive. Grab a cup of coffee at the museum's cafe and enjoy taking snaps of this magical ceiling.
Location: 1020 7th St NW (Mt. Vernon)
One of DC's newest speakeasy bars is also a goldmine for trendy IG photos. Filled with trendy deco and cool wallpaper, you can snap awesome photos here while you enjoy sipping on one of their many unique list of cocktails.
#FrayLife Tip: Check out our article review on the bar here
7. Cardozo High School
Location: 1200 Clifton St NW (U Street)
The view of the city from the parking lot at Cardozo High school is pretty dope. If you are playing social sports in the fields nearby U Street Corridor, you gotta stop by after practice to snap a cool photo with your friends - the sunset view definitely won't disappoint!
#FrayLife Tip:

Grab a drink at one of U Street's bars with your friends while you are here.
Location: 700 Delaware Ave., SW (Navy Yard)
Built in 1886, the former Baptist Church is now home to the Southwest Arts Club and brightly colors the streets of the Southwest Waterfront. The unique splash of colorful shapes that cover the building make for a surreal, out-of-this-city, type of photo background that break from the boring white buildings and memorials that D.C. is known for.
#Fraylife Tip:

After you grab a gram out front, be sure to check out some of their free yoga classes inside or $5 Jazz and Blues concerts on Fridays.
Location: 3000 K Street NW (Georgetown Waterfront)
The colorful 41-foot tall sculpture was named 'Scarlet Natural Chaos' and recently built in 2017 by Arne Quinze. The Belgian artist has been known for creating art at the Burning Man festival and brought his creativity to Washington DC. With boats docked in the background and a flowery boardwalk looking out to the waterfront of the Kennedy Center and Roosevelt Island, it'll be impossible not to love the beautiful photos by this sculpture.
#Fraylife Tip:

While you're here, head over to the Key Bridge Boathouse for paddleboarding or kayaking!
Location: 309 5th street NE (Union Market)
In honor of International Women's Day, Mr. Brainwash created hundreds of colorful hearts to represent love of all kinds. You seriously can't help but feel proud that D.C. is your home when you gaze to the top of the wall to read what's dripping in black paint and "Never give up."
#FrayLife Tip: Once you're done posing for grams with your friends, enjoy the large indoor bazaar of local and international food inside Union Market, and hang on the patio out front!
Location: 825 10th St NW (Metro Center)
City Center is totally underrated. Every season the walkways change colors and deco and we can't get enough of how cool it feels to walk under the hanging street lights at night. Plus, you can do a little shopping therapy while you are here!
What's your favorite IG spot? Tag us in your favorite snaps from our IG spots or tag us in ones you think we missed!
GET OUR WEEKLY EMAIL »